Skin Reactions
Rashes
Two types of rashes commonly develop in people receiving cancer treatments: an acne-like rash called acneiform and a measles-like rash. Talk to your health care team about the possibility of developing rashes before your treatment begins, and communicate the development of any rashes as soon as they appear. Early treatment can prevent the reaction from becoming severe.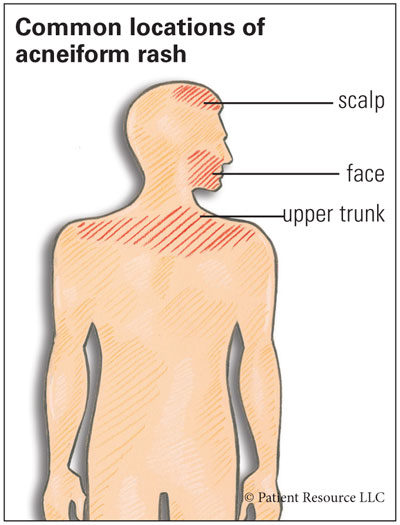 Acneiform (acne-like) rash
Acne-like rashes can appear on the face, scalp and upper trunk. These rashes are not true acne because they contain no bacteria, but they can be just as irritating, if not more. In chemotherapy patients, acne-like rashes are often taken as a sign that the treatment is working.
People treated with radiation therapy or taking targeted therapy drugs are likely to develop an acneiform rash as well. A rash will develop in up to 90 percent of people taking a targeted therapy drug known as an epidermal growth factor receptor (EGFR) inhibitor (erlotinib, cetuximab, panitumumab and vandetanib). This is because the drug blocks specific molecules that are essential for cancer cells but are also active in the skin, hair and nails.
If your health care team thinks you may develop an acneiform rash because of the cancer drugs you are taking, you can use prescription topical cortico- steroids and topical or oral antibiotics as a preventive measure to protect yourself from the rash becoming severe. Protecting your skin is important because it prevents it from getting itchy and dry, which may allow bacteria to enter and cause a reaction.
Symptoms of an acneiform rash include a stinging or burning sensation, itching, irritation or pain. The rash can also take a toll on self-image and negatively impact quality of life for individuals receiving targeted treatments. That's why it is important to actively manage this reaction and make sure your medication is at its optimal dose.
Several options are available that you can use to prevent and treat an acneiform rash, as summarized in Table 1. One study showed that significant acneiform can be cut in half by taking antibiotics. Topical and oral antibiotics are available, and corticosteroids can also help. It's important that you do not use certain medicines that are used to treat acne, such as topical retinoids, because they may dry or irritate the skin even more. In addition, because exposure to sunlight may aggravate the reaction, always use broad-spectrum sunscreens when outside.
If your rash becomes severe and painful, your doctor may choose to decrease or stop your treatment. In a survey of doctors who prescribed targeted therapies for their cancer patients, eight out of 10 reported that they withheld treatment for a short time and three out of 10 discontinued treatment altogether. Depending on the severity of your symptoms, your doctor may recommend medications that are being investigated in clinical studies.
Measles-like rash
The most common type of rash that can develop from chemotherapy is a measles-like rash that produces red bumps and spots. It usually appears within the first few weeks after treatment begins and starts on the neck, chest and stomach; it then may spread to the arms and legs. This type of rash is typically itchy, and the skin may feel hot and swollen. In the majority of cases, this rash is not life-threatening and can be treated with medications so that your anti-cancer treatments may continue.
Treatment often consists of topical (triamcinolone, fluocinonide) or oral corticosteroids (prednisone, dexamethasone, methylprednisolone) used twice daily. The chemotherapy usually can continue at the same dose or one that your doctor considers safe. In severe cases, however, your doctor may recommend stopping chemotherapy for several weeks until the rash improves or resolves.
It's important to remember that a measles-like rash can be caused by various other medications, too, including antibiotics, over-the-counter pain medicines (such as ibuprofen), anti-seizure medications or those used for high blood pressure. Signs that a measles-like rash may be serious include painful blisters on the skin, difficulty breathing or swelling of the lips.
Table 1. Options to prevent and treat rashes
Type of reaction
Treatment suggestions
Mild (the rash is generally confined to one area)

- Topical corticosteroids (hydrocortisone, alclometasone) or antibiotics (clindamycin,
erythromycin, mupirocin)

- Oral tetracycline antibiotics (doxycycline, minocycline)

Moderate (the rash has spread or is affecting self-esteem)

- Topical corticosteroids (hydrocortisone, alclometasone)

- Four-week course of oral tetracyclines (100 mg doxycycline twice daily or 100 mg
minocycline daily)

Severe (the rash is interfering with daily activities and is intolerable)

- Short course of oral corticosteroids (methylprednisolone, prednisone, dexamethasone)

- Chemotherapy interruption for seven to 10 days then resumed at a lower dose

- Steroid cream and oral tetracycline antibiotics, even after discontinuation of
chemotherapy

- If all else fails, oral isotretinoin (discuss the side effects with your health care team)