Prostate Cancer Survivor
Lean on Your Family and Listen To Your Doctors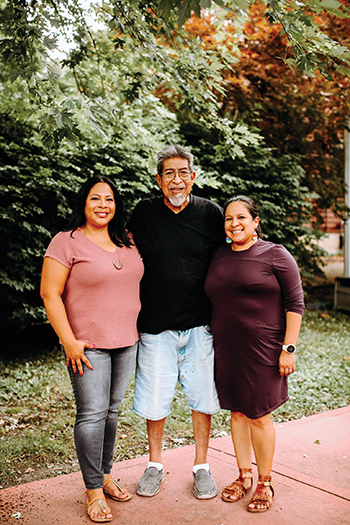 Robert Pantoja's family likes to say he has nine lives because he's faced numerous health scares including heart bypass surgery, kidney disease, a hernia and Stage IIIB prostate cancer. The discovery of his prostate cancer was unexpected, and he relied on the love and support of his family and friends. He has successfully completed treatment and is in remission. Now, he enjoys spending quality time with his two daughters and three grandchildren.
When I think of someone having cancer, I imagine they are in pain or feel sick. But for me, I had no idea I had cancer because I didn't feel anything different. It wasn't until I collapsed at the grocery store that I had a clue something was wrong.
Doctors ran a series of tests, but when we didn't get answers right away, my two daughters grew increasingly concerned. It took about two to three months for the doctors to determine I had kidney disease and prostate cancer. Initially, the doctors weren't sure if the prostate cancer had caused the kidney disease or if the two were even related to each other, or if something else was going on. Ultimately, they decided the two were not related. My cancer was classified as Stage IIIB, and the kidney issue was treated separately with iron infusions and later dialysis.
While the prostate cancer diagnosis was a surprise for my family and me, I wasn't too worried. I think my daughters felt more overwhelmed. I didn't know much about prostate cancer, but I trusted them completely to ask the right questions because they have my best interests at heart.
My daughters were with me a lot in the beginning to make sure we had a full understanding of what was happening. They were concerned I'd have to go through intensive treatment, and they wanted to know what we could all expect as we moved forward. My only request was that I wanted to avoid surgery.
The oncologist explained everything about my diagnosis and gave us three treatment options: nine weeks of radiation therapy, six weeks of radiation therapy with hormone therapy or four weeks of brachytherapy. I was relieved the doctor said I would not need surgery or chemotherapy. Having the option of radiation therapy and hormone therapy felt much less scary to me.
My daughters and I discussed all the options, but they knew I had to make my own decision. Although I considered brachytherapy, I was concerned that if I chose that option I wouldn't be able to be around my grandchildren because of the radioactivity. I didn't want to lose any time with them, and I wanted to be able to continue living my life with as little interruption as possible.
My oncologist also brought up the possibility of joining a clinical trial that was testing a hormone therapy given to men with prostate cancer who also had heart disease. This drug was already approved for men with prostate cancer, but the trial was trying to determine whether this therapy could reduce the risk of heart-related issues in men with certain types of heart disease who also had prostate cancer.
About 10 years earlier, I'd had heart bypass surgery because of a 92 percent blockage, so I qualified for the trial. I would have taken this drug whether it was in a clinical trial or not and I jumped at the chance to do something that might help other men who had prostate cancer and a heart condition. I joined the trial, and my doctor also included radiation therapy separate from the trial.
The clinical trial began about a month after my official diagnosis. I had one shot every three months for a total of four injections. Each time I came in for a shot, they also did an EKG and checked all my vitals.
About four months after I started the hormone therapy, I began the radiation therapy. We were never sure why it took so long before the radiation treatments started, but I felt okay about it because I was already taking the hormone therapy.
I didn't notice any side effects with the hormone therapy, but I felt really tired from the radiation therapy. I regained my energy about a month after the last treatment. My daughters helped me with laundry during treatment, and they helped take care of my dog. Their love and support really helped me get through everything, and they kept my spirits up.
I'm in remission with no evidence of disease. It amazes me to think I had cancer and didn't really feel anything. I'm so grateful.
I finished the clinical trial, but I still have a follow-up appointment every three months to have tests and make sure my PSA is not increasing. I don't have any anxiety about the cancer returning. If it does, we will deal with it when it happens.
I would tell other men with prostate cancer to take it easy. Don't worry too much about the cancer because there's nothing more you can do other than follow your doctor's advice.