Reader Survey Winners
2023 Survivor Donates to Providence Community Health Foundation
Congratulations to Brian Ganoe, a 2023 Patient Resource Reader Survey Winner. Brian is a prostate cancer survivor and he chose the Providence Community Health Foundation in Medford, Ore., where he was treated for prostate cancer, to benefit from the $500 donation made by Patient Resource in his name.
The day Brian learned he had prostate cancer, he picked up his first Patient Resource Cancer Guide in his physician's office. He credits the guide with helping him understand his diagnosis and knowing the questions to ask his surgeon and radiation oncologist. It also introduced him to a surgical option that he was previously unaware of. Knowing that robotic surgery was the direction he wanted to take, he selected a local doctor – at Providence – who had performed several successful robotic-assisted prostatectomies.
After having surgery and radiation therapy, Brian has been healthy with a PSA of 0.40 for more than 12 years. He offers this advice:
Get tested yearly. Don't assume things are hunky dory. That was my mistake.

Even if you don't have symptoms or a family history of prostate cancer, be aware. As the years pile up, the risk gets higher.

Learn about potential health issues. Prostate cancer was a subject I knew nothing about until I had to learn everything on the fly. Ask your doctor about reputable sources. Luckily, I picked up that copy of the Patient Resource Prostate Cancer Guide at the doctor's office the day I received my diagnosis. I've passed on the name of the guide to several people.

Surround yourself with good people. I stay in touch with my radiation oncologist so I can pick his brain and he can tell me about all the latest developments.
---
2023 Reader Survey winner selects Maggie's Wigs 4 Kids to receive donation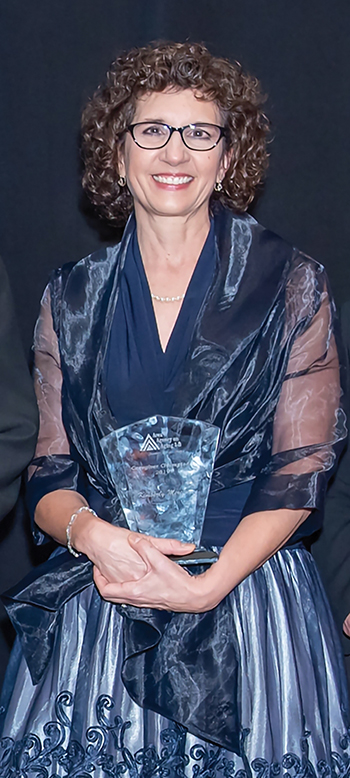 Congratulations to Kim Mercier, LMSW, OSW-C, who was selected from the 2023 Patient Resource Reader Survey respondents to designate an advocacy group Patient Resource would make a $500 donation to. Kim chose Maggie's Wigs 4 Kids in St. Clair Shores, Mich. She has been involved with the organization since its inception in 2003. Kim volunteers her time as the medical director and as a member of the advisory board. To date, Maggie's Wigs 4 Kids has donated wigs and support services to thousands of children across Michigan.
As an oncology social worker, Kim's primary roles include psychosocial support, counseling and education. Kim provides a variety of resources to patients and their families. Throughout her 30+ year career, she has witnessed many changes and advances in the cancer field, but the one constant has been the patient's need for trusted information. She meets that need with the Patient Resource Cancer Guides.
"The Patient Resource Guides are my go-to source of information. I order them for our entire cancer center and use them with patients all the time. No matter their age, patients want something tangible, something they can hold in their hands," Kim said. "It gives them a sense of control, and they get that from these guides. And, the guides not only help our patients, but they are also a great tool for our staff and for me."
Her favorite part of the guides is the resource section.
"After receiving a cancer diagnosis, patients and their support system are so overwhelmed. They are desperate to learn more. They often turn to Dr. Google, which isn't bad as long as they go to reputable sites. The first few options you typically get when you search are sponsored ads, and they can lead you down a rabbit hole of misinformation. I know our patients will get good information if they go to any of the reputable web sites in these guides."
She added that many patients aren't tech savvy, so the telephone numbers that are included make the resource listings even more helpful.
Kim describes herself as Patient Resource's biggest fan. "I couldn't do my job without you."
---
2022 Reader Survey winner gives back to her hospital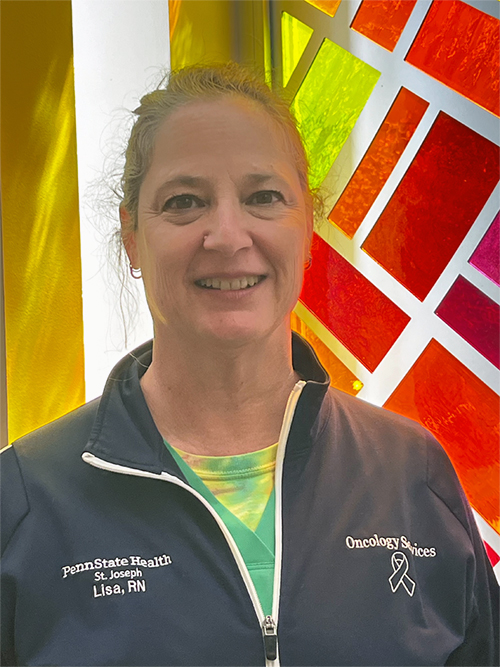 Each year Patient Resource offers one reader the opportunity to give back. Every response to our reader survey is combined into a drawing and, this year, congratulations go to Lisa Myers, who was selected to receive a $500 donation in her name to an advocacy group of her choice. Lisa's choice to benefit: the Penn State Health St. Joseph Foundation's Cancer Center Patient Activities Fund at the hospital in which she works.
"The fund provides us an opportunity to give back to our cancer patients, who give us so much in return," Lisa said. "This fund provides meals and gifts to patients who are facing a cancer diagnosis."
Lisa, a nurse navigator at Penn State Health, educates newly diagnosed patients. She organizes packets of information that include Patient Resource's guides to give to new patients. She discovered the Patient Resource guides about a year and a half ago and has been sharing them with patients ever since.
"These guides are so helpful. Patients are often overwhelmed when they receive a diagnosis," she said. "That is a life-changing day for patients, and I offer Patient Resource's guides to help provide them with insights they can take with them as they begin their journey. The guides provide information for specific diagnoses and are a resource they can take home and read on their own time."
As a nurse navigator for the past six years and a nurse since 1988, Lisa has a passion for helping and educating patients. She pursued a nursing career because of her family's experience with cancer. She lost her father-in-law, mother-in-law and father to cancer. And just recently, her husband was diagnosed with myelodysplastic syndrome (MDS). As a result, she's aware of how important it is to be knowledgeable, and she shares that with her patients.
"When patients receive their packet of information at the beginning, I tell them to review the Patient Resource information at their own pace and to write down any questions they have as they read the guide. Doctors don't always have time to explain everything about their cancer, and the guides do an excellent job of providing anatomy illustrations, drug information and inspiring stories."
Lisa also shares the guides with newly hired employees who may or may not have much experience with cancer. The guides help them learn and get up to speed quickly.
"I love Patient Resource's guides, and I am so thankful we have them."
---
2021 Reader Survey Winner Selects Cancer Services to Receive Donation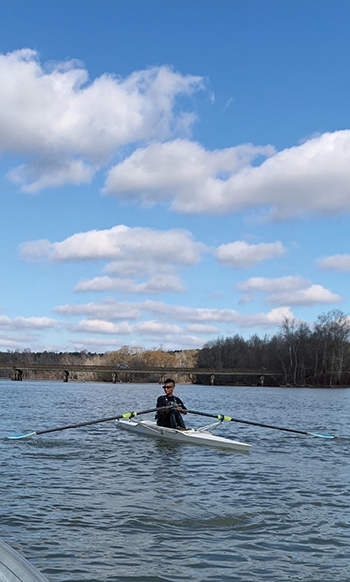 At 35 years old, Amy was diagnosed with colorectal cancer that progressed to Stage IV. The doctor recommended surgery, chemotherapy and radiation therapy. The news of a cancer diagnosis left the single mother of two children feeling afraid and confused.
"Cancer Services in Gastonia, N.C., is the first place I called after I was diagnosed with colorectal cancer," Amy said. "I needed a safe haven where I would be treated like me and not my cancer. The four wonderful women who run Cancer Services welcomed me. Stephanie, Kim, Patricia and Susan have changed my world for the better. They are the most loving, supportive and sincere individuals."
When Patient Resource notified Amy that she was selected this year to receive a $500 donation in her name to an advocacy group of her choice, she immediately knew she wanted Cancer Services of Gastonia, N.C., to benefit.
This organization has helped Amy by providing emotional, financial, practical, nutritional and social support while she fights colorectal cancer. Through social events like their monthly Bingo games, Amy met a fellow a colorectal cancer survivor who became like a mother to her.
Cancer Services also provides prescription copay assistance, gas cards, wigs, prosthetics, medical equipment, incontinence products, ostomy and ileostomy supplies, handmade scarves and hats, and transportation to doctor appointments and treatments.
Amy jumped at the chance to give back to an organization that has helped her because, like many nonprofits, Cancer Services
has faced reduced donations and grants, cancelled fundraisers and fewer volunteers due to the COVID-19 pandemic.
"They have been a life source for me, and I want to be one for them," Amy said. "It is easier to exist when the burden is lifted ever so slightly."
Another source of support for Amy has been the Patient Resource Cancer Guides.
"The Patient Resource Cancer Guides have been so instrumental in my season of cancer," she said. "I appreciate the design of the guides. Each one is educational, cancer specific, easy to read and not overwhelming. Since 2016, I have been ordering them for myself as well giving them out locally and nationally."
---
2020 Reader Survey Winner Selects YMCA to Receive Donation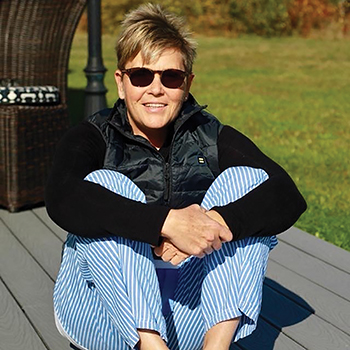 Congratulations to Sharon Manville, who was selected at random to receive a $500 donation in her name to an advocacy group of her choice. Sharon chose Kent County YMCA in Rhode Island to benefit from the donation.
At 48 years old, Sharon was diagnosed with clear cell endometrial cancer, a very rare, very aggressive type of cancer. The doctor recommended surgery and chemotherapy. While recovering, she turned to the internet to find support.
"I wanted to meet others and find support from people who've experienced cancer," Sharon said. "That's how I found the Livestrong program at my local YMCA."
It was a 12-week class that met twice a week specifically for cancer survivors looking to gain strength after treatment. At the end of the course, everyone received medals donated from other athletes. Sharon was very proud of her medal.
"The Livestrong program was a great place to find support because all of the participants were cancer survivors and could identify and relate to what others were going through (thoughts, feelings, experiences)," she said. "In addition, everyone could provide specific information pertaining to the type of cancer and the treatments they had endured."
The physical and emotional support received throughout the program meant the most to Sharon.
Sharon feels finding support for cancer survivors is essential to their recovery going forward for the following reasons:
Realizing you are not alone and that others may think and feel as you do
Gaining knowledge and wisdom while continuing the journey as a cancer survivor
Being able to offer assistance to others who may be struggling and/or adjusting to the 'new normal'
In addition to finding support, Sharon also sought reliable education tools.
"Overall, Patient Resource's guides have provided me with a wealth of information pertaining to cancer, treatment options, side effect remedies, support programs, nutritional information, personal stories, etc. Most of all, I love being able to forward the publication to others (family members, newly diagnosed patients, etc.) who are not aware of it."
Sharon selected the Kent County YMCA in Rhode Island as her donation recipient to assist them in continuing to help local cancer survivors recover.
---
2019 Reader Survey Winner Selects Michelle's Place to Receive Donation
Congratulations to Marilyn Watson, who was selected at random to receive a $500 donation in her name to an advocacy group of her choice. Marilyn chose Michelle's Place, which she founded in memory of her daughter, to benefit from the donation.
Marilyn's daughter, Michelle, found a lump in her breast when she was only 23 years old. She went to several doctors to have it checked, and all of them said she was too young to have breast cancer. When she joined the Peace Corps, she had a physical. The lump was still there and she was sent for a biopsy. The results showed she had Stage IV breast cancer.
"In 1997, there weren't any medical facilities in Temecula, Calif., that could treat cancer," Marilyn said. "And there certainly weren't any local support resources for women in their early twenties who needed more emotional comfort. We would drive more than 100 miles to a cancer center in Los Angeles for Michelle's treatment."
While in Santa Barbara, Marilyn and Michelle visited a support group set up in an old house that had been donated. It was warm and felt like grandma's house. On the drive back to Temecula, Michelle said, "You really need to do something like that in Temecula." She fought the disease for three years and passed in 2000 at 26 years old.
"We made it our mission to fulfill Michelle's last request," Marilyn said. "It took us about a year to get the 501(c)(3) started, and we named it Michelle's Place. We wanted it to be a place of comfort for women with breast cancer. But today, we offer services to men, women and children with any type of cancer."
Michelle's Place shares the Patient Resource Guides with patients and have heard from them that they are a valuable resource in beginning a dialog with their doctor.
"The guides explain cancer in terms they can understand. The articles are short enough (they are not a whole book) and are easy to read. They can take them home, read them and then come back and ask us questions. When we hand them these guides, they have something of value that is very worthwhile! Your guide gives them a place to start."
Marilyn selected Michelle's Place for the donation to assist them in continuing her daughter's legacy through helping others who have cancer.
---
2018 Reader Survey Winner Selects American Cancer Society to Receive Donation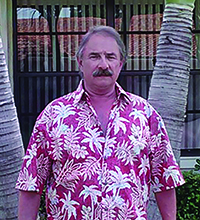 Congratulations to Tim Lang, who was selected at random to receive a $500 donation in his name to an advocacy group of his choice. A retired Fire Chief Officer and prostate cancer survivor, he chose the American Cancer Society (www.cancer.org) to benefit from the donation.
"After a year and a half of watchful waiting, my doctor advised me it was time to take action," Tim explained. "After doing thorough research, I chose the type of treatment that was right for me — intensity-modulated radiation therapy (IMRT). I treated it like a part-time job. I went Monday through Friday at 8 a.m., and I was on my way home by 8:20."
Tim's family and friends were very supportive, and his granddaughter was a special inspiration to him. He also started a blog and used it to document everything that happened from diagnosis through treatment. It proved to be very useful for him because he didn't always vocalize his thoughts.
"I was very appreciative of how warm and caring my medical team was," he said. "I wore a different Hawaiian shirt every day, and it became a game for the radiation team to guess which shirt I'd wear the next day. In fact, on my last treatment, I brought a matching Hawaiian shirt for my oncologist. Also, there was a candy dish I often enjoyed after I'd finished my radiation treatment, and I remember one day it was empty because they hadn't had a chance to get to the store. I love my chocolate, so now, every three weeks, I drop off candy to make sure they don't run out."
Today, Tim is cancer-free and he continues to get regular checkups. He and his wife like to participate in organizations that allow them to give back. He selected the American Cancer Society because of the valuable support it provides.
"Each year, we head up a team for the American Cancer Society's RUN FOR DAD, a community and family fundraiser event designed to increase awareness and educate men and their families about the importance of screening and early detection of prostate cancer."
---
2017 Reader Survey Winner Selects PearlPoint to Receive Donation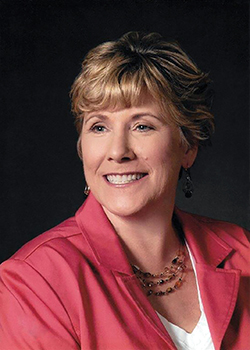 Congratulations to Margaret Martin, the 2017 Patient Resource Reader Survey Winner. Margaret's name was selected at random, and she chose PearlPoint Cancer Support to receive a $500 donation in her name.
Margaret lives in Nashville, Tenn., and is a nutrition educator at PearlPoint Cancer Support, where she provides oncology nutrition information as a registered dietitian. She consults remotely via phone and e-mail to assist survivors and their caregivers with healthy eating and side effect management strategies. She shares Patient Resource guides with people who've contacted PearlPoint seeking advice about nutrition.
"The Patient Resource guides are excellent publications," Margaret said. "When a person is diagnosed with a specific cancer type that there is a guide for, I mail them a copy. They can discuss the guide with me or during their appointments with their doctors. The guides have good explanations of the types of cancers and they are written so people can understand them."
Although Margaret has not had cancer, her sister has Stage IV lung cancer. She has sent her a copy of the Nutrition: Before, During, & After Treatment Guide.
"It has such pretty pictures of food and recipes in it and that helps motivate people to eat better," Margaret said. "They may see a food idea in it and share it with their family member or friend and ask them for help preparing a similar dish if they don't feel well enough to cook."
Margaret especially likes the section in each guide that provides cancer type specific resources as well as information about where to find transportation assistance or lodging.
Both of Margaret's parents also had lung cancer, and she was a caregiver to her father.
"He had late stage lung cancer, and he outlived the life expectancy that the doctors gave him. We believe his good nutrition during his cancer journey was an essential part of that. He was only expected to live four months after he was diagnosed, but he lived nine months. Nutrition is so important when people are being treated for cancer."
According to Margaret, unfortunately, up to 80 percent of people with cancer will also have malnutrition at some point during their cancer care.
"This is a serious situation," Margaret said. "People are being under treated for malnutrition because they often don't know about the registered dietician service or they don't want to go to one more appointment. Or, if they have mobility challenges, it can be difficult for them to get to a center to meet a registered dietician."
Since Margaret consults with people via the telephone and through e-mail, it's extremely easy for people to get nutrition education from her without having to leave their homes.
"I've spoken with people in 42 states and six foreign countries," Margaret said. "People are referred to us by cancer centers, physicians, nurse navigators and physician assistants all over the world, and they can contact me through PearlPoint's website."
Margaret selected PearlPoint Cancer Support (https://my.pearlpoint.org) for the donation because she believes in the work the organization provides to people with cancer and their caregivers. "Good nutrition helps strengthen the body while it is undergoing treatment for cancer. It can make a huge difference for people."
---
Reader Survey Winner Selects TNBC Foundation to Receive Donation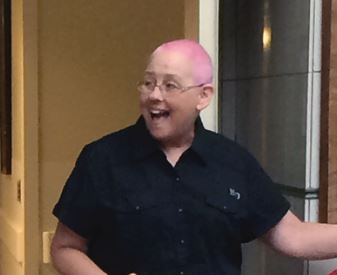 Congratulations to Susan Webb, the 2016 Patient Resource Reader Survey Winner! Susan's name was selected at random, and she chose the TNBC Foundation to receive a $500 donation in her honor.
Until her Stage I triple-negative breast cancer diagnosis, Susan Webb, 65, had never heard of TNBC. She immediately began self-educating. She first learned about Patient Resource publications when her husband, Allan, was diagnosed with Stage IV prostate cancer the year before. She had seen the guides in her husband's doctor's office and what she learned then drove her to ask important questions of her own doctors after her diagnosis. Through her research, she discovered the TNBC Foundation.
Right from the start, Susan approached her treatment head-on with complete confidence in her medical team. As the mother of three daughters, she was relieved to learn she didn't possess the BRCA gene. She attempted to participate in a clinical trial but wasn't a fit because of her age. However, she participated in a very brief trial that evaluated the blood differences in people with breast cancer. After that, she began an aggressive course of treatment.
Susan had surgery to remove the small tumor and the sentinel lymph node, along with two additional nodes.
"I had four cycles of chemotherapy. I laugh about it now, and I tried to then, too, but I had quite a time. I passed out once when they took blood at my treatments and felt faint the other times, so they gave me a port. Overall, I did okay with the chemotherapy. I cut and lost some of my hair, and dyed it 'Cotton Candy' pink when it grew back. I didn't have nausea, but I did have terrible diarrhea. And instead of losing weight, I managed to gain weight!"
She had a shot to increase her white blood cell count after each chemotherapy treatment which resulted in high fevers, several hospital stays and a blood transfusion. Once that was under control, Susan began 33 days of radiation therapy.
"Radiation made my breast very dry, but I used a hypoallergenic cream to protect and moisturize my skin that really helped." She continues to manage lymphedema, a side effect from the node removal.
"I wear a sleeve, but I lucked out with my physical therapist. He taught me massage techniques and exercises that help."
Susan received emotional support from her family and friends and, in return, she always tries to give back. But when it came to physical support, she and Allan managed themselves. Allan called it payback for the care Susan gave him during his initial treatment in his cancer battle.
"My husband was extremely loving and supportive. We had offers to help, but I didn't want to depend on anyone else. I wanted to feel like I could take care of myself."
Susan believes a positive outlook helped her fight her disease.
"We've had good life experiences. Having cancer was another experience, and this one taught me not to be so serious. When you let something like that take you down, that's when you start getting sick again."
With Susan cancer-free and Allan still receiving treatments, they just celebrated their 46th anniversary. And Susan still has pink hair.
"I'm a 17-year-old stuck in a 66-year-old body. My niece helped me find a vegan-based hair color, so now I keep it short and pink. It fits my personality."
---
2015 Reader Survey Winner Selects the Leukemia and Lymphoma Society as Award Recipient
Congratulations to Corey Schlaitzer, the 2015 Patient Resource Reader Survey Winner!
During his battle with lymphoma, Corey used several Patient Resource publications to help him understand the disease and learn what to expect during treatment and recovery.
After taking a few minutes to fill out the survey, Corey's name was drawn at random from all of the completed surveys, and he has selected the Leukemia and Lymphoma Society as the recipient of the $500 donation that Patient Resource will contribute in his honor.
Corey's battle with cancer began when a nagging cough prompted him to see the doctor.
"He looked at my chest X-ray and said, 'I hope it's just pneumonia,'" Corey said, remembering that he shared the same hope.
But instead of pneumonia, Corey was diagnosed with Stage I lymphoma at the age of 34. A fist-sized lump was found next to his heart, and after invasive surgery, two months of chemotherapy and one month of radiation therapy, he's happy to report that he's now cancer-free, a year and a half since his diagnosis.
Besides doing his own research to prepare himself for treatment, Corey says he got amazing support from some very important people in his life who kept his spirits up when they could and let him cry when they couldn't.
Corey felt extremely lucky to be surrounded by such thoughtful co-workers and helpful friends, and he advises others to seek the same kind of support.
Besides extreme tiredness, he also experienced intense bone and joint pain, mouth sores that made drinking water difficult, and constant nausea he just learned to live with. The mental and emotional battles were also draining and still resurface from time to time.
"I buried a lot of my feelings, and I'm pretty sure that's why I'm dealing with them all now," Corey said, remembering how he would always say he was doing fine when others asked, no matter how he felt, because he didn't want to burden anyone with his true feelings.
"I was scared a lot, too, but your magazines really helped me with that in so many ways," he said, adding that he would leave the guides at the doctor's office when he was done reading them in the hopes that others would find them helpful as well.
Corey selected the Leukemia and Lymphoma Society (www.lls.org) to receive his donation because of how attentive they are to the needs of others.
"They'll connect you with a cancer survivor who will call you personally to be of support," he said. The group also offers regular support groups and financial assistance, he said, and provides a great newsletter and events that connect cancer patients and survivors near and far.
"I was surprised and grateful that even though it's a large organization, they are still able to connect with each individual," he said.
---
2014 Reader Survey Winner Selects the Lymphoma Research Foundation as Award Recipient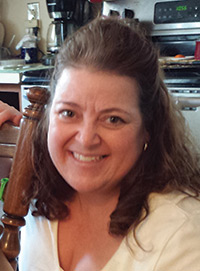 Congratulations to Christine St. Onge, the 2014 Patient Resource Reader Survey Winner! Christine used the Patient Resource Cancer Guide to gather information about her cancer and took a few minutes to fill out the survey. In February, her name was drawn at random from all of the completed surveys, and she has selected the Lymphoma Research Foundation (LRF) as the recipient of the donation Patient Resource will contribute in her honor.
Christine has been with her partner, Frank, for eight years. They live in New York with their 3-year-old daughter, Nicole, their dog, Rocky, and their cat, Oliver. Christine works as a pharmacist and enjoys skiing, sewing, baking and gardening.
At the age of 43 and just a few months after having her daughter, Christine was diagnosed with Stage IV non-Hodgkin lymphoma. Before her diagnosis, she began feeling almost constantly exhausted; however, she credited her fatigue to caring for her infant daughter. When lymph nodes behind her ears and in one of her salivary glands began to swell, however, she decided to see a doctor. A biopsy revealed the cancer.
"I was shocked, but I realized right away that a positive attitude would go a long way," Christine said. "I knew I had a battle in front of me and would do all I could to win."
After implementing a watch-and-wait approach for six months, Christine began treatment with chemotherapy. At that point, the cancer had infiltrated her eyes and her right kidney, and in spite of the treatment, the lymphoma continued to spread. Her treatment team added seven cycles of chemotherapy. Thankfully, after that and two additional years of another  maintenance therapy, the treatment was considered a success.
Christine now goes in for blood work, a CT scan and a medical checkup every three months, and so far, the results remain normal. She has some residual neuropathy in her toes and can no longer be as active as she once was, but she does her best to go on walks as often as she feels up to it.
"I'm a hopeful person, and that helps me deal with the challenges I face," she said. "I also have a lot of love from my family and friends, and I appreciate every day with them. I feel like I'm getting stronger each day, both physically and emotionally."
Christine selected LRF (www.lymphoma.org) for the donation because of its devotion to funding innovative lymphoma research and providing up-to-date information about this type of cancer. The foundation offers support and services to people with lymphoma, their families and their caregivers, and hopes to one day eradicate lymphoma.
Christine encourages others to be brave, to never give up hope and to live life with positivity and valiance.
---
2013 Reader Survey Winner Selects CAN Cancer as Award Recipient
Congratulations to Lori Dickey, the 2013 Patient Resource Reader Survey Winner! Lori discovered the Patient Resource Cancer Guide in her quest for helpful cancer information and took a few minutes to fill out the survey. In February, her name was drawn at random and she has selected the CAN Cancer Foundation as the recipient of the donation Patient Resource will donate in her honor.
Lori and her husband have been married for 35 years. They have two sons, ages 23 and 33, and they live in Bend, Ore., with their three dogs. Before her cancer diagnosis, Lori worked as a caregiver. She now enjoys gardening, swimming, riding ATVs and spending time with her family.
In 2009, at the age of 49, Lori was diagnosed with Stage IV colon cancer. She had visited the doctor for stomach pain, but a CT scan not only revealed the colon cancer but also the spread of the cancer to her ovaries—and it was continuing to spread throughout her body. Her doctor told her she likely had just two to four years to live. "I was in shock," Lori said. "I didn't know how I was going to tell my boys."
Lori underwent a total hysterectomy, which included the removal of her entire uterus and cervix. She then began seven months of chemotherapy. Thankfully, the treatment was successful. She now goes for blood work and a CT scan every six months, and so far, the results remain normal. Lori continues to deal with neuropathy and muscle spasms, but she does her best to keep moving and is learning to live with it.
"During treatment, there were times I was so sick I did not think I would make it, but I did," she said. "I am stronger than I knew I was, and with my family and the Lord on my side, I will beat this. My family is all I think about and I don't want to leave them. I'm looking forward to life and grandchildren."
Lori and her friend Janey, also a colon cancer survivor, started a faith-based support group together, and Lori also volunteers with the American Cancer Society. "Helping other patients is my joy," she said. "If this hadn't happened to me, I wouldn't have been helping cancer patients or even thinking about cancer. But all of this has sent me in a different direction in life. Now it is my goal to do as much as I can to help other cancer patients."
Lori selected the CAN Cancer Foundation (www.cancancer.org) for the donation because of its impressive commitment to providing community assistance to cover nonmedical living expenses for those in central Oregon fighting all forms of cancer. All funds raised are used to directly benefit families affected by cancer by helping pay for living expenses, such as fuel, travel and food costs not covered by insurance or other programs. "This money will help a lot of cancer patients get rides to their appointments and other services they might need."
---
2012 Reader Survey Winner Selects International Myeloma Foundation as Award Recipient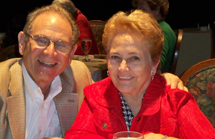 Congratulations to Danny Scott who is the 2012 Reader Survey Winner! Danny discovered the Patient Resource Cancer Guides in his quest for helpful cancer information and took a few minutes to fill out the survey. In February, his name was drawn at random and he has selected the International Myeloma Foundation (IMF) as the recipient of the donation Patient Resource will donate in his honor.
Danny lives with Maggie, his wife of 18 years, in Tampa, Florida. Originally from Brooklyn, he moved to Florida in 1996. He is a senior project manager for KHS&S Contractors and has overseen the building of casinos, hotels and theme parks. Between he and Maggie, they have four grown, married children and six grandchildren.
Always an active man, Danny has danced, sung, stage managed, produced, designed lights, sound and built sets in more than 90 community theater shows throughout his amateur thespian career. Maggie has also produced more than 150 community theater shows.
In 2006, Danny's life changed dramatically when he was diagnosed with multiple myeloma. Initially he was given the prognosis of having one or two years to live – if he did nothing. "It was devastating. Maggie and I looked at each other and said, 'What are we going to do?'" he explained. Danny embarked on his cancer treatment journey at a cancer center in Tampa, where Maggie is employed. After seeking a second opinion in New York, he returned to Tampa and his next year and a half was filled with bone marrow biopsies, radiation targeted at a lesion on his spine to stop tumor growth and chemotherapy in preparation for an autologous stem cell transplant (utilizing his own stem cells). There were also two back surgeries to help repair damage from the cancer. At one point, his 5'7" frame was bent so badly from the pain, he was only 5'2". Fortunately, his surgeries successfully restored all but one inch of his height and eliminated his pain.
Two and a half years after his initial diagnosis, Danny was in complete remission. He then became even more serious about his health by losing 50 pounds and begining an exercise regimen. He is now celebrating his six-year anniversary, enjoys a healthy and happy life with his family, regularly attends IMF and other myeloma seminars and has joined a support group. He continues to closely monitor his cancer markers with his oncologist.
"I was very lucky to have been diagnosed early because myeloma often does not have out-right symptoms. I also have had a great deal of encouraging information from my doctor and other doctors at the seminars, and from talking to patients. I've learned the value of support groups. It has confirmed to me that you are often your own best medicine and I have to take care of myself," Danny said.
He selected the International Myeloma Foundation (www.myeloma.org) for his donation because of its impressive commitment to research, patient support and informative seminars as well. "I know the money is being used for education and research. It will hopefully help other patients and me where there is no cure – but there is at least a stopgap that can happen."
---
2011 Winner: Support Group's Relay for Life Team Selected for PRP Donation
Invaluable Encouragement Provided to Survivors
This year we congratulated Lisa Shannon as the winner of our 2011 Reader's Survey. Lisa lives in Anderson, IN, and is also a cancer survivor. She discovered our guides while in the St. John's Cancer Center, where she received her treatment and is an active volunteer as a Cancer Journey Companion for other breast cancer patients.
Lisa worked for 25 years for the Guide Corporation, which made headlights and tail lights for General Motors, until 2002 when she retired on disability. She is now an avid amateur genealogist who has traced lines of her family back to the 1400s. She is also the proud mother of a daughter and five teenage grandchildren.
In 2007, at the age of 53, Lisa was diagnosed with breast cancer. Fortunately, the cancer was caught early, and she was successfully treated with a lumpectomy and targeted radiation therapy. She has had no recurrence of disease since her treatment.
Lisa's cancer diagnosis and treatment led her to join the St. John's Hands and Hearts Breast Cancer Survivor group, and she has selected the group's American Cancer Society's Relay for Life Hands and Hearts team to receive the donation Patient Resource will donate in her honor. Hands and Hearts' Relay for Life team has a friendly fund-raising competition with other groups in the city, and Lisa is hopeful her donation will give them the winning edge.
Hands and Hearts provided Lisa with a group of women who could share her journey and she in turn supports her fellow survivors. The group meets monthly for fellowship, educational presentations and to raise funds for Relay for Life. She publishes a monthly newsletter for the group and is the Hands and Hearts historian.
"When I went into my cancer office for the last treatment, it felt like all of sudden, everything was over and I was getting sent out into the world and left on my own. I started crying in the doctor's office and he immediately put me in touch with one of the nurses who started Hands and Hearts," Lisa explained.
"It's nice to have other people to talk to who are going through similar situations. If any of us gets into trouble ­— has a bad mammogram report or is even fighting cancer a second time — we like to be there for one another. We also can bring our caregivers with us. My grandkids like to go, and I had to start flipping a coin to see which one gets to come with Grandma! There are ups and downs for all of us in our group, but Hands and Hearts has helped me from day one!"
---
2010 Winner: Two Minutes Can Alter the Course of Another's Cancer Journey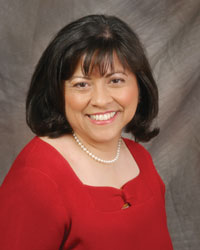 Denise Yoshihara took just a few minutes of her time and answered the Patient Resource Cancer Guide reader survey. We said "Congratulations, Denise!" and announced her as the winner of our 2010 Reader's Survey. In the 2009 Fall/Winter edition, we invited our readers to submit their suggestions and opinions about the Guide, and in exchange, Patient Resource Publishing (PRP) — the publisher of Cancer Guide -— would make a donation to a cancer organization of the winner's choice. Her name was randomly selected as the winner from all submissions, and through her choice, she is making a difference in the lives of others.
Denise is a Licensed Clinical Social Worker/Supervisor in Oncology Services at the Virginia K Crosson Cancer Center at St. Jude's Medical Center in Fullerton, Calif. Denise provides psychosocial care for cancer patients and their families. Her responsibilities include counseling, crisis intervention, support groups, coordinating care by setting up home health, palliative care and hospice, as well as helping patients with insurance and financial issues.
Having worked at St. Jude's for nearly 20 years, Denise is well acquainted with cancer organizations. Of these, she has selected Breast Cancer Angels as the recipient of the PRP donation. Breast Cancer Angels provides emergency and long-term financial assistance with practical needs that include groceries, utilities and housing for women and their families as they are going through breast cancer treatment. Denise said, "I like Breast Cancer Angels (breastcancerangels.org) because it is a grassroots organization, and I know that 100% of all donations go to women with breast cancer."
Denise makes available the Cancer Guides to her patients, and recently she gave one to her sister who was diagnosed with breast cancer. "The guide is such a great resource. I like that I can give a guide to a patient, and he or she can find out about their specific cancer, treatments and side effects. Patients also can see what resources are available beyond our local services," she said. "I really enjoy the survivor stories — that our patients can read about another survivor so they know they are not alone."
"I like that I can give a guide to a patient, and he or she can find out about their specific cancer, treatments and side effects."
Denise Yoshihara