Download Your Complete Guide Today!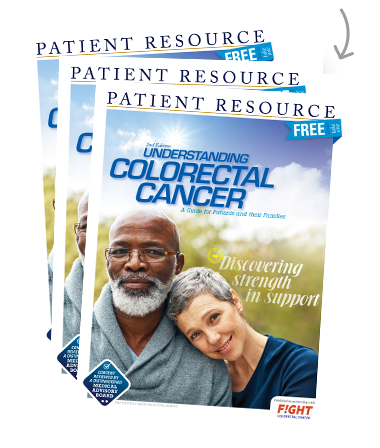 DOWNLOAD NOW
Colorectal Cancer
Overview
Learning you have colorectal cancer can be life-changing. Suddenly you are faced with many decisions, some that must be made soon. It is important to know that you are not alone. You are now part of a close-knit cancer community made up of survivors, families, health care professionals and advocates. They range in ages and cultures. Some have had colorectal cancer; others are dedicated to ensuring you have the resources you need to manage it. You are encouraged to get to know them, and learn from their experiences. They are here for you.
How To Get Started
Begin by learning as much as you can about colorectal cancer and then about your specific diagnosis. If you are not sure what it is, ask your doctor to write it down for you. All colorectal cancer diagnoses are not the same, and they do not respond the same way to treatments. This is true for many reasons, such as where it is located in your body and if biomarkers are present in the tumor. Ongoing research focusing on biomarkers and subtypes, early detection and more are helping improve the ways colorectal cancer is treated, so it is important to be aware of your options.
Use reputable sources such as those included on this site, and ask your health care team for additional resources. The more informed you are, the better prepared you will be to make the decisions ahead.
Understanding Colorectal Cancer
Cancer that begins in the colon or rectum is referred to as colorectal cancer. You may hear "colon cancer" and "rectal cancer." Both are correct depending on where in the body the cancer started.
Part of the digestive system, the colon makes up about the first six feet of the large intestine, and the rectum and anal canal are about the last six inches (see Figure 1). Colorectal cancers typically begin as benign polyps that may become cancerous. During a screening procedure called a colonoscopy, polyps are removed (polypectomy). A similar procedure (local excision) may be done during a colonoscopy to remove small tumors detected early.
If you or a loved one has already received a colorectal cancer diagnosis, you may think this information isn't helpful. Not so. One of the top reasons for recurrence may be lack of follow-up screening. Staying up to date with colorectal cancer follow-ups and regular screenings for other conditions is very important.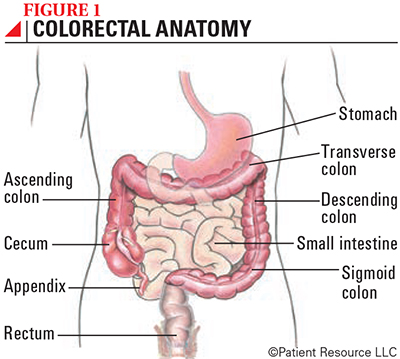 Assemble Your Multidisciplinary Team
Support is available in many forms. Your team may include many of the following specialists, as well as other health care professionals.
Advanced practice providers (oncology nurse practitioners and physician assistants) work closely with the oncologist and other team members to help oversee an individual's care and evaluations. They also specialize in managing the physical and psychological needs of cancer patients and their loved ones.
Case managers may be social workers, trained financial counselors, nurses or a combination of these experts who ensure you receive quality services, from screening and assessment to care coordination and discharge planning.
Colorectal surgeons specialize in surgeries of the digestive tract.
Counselors are mental health professionals, such as psychologists, psychiatrists or social workers, who are trained to help you manage your feelings, worries and concerns.
Enterostomal therapists are health professionals trained in the care of persons with stomas, such as colostomies. They may also be known as ostomy nurses.
Gastroenterologists have special training in diagnosing and treating disorders of the digestive system.
Nurse navigators, also called patient navigators, guide patients through the health care system, from screening and diagnosis to treatment and follow-up. They help patients communicate with their health care providers; set up appointments for medical visits and tests; get financial, legal and social support; and work with insurance companies, employers, case managers, lawyers and others who may be involved with a patient's health care needs.
Oncologists are trained to diagnose and treat cancer using medicines such as chemotherapy, targeted therapy or immunotherapy. Some oncologists specialize in a particular type of cancer or treatment.
Palliative care specialists offer physical and emotional relief for cancer symptoms, pain management, treatment-related side effects and more.
Pathologists specialize in diagnosing disease by studying cells and tissues under a microscope and help interpret laboratory tests including molecular and genomic analyses.
Pharmacists prepare and dispense prescriptions, ensure medicines and doses are correct, and prevent harmful drug interactions. They also counsel patients on the safe and appropriate use of their medications.
Radiation oncologists are specially trained to use radiation to treat cancer.
Radiologists are trained in creating and interpreting pictures of areas inside the body. The pictures are made with X-rays, sound waves or other types of energy.
Social workers may help with various tasks, such as finding services or working with insurance companies, as well as providing counseling for patients and families.
Surgical oncologists are specialists who treat cancer using surgical procedures.
Caregivers. A caregiver assists you with the tasks of daily living that you may not be able to perform by yourself. This may include going to medical appointments, shopping, bathing, getting dressed, eating and helping with your ostomy (if applicable). It's a good idea to identify more than one person to help with these tasks. Hospitals and home-care agencies can provide skilled nursing care or arrange for someone to help with this role when family and friends cannot.
Support groups. Advocacy groups offer you the chance to talk with others who are facing the same challenges and share knowledge. Groups may be local or online.
Many of these groups offer peer-to-peer support through programs that match the patient with a person who has had a similar diagnosis. Being able to talk with someone who knows what you're going through is ex-tremely helpful.