Case Management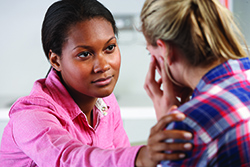 Discover How Case Management Can Work for You
A valued and often untapped resource is case management, usually a free program designed to help manage the practical issues and problems associated with a cancer diagnosis and treatment. Your case manager is your personal advocate, acting on your behalf by collaborating with health care professionals and non-medical personnel to help overcome various financial, logistical and other common barriers to care.
Your case manager, who may be a social worker, trained financial counselor, nurse or some combination of these areas of expertise, works in various ways to ensure you receive quality services, from screening and assessment to care coordination and discharge planning. Dealing with a serious illness involves much coordination, such as filing insurance claims, paying medical bills and arranging for transportation. It is difficult to focus on these items when you are more concerned with understanding your diagnosis and making treatment decisions. Although these issues may feel secondary, they often become critical. Your case manager helps navigate and address these responsibilities to reduce or eliminate your stress and anxiety so you can focus on healing.
Case management comes in many different forms. It is sometimes very specific and short term, confined to a period of time or specific issue, or it may be a long-term engagement based on a particular patient's needs.
Alan Balch, PhD, Chief Executive Officer at Patient Advocate Foundation (PAF), understands the value of helping patients find solutions to the problems they face during treatment.
"Our case management program is a process of directly assisting patients and their caregivers in finding and securing appropriate resources or dealing with specific barriers. In our experience, the areas in which patients need help most are transportation, paperwork and finding financial assistance to cover various costs."
Fran Castellow, MSEd, PAF, believes no patient should have to struggle with financial obstacles alone. "Our expert case managers work alongside the patient or caregiver to identify solutions to problems surrounding insurance, medical debt and many other challenges, as well as helping them better afford their out-of-pocket costs."
Your case manager can help you carefully review your insurance policy, including the items covered by Medicare Parts A, B, C and D, so you know the rules and procedures to follow and what is covered. You are encouraged not to dismiss potential treatment options until you've looked into the financial resources that are available, even if you are uninsured or underinsured.
Case management sometimes offers indispensable services surrounding end-of-life needs. If you choose to be at home at this time, a case manager may be available to arrange for door-to-door transportation from the medical facility to your home, and ensure a hospice company, necessary equipment and a nurse are on site before you arrive. The goal is to help you feel secure and comfortable, surrounded by people who care, in the last moments of life. If your health care team doesn't offer case management services, ask for a referral.