A Caregiver's Perspective
Caregiver Raises Awareness of Prostate Cancer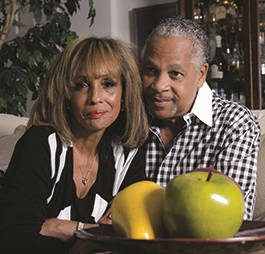 Janet Jones took on the role of caregiver for her husband after he was diagnosed with Stage IV prostate cancer. She encouraged him to share his feelings with her throughout treatment instead of closing up. She chronicled her experience in a book, "The Trial of Stage IV Prostate Cancer," so other women can help the men in their lives.
Euvon and I met in 1976 in an R&B band. He was the smooth bassist, and I was one of three vocalists. What began as a tepid friendship evolved into romance and was sealed in marriage in 1979.
I gave up my career as an executive assistant to support Euvon the day after we married. That role took a critical turn when, in 2011, my rock-solid, healthy husband's 59 year-old body broke down during a swim challenge with a nine-year-old boy. After weeks of bone pain and weight loss, several in-depth tests revealed the horrible diagnosis of Stage IV prostate cancer with a prognosis that his life would be significantly cut short.
Heartbroken, I prayed for wisdom and understanding about what this rerouted purpose meant for us. I needed great faith and strength to fight this formidable foe that had invaded our lives and his body. Euvon and I searched for a reputable hospital and an oncology team that specialized in prostate cancer care. His oncologist determined that because it had metastasized to his lymph nodes and bones, he was not a candidate for surgery, chemotherapy or radiation therapy.
Euvon pushed past his pain and fear of uncertainty and continued his rigorous work schedule, while undergoing hormone therapy and immunotherapy. I, on the other hand, took on the personal task of becoming a student of his diagnosis, gleaning a plethora of information about the causes, symptoms and stages of prostate cancer.
I researched the natural and alternative medicines, vitamins and other resources that could sustain him through his treatment protocol; what foods needed to be organic, grass-fed or cage-free; and the organic and chemical-free household and personal hygienic products that I felt were safer for our environment and bodies.
I took an independent approach in caring for Euvon. My most important goal was to encourage him to talk about everything he was feeling, physically, emotionally and spiritually, so he wouldn't drift to a place where I couldn't reach him.
Euvon's willingness to communicate with me allowed me to be more proactive in his daily life and better assist with long-term decisions. I attended his initial appointments, tests and procedures. Once his treatment plan was established, he often went to the hospital from work.
Eventually, my caregiving role intensified in the food department. Our new diet was so nutritious, yet he refused to eat it. Its earthiness, he claimed, was like eating dirt and made him nauseated. I told him he needed to respect this nutritious diet if we were to continue upon this road of "in sickness and in health." Gradually, the meals became more innovative and creative once he became involved in their preparation.
Convincing him to adhere to our new dietary regimen tested his patience and mine. Yet, we understood that our strength lay in battling together against this deadly disease with discipline. Our extended family and friends were also very supportive.
One of our more difficult days was when Euvon had sudden stabs of breakthrough pain he experienced while dining out. I could barely get him out of the restaurant and drive him home. However, his worst side effect was post-biopsy once the numbing medicine wore off. He was in so much pain. God has answered our prayers along the way, and Euvon has improved tremendously.
My advice to women who are caring for husbands with prostate cancer is to realize our job is to give them the best quality of life possible. We also need to dedicate time for ourselves in order to maintain our physical and emotional health.
The hardest part of caregiving for me was the constant weakness in my soul from all the unknowns. My peace came from knowing that, whatever the outcome, we would win.
Whenever I felt overwhelmed, composing and recording songs calmed me. I also chronicled our journey, in the form of a memoir, which, according to Euvon's oncologist, was written "to encourage every man, for the sake of everyone who loves that man, to take an alternative road when it comes to their health." Our book is available at www.jones4life.com.
This experience has taught me that it's not been about us, but about encouraging families to be proactive in their loved one's care and encouraging men to do whatever it takes to prevent being one of the more than 200,000 men diagnosed with prostate cancer each year.
The best advice I've received is, "Let us not be weary in doing good, for at the proper time, we will reap a harvest if we do not give up," which was written in the Holy Bible, my Book of Life.
Click here to read Euvon's story.