Global Medical Advisory Board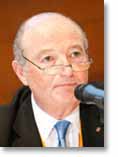 Eduardo Cazap, MD, PhD (Argentina)
Eduardo Cazap MD, PhD is the founder and first President of the Latin American & Caribbean Society of Medical Oncology (SLACOM) since 2004 and in 2008 was elected by the General Assembly of the Union for International Cancer Control (UICC-Geneva) as President for the 2010-2012 period. In 2009 he was elected Board Member of the American Society of Clinical Oncology (ASCO-Alexandria), representing the international members. In September 2010 was nominated by the Argentinean government member of the Board of Directors of the newly created National Cancer Institute of Argentina.
After graduating in 1972 as a medical doctor from the University of Buenos Aires in his native city, Buenos Aires, Dr. Cazap was resident in Internal Medicine and then specialist in medical oncology at the Military Central Hospital and the Universidad del Salvador. He also completed fellowships at Strong Memorial Hospital, Rochester, New York and the Lombardi Cancer Center at Georgetown University, Washington, D.C. He was also fellow of the American Cancer Society in 1985.
Following his role as Principal Investigator of the Collaborative Cancer Research Treatment Program (PAHO-NCI) in 1984, he became Professor of Clinical Oncology at the Universidad del Salvador (1984-98) and then Professor of Medical Oncology at the Universidad Católica Argentina (1988-2000).
As well as having published over 170 papers, he has held many prominent positions in the medical arena, including Medical Director of the Instituto Dr. Estevez, Buenos Aires (1985-99) and representing Latin America at the European Society of Medical Oncology (ESMO), Lugano, Switzerland. He was President of the Argentine Association of Clinical Oncology (AAOC) in 1996-98 and 2000-02. In 2000, he was signatory of the Charter of Paris against Cancer. He is also a member of the Developing Countries Task Force for ESMO since 2002. Dr. Cazap was a member of the 2006 and 2008 UICC World Congress Program Planning Executive Committee and he is also an active member of ASCO, was Chairman of the International Affairs Committee, is member of the Cancer Prevention Committee and is member of the Board of Directors.
Dr. Cazap's main areas of research and interest are cancer prevention, breast and cervical cancer, independent clinical research and global cancer control.
He has also performed several collaborative and advisory programs with World Health Organization (WHO-Geneva) and Pan American Health Organization (PAHO-Washington).
Dr. Cazap also serves as Chairman of the Executive Committee of the Breast Health Global Initiative (BHGI) which is co-sponsored by the Fred Hutchinson Cancer Research Center and Susan G. Komen for the Cure®. BHGI strives to develop and implement Guidelines for International Breast Health and Cancer Control for low- and middle-income countries.
One of Dr. Cazap's most relevant ongoing projects is as Chair of the International Clinical Trials Working Group (ICTWG), a joint effort of ASCO and NCI-US, for the improvement of independent clinical cancer research at the international level.
He is also leading the International Cancer Prevention Stakeholders Group, under the umbrella of UICC and the support of ASCO. This initiative has been developed for international activities in cancer prevention gathering various organizations (UICC, ASCO, ESMO, AACR, ACS, WHO and others) in a common and coordinate strategy for the improvement of global cancer control.
Dr. Cazap was also elected President of the UICC World Cancer Congress that was held in Montreal, Canada, in 2012.