Download Your Complete Guide Today!
DOWNLOAD NOW
Financial Considerations
Top 10 Tips to Manage Your Finances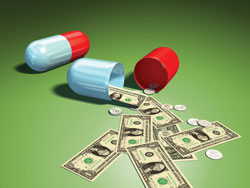 Review your income and expenses.

Gather your current bills and check stubs to gain a better understanding of how much money you currently have coming in and going out. Next, review your health insurance policy to determine your deductibles, co-payments and covered services, and then use that information to help you estimate your out-of-pocket medical expenses. Finally, list any savings or other assets (life insurance plan, property, investments) that you can use to get cash if you need to, and talk to your family about ways you can all cut back on expenses.

Complete a budget worksheet.

List your income and expenses (some of which will be estimates) on a budget worksheet. Complete a new worksheet each month to track your finances and become better prepared for your expenses.

Talk to your health care team.

Don't be embarrassed to talk to your health care team about the costs of care. Most medical facilities have social workers, financial counselors and patient navigators who can help you with financial issues, and special payment arrangements are usually possible.

Get the most out of your insurance.

File claims for reimbursement immediately and don't accept a denial—always review your policy, ask for help from your doctor's office and file an appeal.

Find ways to reduce the cost of drugs.

Look for a pharmacy in your area that offers low prices on generic drugs. Your anti-cancer drugs may not be included in low-cost lists, but other drugs, such as those prescribed to help you manage side effects, are frequently available in a generic form. Also check to see if the manufacturer of your anti-cancer drug has a financial assistance program, and if you have Medicare coverage with a Part D prescription drug plan, see if another Part D plan covers more of your cancer-related drugs. You can change Part D plans from Oct. 15 through Dec. 7 of each year and under special circumstances. Finally, find out if your insurance offers a mail-order prescription program, as the cost is usually lower than getting drugs from a local pharmacy.

Search for financial assistance.

Many national and local advocacy groups and other nonprofit organizations can help provide financial assistance.

Learn about possible benefits and protections.

Review federal laws to see if you are eligible for any benefits and/or protections related to your health care and employment. See here for highlights of these laws, including COBRA, FMLA and HIPAA. A social worker can also provide more information, and several organizations can help you determine whether these laws are applicable in your scenario.

Tell creditors about your situation.

Download a Free PDF

If your budget shows that your expenses exceed your income, get in front of the problem by talking to your creditors. It may be possible to negotiate payments. A nonprofit credit counseling service may also be able to help you work with your creditors. Communication is your best tool for preventing future issues surrounding collections and medical debt, so use it!

Take care of estate planning.

Give yourself peace of mind and a sense of security by preparing and documenting a plan of how to divide your property before or after death. See here for detailed information on estate planning.

Keep your paperwork organized.

Well-organized paperwork is integral to handling financial matters. Set up an organizational system early, and keep your paperwork organized along the way so you never have to scramble for a document. The information here can help.