Download Your Complete Guide Today!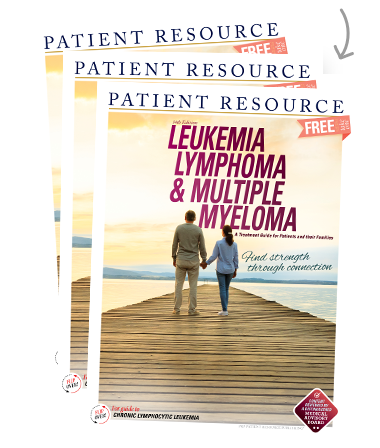 DOWNLOAD NOW
ORDER FREE COPIES
Follicular Lymphoma
Clinical Trials
Scientists and doctors are always working to find better treatment options for people with follicular lymphoma. Clinical trials, which are volunteer research studies, are currently testing treatments for newly diagnosed follicular lymphoma and/or relapsed disease. These trials assess the effectiveness of new drugs, drug combinations and treatment type combinations that may help produce prolonged remission.
People who choose to participate in a follicular lymphoma cancer clinical trial will receive the standard of care as a foundation and then the experimental treatment may be added to it.
To participate in a clinical trial, you must meet certain eligibility criteria, such as cancer type, overall health, treatment history, etc. Talk to your doctor about whether a clinical trial may be right for you. You can also search online for clinical trials.
You may consider participating in a clinical trial for any of the following reasons.
Your current treatment may not be working as well as expected, and a clinical trial may offer a worthwhile alternative.
A clinical trial may significantly improve your quality of life. Discuss your personal situation with your health care team, so they are aware of your expectations regarding any side effects.
You may have a rare type of cancer that hasn't been studied as much as other types.
By simply participating, you'll play an integral role in helping refine and improve the way millions of people with all types and stages of cancer are treated. Your participation will help researchers identify those treatments that are effective.
Although all cancer treatments in use today came from clinical trials, patient participation could be improved. Fear of the unknown may prevent people from participating. Consult with your doctor and the health care team that will be conducting the clinical trial to learn what you can expect as a participant. Talk with people who have participated in clinical trials, but remember that not everyone responds to treatments in the same way. You cannot expect an identical experience in terms of response to treatment, side effects, etc.
The cost of clinical trials is another reason people hesitate to volunteer, but patient-care costs (such as going to the doctor, hospital stays or certain testing procedures) may be covered by insurance. It's common, but not guaranteed, for the trial sponsor to cover research costs directly related to the study, and insurance does not typically cover research costs. Ask your insurance provider about coverage before entering into a clinical trial.
People may hesitate to volunteer because of the many misconceptions about clinical trials. Be your own best advocate, and learn more about clinical trials so you can make an educated decision. People often find they have more positive treatment experiences when they are educated about and actively involved in decisions about their care.
Following are a few resources where you can search for clinical trials in your area and learn more about how clinical trials work:
Understanding Informed Consent
Before volunteering for a clinical trial, potential participants receive detailed information about the clinical trial in an Informed Consent form. This form details the purpose of the research, including what the participant's role will be in the trial and how the trial will work. It also includes risks, benefits and other pertinent information to answer a potential participant's questions. To ensure they fully understand what they are agreeing to, potential participants are required to review the form during the Informed Consent process.
The Informed Consent information should be explained in easy-to-understand language and will describe the study's purpose, the length of time of the study, predictable risks, possible benefits, expectations, protocols, alternative beneficial procedures or treatments, the research subject's rights, where more information can be found and answers to additional questions about the research. The document will include some of the following information:
The trial and its goals.

How the participant will be monitored and what side effects to expect.

The best standard regimen of care for that stage of disease, regardless of the doctor or institution.

The safeguards in place. All clinical trial participants are protected by rules that apply nationwide to all facilities.

How to withdraw from the trial at any time.
The Informed Consent process should give potential participants a reasonable amount of time to review the trial's information and ask questions before volunteering. They should use this time to check with any insurance providers to determine what procedures are covered and what they are expected or required to pay out of pocket. Although many trials cover the costs of certain treatments, other expenses may be the responsibility of the participants, which would best be discovered before starting a trial.
Potential participants need to understand their role as "subjects of research" and not as patients. Although they may receive personal treatment, they are not guaranteed to benefit from the study. They may be exposed to unknown risks, and they are entering a study that may be very different from current standard medical practices.