Thyroid Cancer Survivor
Stay in Tune With Your Body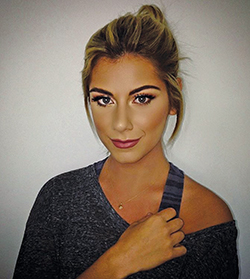 Jaclyn Miskanic, better known as Jax to her family, friends and fans, didn't feel like herself emotionally or physically. Her American Idol appearances had taken her career to a new level, and she attributed feeling "off" to a nonstop schedule of performances, press, writing and recording. A thyroid cancer diagnosis was the last thing on her mind. As she recovers and rebuilds her body and mind, she is opening up about her experience to help raise awareness about thyroid cancer.
My life was a whirlwind and, I admit, I wasn't treating my body well. I didn't eat right or get enough sleep. I am a singer/songwriter and totally devoted to my craft, and I was going at a crazy pace. I was home schooled, so I joke that I have no immune system. If I felt sick, I usually ignored it and waited for it to go away. But, as I was performing on a 38-city tour, I noticed some physical changes, and I started feeling emotionally not stable. I'd call my parents and basically cry to them every morning. They encouraged me to come home in April 2016 and take a rest. I did, and when I was there, I noticed a lump in my throat. It took a lot of convincing on their part to get me to the doctor, but I went, and I'm so glad I did.
I was referred to a thyroid specialist, who ran a lot of tests. She was very efficient and went through every possibility with me. She determined I had Hashimoto's Disease, which explained why I felt depressed and tired and why my weight was fluctuating. It was attacking my thyroid and basically took over my whole body and mind. I learned about how to manage it with medication and eating a gluten-free diet. However, my doctor also found 18 tumors around my thyroid. Even though it was unlikely the tumors were cancerous, she recommended a biopsy to be sure. While I waited for the results, I performed at a show and noticed a little bit of scratchiness in my voice. A few days later, I found out that 12 of the tumors were cancerous. I was diagnosed with thyroid cancer at 20.
I'm a positive, energetic person, but it took me a minute to digest the news. My grandfather had his thyroid removed due to cancer, and he isn't able to speak anymore. That was a frightening thought. It was tough for my parents to wrap their arms and hearts around the diagnosis, too. I've always been very close to them and to my little brother, and I think I was more worried about them.
We got referrals for an oncologist. And my mom is an expert researcher, so we got lots of second opinions. My thyroid specialist and surgical oncologist worked together and recommended a full thyroidectomy. Of course, there are no guarantees in medicine, but my surgeon felt confident I'd be able to sing again. His confidence made me less scared. The surgery took much longer than expected because the Hashimoto's was flaring up, but it was successful.
Everyone who knows me knows the first thing I do when I wake up in the morning is a mic-check. So, the first thing I did when I woke up after surgery was try to say, "Check, 1, 2." It didn't sound good then, but my voice started to come back a few weeks later. It was a little frustrating, trying to write and sing. My amazing vocal coach has helped me a lot. My muscles were not intact, and he had to actually help me relearn to sing.
Three of my parathyroid glands were removed along with my thyroid, so I ended up with a calcium deficiency. My feet and fingers were tingly and numb, and they started to turn blue. That was scary, but calcium supplements have corrected it. I've also had major body temperature changes. Some nights I wake up sweating. The "fake thyroid" medicines that I'll take forever will get that worked out, but it's taking some adjusting and lots of blood tests to get the right dosage.
About a month or so after surgery, I started radiation therapy. I've had it a few ways. I've swallowed it, had it injected and taken pills. I've had some nausea and dry mouth, and now I chew a lot of gum. I am still radioactive, so I spend time alone. I'm a very touchy/feely person, and it's been hard not cuddling with my dog. I have, however, gotten my Netflix fix–I've done a lot of binge watching. I think the universe was telling me to slow down and take this rest.
We'll continue to monitor my situation for several months with scans, but now that I'm feeling better, both physically and emotionally, I am focused on the things I can control. For me, that means writing and recording music, running and cleaning. I want to get myself in the best shape I can be in.
I realize this was all so much bigger than I am, and I'm blessed to have had my family, friends and fans come out of the woodwork to support me. I encourage everyone to be in touch with their body. I never, ever would have thought to get myself checked for thyroid cancer, and I'm so thankful I listened to my parents. Now I want to use my voice to help others.