Throat Cancer Survivor
Survivor sees light at the end of the tunnel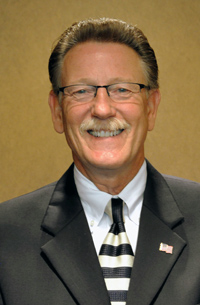 Always living a healthy lifestyle, Jeffrey Van Oeveren was diagnosed with Stage III throat cancer after suffering from a sore throat for months.
There's no doubt that this is not where you want to be right now—with a cancer diagnosis. I wouldn't have chosen it either. But I am still amazed that so soon after treatment, I was on the path toward having my normal life back again.
I was diagnosed with a Stage III malignant neoplasm at the base of my tongue about a year ago. I was 58 years old and healthy. I have been a runner for more than 30 years and was still running four or five days a week. I played golf weekly. While I did dip tobacco, I quit smoking years ago. My wife and I have three grown children and two grandchildren. One of my sons and I have an employee-benefit program consulting business.
My throat had been sore for a couple of months, but I didn't think much about it. Finally, I went to a mini-clinic and then to my family practice doctor, but I didn't get better. By now, I had a small growth on the side of my neck, and this time I visited an ear, nose and throat doctor. After his examination, he scheduled me the next day for a biopsy.
The biopsy indicated that I had cancer. I was then referred to a highly respected specialist in head and neck cancers. He put a scope in my throat, examined me and called in a surgeon. After review, it was determined that the location was too difficult for surgery, even with robotics.
The recommended treatment was now radiation and chemotherapy. That's when reality set in: I had cancer. My wife Lyn is an Emergency Department nurse, and we had to face what this meant. The oncologists, however, told me from the very beginning that they were optimistic because we had caught it early. While I would have preferred surgery, the oncology team assured us that the success rate for radiation and chemotherapy were similar to surgery.
They prescribed two months of targeted radiation (36 doses) along with eight weekly infusions of chemotherapy. I felt fine the first few weeks, but then into the second month, I began to feel like I had the flu. The radiation was killing the cancer cells in my throat, but it was also damaging my esophagus, saliva glands and taste buds. I began coughing up phlegm continually. That was very unpleasant, and I had no appetite. I had to be fed through a feeding tube in my stomach and in the process lost 35 pounds.
This was a very challenging time, and it was easy to get discouraged during those months. I started to think it was going to last forever. On the positive side, my wife took off two months from work and was beside me every day. My church prayed regularly for me. My extended family also rallied to mail a card to me every day. I can't tell you how much those cards meant.
Then one day, around three months after I had completed my treatment, I suddenly began to feel better. The worst was over, and each day I continued to improve.
Looking back now, I can see that four or five months in life are very short. I wasn't this optimistic a few months ago, but I am a man of faith and I had to trust. The cancer is gone—hopefully for good. While you and I may not have had a choice about having cancer, I encourage you to focus on one day at a time. There is light at the end of the tunnel, and you will be there before you know it.