Acute Lymphoblastic Leukemia Survivor
Stay Positive and Don't Let Cancer Consume Your Life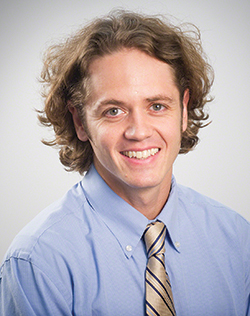 Dr. Jason Schwartz's dream of becoming a pro football player was interrupted when he was diagnosed with acute lymphoblastic leukemia at the age of 13. His parents took him from a suburb of Baton Rouge, Louisiana, to a children's hospital in Memphis for treatment. His experience changed his dream and his career trajectory. Learning from the doctors fueled his own desire to become one. Now, he is cancer-free and has returned to that Memphis hospital to treat other children who have cancer.
When I was starting the eighth grade, all I could think about was playing on the junior high football team. I was on the starting team when I began to notice increased ankle pain. I didn't think much of it, just that it was normal from practicing. My astute mother began to notice some lumps and bumps in my neck around the same time. She made an appointment with my pediatrician. The doctor took some blood and results came back as suspicious. In the meantime, I continued to play football. Two weeks later, we repeated the blood work. The doctor called my parents and said the diagnosis was likely to be leukemia, and he recommended we go to a well-known children's hospital in Memphis immediately.
My parents took the word "immediately" literally. I was completely surprised when I got called to the school office. This was typically reserved for students in trouble. I knew something wasn't right. My parents were waiting for me with tears in their eyes. They told me what the doctor said and that we needed to leave immediately for Memphis. I really didn't want to go, and my parents had to physically put me in the car.
I remember the flight to Memphis very clearly. When we arrived, I was surprised by how the hospital didn't look like a hospital. Instead, it was warm and inviting. I'll never forget the full team of professionals who were waiting to greet me even though it was nearly 9 p.m. It was super special.
The doctors repeated all of the blood tests and bone marrow tests to confirm I had leukemia, and they found that I had acute lymphoblastic leukemia. Within 48 hours of arriving, I began my two and a half years of chemotherapy. However, I had a hard time believing I was sick because I didn't feel that bad. I had football games to play, and I didn't want to miss school — all of the fears of an eighth grader. The hospital arranged for me to have tutors that worked with my junior high school so that my schoolwork would continue while I was in the hospital for a higher intensity treatment that lasted three months.
The chemotherapy caused me to lose my hair and develop mucositis (painful mouth and throat sores). I also developed pericarditis, which is an inflammation of the heart. It was treated and went away. Despite the side effects, I have no long-lasting effects.
As I went through chemotherapy, I noticed changes in my body. At the same time, I developed an intense curiosity about the body. I talked with the doctors and nurses and asked lots of questions about procedures and how different parts of the body work. As a result, I felt a strong calling to become a doctor and eventually come back and share what I had experienced with other kids.
After we moved back home, my treatments continued at a local cancer center that could monitor me. I went back to school and studied with a new laser focus. My dream of becoming a pro football player went by the wayside. I was determined to get straight As. I blocked out everything else, studied hard and went to medical school.
After I completed treatment, I was checked annually for a return of the cancer until 10 years had passed since the cancer was diagnosed. As of 2005, I am considered cancer-free. Now I'm a track athlete and have competed in a half Ironman. I'm also a doctor working at the same hospital where I was treated.
My parents were my support system. My other siblings had a hard time because they took a back seat while I went through treatment. I tell families affected by cancer to be cognizant of the siblings without cancer. They're going through a stressful time, too. More is being done now for siblings, which is important because they should not be left out psychologically.
Patients and doctors really are a team. They need to trust each other for the communication to flow. If there is mistrust or animosity, it will never be helpful. Don't be afraid to ask questions and be involved in your treatment. I realized that being a part of my care gave me a reason to pay attention and focus on getting better.
Stay positive. Laughter is a form of medicine, even though it's not a cure. Make an active decision to not let cancer consume your life. Let your positive attitude take you to the finish line.