Leukemia Survivor
Survivor overcame poor odds and thrives after 18 years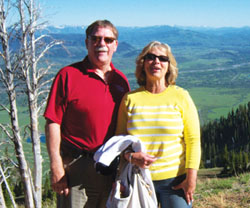 Jeff Baum is passionate about airplanes and can fly almost any type of aircraft. In 1981, he started Wisconsin Aviation, Inc., which has become the state's largest provider of private aviation services. He is currently CEO and president.
In 1992, however, Jeff's flight plan took a slightly different direction when, at the age of 39, he was diagnosed with acute promyelocytic leukemia. Jeff and his wife, Krys, faced this unwanted diagnosis head on, and with the use of a treatment option that was new at the time, overcame a dire prognosis.
When Jeff and Krys aren't working in their business, they and their daughter escape to their cabin on a lake near their hometown of Watertown. Jeff and Krys are also very active with the American Cancer Society's Relay for Life.
In the summer of 1992 I hadn't been feeling well and I knew something just wasn't right. If I cut myself I would bleed a lot and it was hard to get it to stop. I was pulling muscles for what seemed like no reason. Looking back, I probably had all the classic symptoms of leukemia, but since I barely knew how to spell leukemia before my diagnosis, I never knew what the symptoms were.
Finally, when I had flown for 10 hours one day and thought I had pulled a shoulder muscle, I decided I should see a doctor. The only doctor I had at the time was my flight physician, and on a Friday night, I called him. He was making rounds at the hospital the next day, so he told me to come in and he would check me out. I went in and came out 28 days later.
My doctor ran blood tests and the results were obviously pretty bad. Because it was beyond his scope, he called an internal medicine physician. This internist also realized my blood counts were way off but had no idea what to diagnose. He told me I definitely should not leave the hospital until a specialist came in on Monday. When I wanted to know about the possible diagnoses, he listed several things, including leukemia.
Since I had to stay at the hospital all weekend, I asked the doctor for some books about leukemia. He refused, saying he did not want me to read about the condition until a diagnosis was confirmed. I asked my wife if we had any medical books at home. She found a 1970s Family Medical Encyclopedia. I looked up leukemia and it basically said two things: it could be chronic and you could live with it for years. Or, if it was acute, you might as well bend over and kiss your backside goodbye, because you were dead.
The following Monday, a specialist came from a different hospital, did a bone marrow biopsy, and gave me the diagnosis of APML (acute promyelocytic leukemia—also APL). That was a real kick in the stomach.
The doctor told me he would give me chemotherapy and he would get me through this. I asked about my odds of survival. He said that I had a 30% chance of being alive after 2 years. I thought that was great because after reading my encyclopedia, I figured that chance was zero.
Fortunately, I had clients and friends who strongly recommended I get a second opinion and contact a doctor at a teaching hospital who was doing research on APML. I called this doctor and he came right over to see me. He had a new experimental treatment called all-trans retinoic acid (ATRA) that had been tested by Chinese researchers. It had a high probability of putting my disease into remission, but it had only been used once in the United States.
This was a no brainer for me. I moved to the teaching hospital and started the treatment. I took the ATRA pills first and then later had chemotherapy. There were a lot of questions about whether or not it was working, but I had a whole team of doctors ­because it was a teaching hospital. Thankfully, on the eleventh day of treatment, my blood count started changing for the better.
I was in the hospital almost a month before my immune system was up to a sufficient level where I could leave and be halfway safe. Two months later, I began receiving chemotherapy on an inpatient basis. They nailed me with an intense treatment that took my blood counts almost down to zero. Then, I had to wait for them to come back up, but once they did, I was on the road to recovery.
I have been cured and have enjoyed good health ever since—18 years and counting. At the teaching hospital I knew I was in really good hands, and strong family support helped as well. It was very important to me to be informed and involved in my treatment. I feel like you have to get your mind in sync with your treatments.
They tell you that attitude has a lot to do with recovery and I agree. The first thing that people have to understand is that now, as it was 18 years ago, having a cancer diagnosis is not a death sentence. If you've got it—you have to deal with it. Every day, people are given almost impossible diagnoses and they fight through it and live. You can be a part of the cure.