Download Your Complete Guide Today!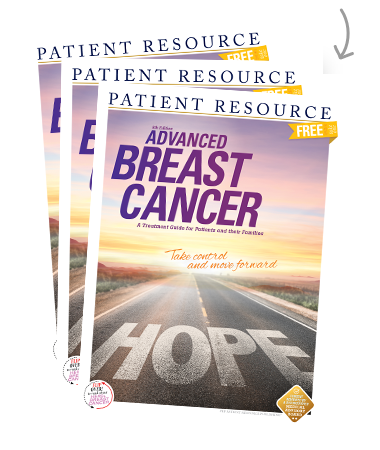 DOWNLOAD NOW
Advanced Breast Cancer
Learning with Lillie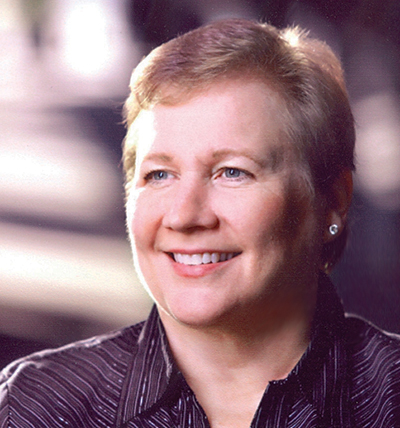 By Lillie Shockney, RN, BS, MAS, ONN-CG
Patient Resource Patient Advisory Board Member and Breast Cancer Survivor
Newly Diagnosed with Advanced Breast Cancer
You have recently received the shock of your life — you have been told that you have advanced breast cancer. Likely you didn't see it coming and might even still feel a bit numb.
You may assume the goal is to cure you of this cancer and for you to become cancer-free. If you were diagnosed with an earlier stage of the disease in the past, that was the goal the first time around. The goal is different now, however; the goal today is to get the cancer under control so that you can live in harmony with it. Newer treatments have changed the dynamics and discussions, enabling patients to live longer — maybe a decade or even two post diagnosis. Ideally, we would love to see your scans post-treatment show NED — no evidence of disease. (I am known for congratulating patients whose scans show no measurable evidence of cancer and telling everyone that they are "living with Ned, in love with Ned, sleeping with Ned, and hope to have Ned in their lives for as long as possible!")
For 70 percent of patients diagnosed with advanced breast cancer, the cancer cells have favorable prognostic factors — hormone receptor positive and HER2 negative. If you fall into this majority, know that new treatments are available that are turning advanced breast cancer on its ear. This means it is crucial to have accurate pathology results, which may require having a second pathologist examine slides from the biopsies done of the bone, liver, lung or elsewhere the cancer cells have migrated. This should take place at a cancer center where there are breast pathologists. Never rely on the prognostic factors from the primary breast tumor that is or was inside of the breast. When breast cancer travels, interestingly enough, its prognostic factors of ER , PR and/or HER2 can change and become the opposite of what they were originally when the breast biopsy was done. Accuracy is key because your treatment plan will be based on this information.
For 30 percent of patients, however, their metastatic disease may be triple negative ( ER -, PR -, HER2 -) or triple positive ( ER +, PR +, HER2 +) or even ER - and/or PR - and HER2 +. These clinical pathology results call for very different treatments to get the disease under control. In the past decade, specific drugs have been developed for triple-negative disease. And those with HER2 + cancer can benefit from old and new biologic targeted therapies. Individuals with hormone receptor positive breast cancer cells, whether ER , PR or hopefully both, are benefiting from agents that block female hormones in ways that are highly effective in most cases.
Whether you have been diagnosed with cancer or not, get your legal and financial affairs in order. It is an excellent way to maintain control. Don't leave family members to figure out how you want things handled on your behalf. I don't have advanced breast cancer, that I know of at least, but I personally like knowing I am in charge even after my death!
You are by no means alone — hundreds of thousands of people are living with advanced breast cancer today. Ask your nurse navigator about support groups and educational programs, and check them out to find the one that serves you best.
You may find that friends, co-workers and even some family members don't understand advanced breast cancer. It will be up to you to educate them. And, yes, expect some people to say insensitive things like, "You look great. Are you sure you have advanced breast cancer?" "Why are you still working if you have cancer?" By the way, if you're able and you enjoy your job, keep working. Working provides normalcy, a steady income and stable health insurance. And, likely, many of your close friends are co-workers. Don't just sit at home on the sofa thinking about cancer and eating junk food.
Make your treatment team aware of milestones coming up in the next 6 to 9 months (such as a son's graduation or a daughter's wedding) so that treatment can be worked around these important events. Don't let cancer and its treatment take away any more of you and your joys in life than what is absolutely necessary. It doesn't deserve it. You remain in charge and in control.
Also, tell them your life goals. That doesn't mean you will be here in 20 years to see your husband walk your daughter, who currently is just 10, down the aisle on her wedding day. But some life goals can be achieved through innovative thinking. I have helped hundreds of patients and their families with this.
Let your treatment team know that you want to be an active partner in decision making about your treatment. You also want to call the shots on when you want to stop treatment based on criteria that you develop for yourself. You may choose to stop treatment that is largely ineffective and has significant side effects. Also request to meet with a palliative care expert. Palliative care gets a bad rap because people think it is hospice care. It is not. Palliative care should be part of the plan very early on. Why? Because it is all about symptom management. Specifically, the job of a palliative care specialist is to preserve or restore your quality of life. Think of this specialist as your Quality of Life Coach.
So, if you're newly diagnosed with advanced breast cancer, remember you aren't alone. Better treatments and symptom management options provide a different image of what patients with advanced cancer look like, can do, and how long they can live and enjoy doing so. My hope is that you get to live with "Ned."