Download Your Complete Guide Today!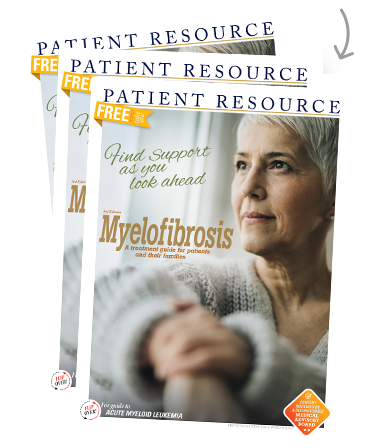 DOWNLOAD NOW
Myelofibrosis
Clinical Trials
Advances made in the treatment of myelofibrosis have come from research studies known as clinical trials. These highly regulated studies offer access to state-of-the-art cancer treatments that are not otherwise available. They are used to search for new and better ways to prevent, diagnose, treat and cure cancer, particularly rare types like myelofibrosis. They are also conducted to help prevent and relieve the symptoms and side effects of cancer.
As with any cancer treatment, the therapies used in clinical trials present potential risks as well as extra time commitments. Ask your doctor about possible side effects and the schedule to accommodate the tests and appointments that are required.
A clinical trial may offer multiple benefits, including the following:
In some cases, a clinical trial may be your best first treatment option, especially if your diagnosis has few or no approved therapies.

More specialists will be involved in your care. You will be monitored by the medical team managing your trial as well as by your regular oncologist.

It could offer an alternative if your cancer has become resistant to your current treatment.

The treatment being tested may offer fewer side effects than your current treatment, improving your quality of life.

By participating, you will be a partner in cancer research, helping improve treatments for future patients. The need is great for more clinical trial participants to volunteer; minority patients are particularly needed.
Myths vs. Facts
You may be hesitant to consider a clinical trial, especially if you are unfamiliar with them. Understanding what they are – and what they are not – will help you feel more informed. Following are some common myths about clinical trials and the facts that dispel them.
MYTH: Drug therapies used in cancer clinical trials are unapproved and, therefore, unsafe.
FACT: Trials are designed with strict safety measures in place that were established and are enforced by the U.S. Food and Drug Administration (FDA). While many trials are focused on the development of new treatments, the majority of cancer clinical trials include treatments that are already approved, sometimes alone and sometimes in combination with new therapies.
MYTH: I can't participate if I don't live near a city with a large cancer center.
FACT: Clinical trials take place in nationally known cancer centers in major cities, but also in university medical centers, regional hospitals and even oncologists' offices. And, certain portions of some trials can be conducted virtually, which may reduce travel for some appointments or the need to sign the Informed Consent form in person.
MYTH: Once I start the trial, I can't change my mind.
FACT: Participation is always voluntary, even after the trial has started. You can withdraw at any time and for any reason.
MYTH: I can only join a trial if I have no other treatment options.
FACT: This is a common misconception, but many trials today are open to patients at every stage. Depending on the diagnosis, a clinical trial may be considered as a first-line treatment.
MYTH: Health insurance policies never cover experimental therapies.
FACT: Some parts of a clinical trial, such as routine patient care costs, are usually covered. To be sure you understand the parts of the clinical trial that your health insurance will cover, review your policy and contact your insurance company. Also, ask the clinical trial coordinator whether the costs not covered by your health insurance plan will be covered by the trial sponsor or whether they will be your responsibility.
How to search online for a clinical trial
The first place to ask about clinical trial information should be your doctor and health care team. You can also search online on your own. Use the list of clinical trial sites below and ask your doctor for additional recommendations.
Start by entering your diagnosis. To further customize your search, enter applicable criteria, such as age and previous treatments, on the Results screen.
Refine your search even more by adding a particular treatment type or genetic mutation. You can also add a National Clinical Trial identifier, which is a unique eight-digit code preceded by "NCT" that is assigned to each trial.
Enter your home address if you prefer a clinical trial close to home. Add additional locations if you're willing and able to travel for treatment.
Check the recruitment status of each trial. The status will indicate whether the trial is actively seeking patients, not yet recruiting or otherwise inactive. The status will change, so check for updates.
Take any potential trials you are interested in to your doctor to learn more and discuss whether they may be a good fit for you.
Clinical Trials Resources