Ovarian Cancer Survivor
A Favorite American Actor Tackles an Unwanted Role
Kathy Bates encourages women to be vigilant in self-awareness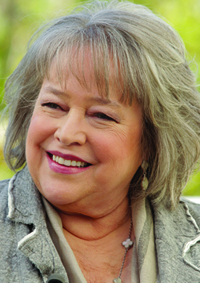 She was Harriet Korn in "Harry's Law," unsinkable Molly Brown in "Titanic," and Annie Wilkes in "Misery." She's even played the ghost of Charlie Harper in "Two and a Half Men." But these roles just scratch the surface of the work of American favorite and Academy Award winner Kathy Bates. Working continuously since the late 1970s, Bates has been involved in more than 100 projects on the big and small screen, as both an actor and director.
She won an Academy Award and a Golden Globe in 1990 for her role as an obsessed fan in "Misery," and she was nominated for two additional Academy Awards for her performances in "Primary Colors" and "About Schmidt."
In 2003, however, she was handed one of her most challenging roles—and one she didn't choose. This strong, independent woman encountered something completely unexpected and more than a little frightening: She was diagnosed with ovarian cancer.
Journey through diagnosis and treatment
Kathy first noticed something wasn't quite right almost a decade ago while visiting Germany. "I experienced some spotting but was through menopause, so I flew right home to see my OB/GYN to find out what was causing it. During the vaginal ultrasound she had trouble finding one of my ovaries. Then she said, 'Oh, you have a mass!' From that moment on I shook all over for the first few hours. I just couldn't control it," she explained.
Catching it when they did was a "miracle," she said. The bleeding was from a cyst in her uterus, and the tumor was just about to attach to the colon, which would have made it Stage III instead of Stage I.
Her physicians also performed a CA-125 (cancer antigen 125) test, which showed abnormally elevated levels. Surgery was scheduled three days later.
"In the moments before they wheeled me in, one of my sisters was with me, and she was being very strong for me," she said. "I'm sure I must have been afraid, but by then, I also remember feeling resigned to whatever happened. I knew I was getting the best care known to man."
After surgery, Kathy had nine rounds of chemotherapy, which she tolerated well. She decided to undergo her treatment privately because professionally she was under contract for a new movie, "Little Black Book," and had to be back at work quickly.
From a personal perspective, she heeded the advice of a fellow survivor. "A cancer survivor advised me to go to chemo alone, that it was mine to do. I followed his advice, and it turned out to be true. I didn't have to worry about keeping someone entertained. I could focus on myself, meditate, and do visualizations, or just rest and not talk."
However, she said her friends played a pivotal role in helping her through her initial diagnosis and treatment. "My friends were very kind to me," she said. "My best friend climbed into the hospital bed and held me the first night after surgery. I had another friend who read 'How Green Was My Valley' to me every night when I came home from the hospital. Also I heard from people who had gone through cancer and were 15-year survivors."
Surgery and chemotherapy successfully put Kathy into remission. So in order to balance treatment and her continuing work schedule, she kept everything else in her life very simple.
"I was in retreat from the world outside, and that was a relief. Surviving and coming back to life with all its obstacles and frustrations were the most difficult."
Recovery and advocacy
Kathy quietly recovered physically over the next few years, all while remaining very much in demand, averaging four to five film and television projects each year.
"As the years went by, the experience faded from my front burners," she explained. "Life was back to its usual ups and downs. It wasn't until I saw Susan, my manager of 28 years, battle lung cancer – her seventh kind of cancer – that I really understood what courage was all about.
"After a particularly difficult bout of treatment, I had dinner with her and expected to see an old woman bowed and bent," she said. "To my great surprise she strode into the restaurant looking beautiful, tougher and more full of life than me. She was shining with energy and appreciation for every moment. It has been a real wake-up call for me. Now I work hard to appreciate anew all I have been given."
After she cleared the five-year, cancer-free hurdle, Kathy gradually began speaking out about her cancer experience.
"When I was going through my treatment, I didn't have the courage to talk about it publicly. I had to be focused on my own survival. I can't emphasize enough how fortunate I was to find the cancer so early. It saved my life."
Kathy is committed to helping other women protect themselves from ovarian cancer through early detection. "If something doesn't feel right or if you feel unusually bloated, so what if someone thinks you are crazy for going to the doctor? It's better to err on the side of caution than to be too late to do anything about it."
Looking back, she said that the whole experience of surviving cancer was the best thing that ever happened to her. "It focused me on what was important. I wanted to live and enjoy what life was left to me."
For those in the midst of the battle, she advises, "Rest all you need to, but when you have the energy, put on the makeup, get out, and do the things you've always wanted to do. Enjoy an evening out from being sick. Like my friend Lynn Redgrave, God rest her, used to do. She especially liked to act when she was ill. She could pretend to be somebody who didn't have cancer."