Download Your Complete Guide Today!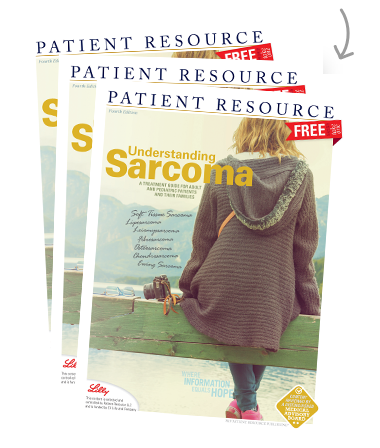 DOWNLOAD NOW
Sarcoma
Clinical Trials
Today's clinical trials are tomorrow's standard of care treatments, and they are a treatment option worthy of serious consideration for anyone who has cancer — and especially for those diagnosed with a rare cancer.
Hundreds of sarcoma clinical trials are currently taking place across the country to evaluate different aspects of sarcoma treatment, from new drug therapies to tests for identifying biomarkers. As a direct result of clinical trials such as these over the years, people are enjoying longer, better quality lives.
Each clinical trial is carefully designed and planned, then conducted according to rigorous standards to ensure consistent and safe treatment for every patient. Institutional Review Boards, the Data and Safety Monitoring Board and the FDA dictate strict safety measures to protect people who participate in clinical trials. Each study also has eligibility requirements, such as the subtype and stage of sarcoma, conditions specific to what the trial is studying, treatment history, age, overall health and other criteria.
It's important to know that if you choose to take part in a clinical trial, you will always receive the equivalent of the current standard of care treatment for your type and stage of cancer.
Benefits and Risks
Participating in a sarcoma clinical trial offers many potential benefits.
Allows you access to leading-edge treatments that aren't yet commercially available.
Provides an alternative if your current treatment no longer works as well as before or if the sarcoma is so rare that no standard treatment exists.
Ensures even closer monitoring than usual by medical professionals as they gather required data on your progress.
Gives you the opportunity to contribute to medical science by helping researchers find new and better treatments for future sarcoma patients.
Clinical trials may also pose potential risks and inconveniences. Nearly all cancer treatments have side effects, and therapies studied in clinical trials are no different. It's also possible the treatment won't be more effective than the current standard. In addition, clinical trials have a prescribed schedule that could conflict with yours, so before you commit, check your calendar to make sure you'll be available during the stated timeframe.
Understanding Informed Consent
Choosing to participate in a sarcoma clinical trial is a significant decision. A process called Informed Consent helps you make sure the clinical trial you're considering is the right fit.
Once you confirm your interest with your doctor, you'll get detailed instructions and an Informed Consent form. The form will outline the clinical trial's purpose, how it will work, safeguards in place, potential benefits and risks, possible side effects, how you'll be monitored, number of appointments, patient rights and privacy information and more. The form should also state the treatment that is the current standard of care for your subtype and stage of sarcoma.
Take time to review the form thoroughly and discuss your questions or concerns with your doctor. Before you sign, contact your insurance provider(s) to find out which procedures, tests and appointments are covered and which (if any) you'll be expected to pay.
Once you've weighed the benefits and risks and have decided the clinical trial is right for you, sign and return the Informed Consent form. Understand that signing the form doesn't "lock you in" to the clinical trial. Participating in a clinical trial is voluntary. You have the right to withdraw from the study at any time and for any reason. Just let your doctor know your decision to switch to standard of care.
Consent Differs for Children
Parents must give consent for a child younger than 18 to participate in a clinical trial. However, it is important for children to be included in the process so they can better understand their treatment plan. The research will be explained in age-appropriate language using videos or other visuals (see Pediatric Sarcoma).
Find a Sarcoma Clinical Trial