Skin Cancer Survivor
Cancer Free & 91 Survivor is Diligent About Medical Followups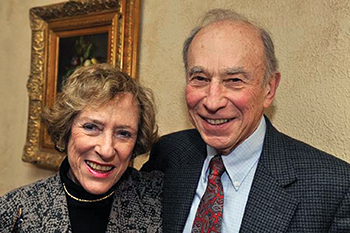 Nearly four years after being diagnosed with cutaneous squamous cell carcinoma, Jules Silbert is cancer-free. The 91-year-old retired marketer and e-commerce leader credits the support of his wife and a devoted medical team with his successful treatment and recovery.
My three brothers all died of lymphoma. They were all athletic, but they were also smokers. My one and only experience with smoking at a young age made me deathly sick, and that was all it took to convince me to never smoke again.
Throughout my life, I've been diligent about getting regular medical checkups. That is how my doctor found a spot on my kidney in 2006. My internist suggested watchful waiting, which we did every six months. After it hadn't grown for some time, I moved to an annual check. More than 15 years later, it is still the same size.
That spot on my kidney could be incidental, or it could be related to the squamous cell carcinoma that was detected on my arm in 2016 when I was 89 years old. My dermatologist sent me to an oncologist at a university hospital where I was treated with Mohs surgery to remove it. Just to be sure we had gotten it all, I followed up with radiation therapy.
Two years later, I had a recurrence of the squamous cell carcinoma on a different part of my arm. This time I saw a surgeon who specialized in arm surgery at a different hospital. While we were discussing the treatment plan, my oncologist who took care of me with the first diagnosis brought up the idea of participating in a clinical research trial she was leading. She explained that the trial so far had about a 50 percent success rate.
I didn't know much about clinical trials, but the doctor, my wife and I all agreed that those were pretty good odds. My age – 91 – was not a factor for the research trial. I was in good physical condition and was willing to give it a try.
For the next 30 days or so, I had an infusion almost daily. When follow-up tests revealed the treatment had not eradicated the cancer yet had given me the side effect of a rash on my legs, we discontinued the trial and went back to the surgical option.
The oncologist who supervised the trial said my immune system was overly active and put me on steroids to slow it down to permit surgery. After the surgery, which was successful, I followed up again with radiation therapy. So far, with 6-month follow-ups, there has been no recurrence of cancer.
Next on the agenda was an appointment with a new dermatologic oncologist who would hopefully treat the rash. It was mostly red, not too itchy, but very persistent.
We tried blue light therapy, a type of photodynamic therapy, but that didn't help. He then recommended prescription pills and a combination cream along with an over-the-counter lotion. These finally began to do the trick, and my legs began to feel better.
A side effect of the steroid infusions was that my skeletal system had softened and, as a result, I developed a back injury. Pain management became my next focus. I had kyphoplasty where they put bone cement into four areas of my spine to strengthen it.
It appears I will have some sort of pain management for the rest of my life. I occasionally get acupuncture, and it offers some relief. I also do physical therapy, and it seems to be helping. It consists mostly of walking, balance exercises and some strength training. I also continue to have regular follow-up monitoring.
It has taken several doctors, each with their own specialties, to ensure I am cancer-free and comfortable. I encourage anyone who is faced with a cancer diagnosis to seek out a specialist. We are lucky to have such a broad and skilled medical community where I live but, I'll admit, it can be complicated. Running back and forth between hospitals for treatments, follow-up tests and medical appointments can get tiresome. It takes a lot of your day to get treated!
Through everything, my wife has been great. She's been by my side, going to my appointments, treatments and now physical therapy. Before this came up, we enjoyed traveling and have taken wonderful trips in the U.S. and abroad. She was – and still is – just super.