Uterine Cancer Survivor
"Nanny" Fran Drescher beats cancer and becomes an advocate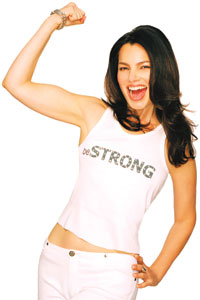 Glamorous Fran Drescher made millions of people laugh with her quick wit and nasal New York accent in her starring role in the long-running television series, "The Nanny." Behind the scenes of the final year of the show (1998-99) however, she began her two-year odyssey of searching for medical answers. Fran knew something wasn't right and she persevered until she was given the diagnosis that no one wants to hear: You've got cancer.
That momentous day would change Fran's life forever. She was subsequently treated for uterine cancer, and in the summer of 2010, she will celebrate her 10-year anniversary of being cancer free. In response to her experience, she became a prominent advocate for gynecological cancer awareness, and a U.S. Public Diplomacy Envoy for Women's Health Issues. "I'm not happy I had cancer, but I'm better for it. And I have the ability to help save lives by sharing my experiences with women to help them become educated medical consumers."
Throughout her cancer diagnosis, surgery and recovery, Fran kept a positive outlook. In her 2002 best-selling book, Cancer Schmancer, she candidly discussed the experiences of the two years leading up to her diagnosis. It proved to be cathartic for her, and she was eventually able to find the funny experiences in the midst of the pain.
The subsequent book tour was an eye-opener. "I'm a magnet for people's stories, and many women told me they had experienced late-stage diagnoses or missed diagnoses, and wanted to know what they could do to help. I realized the book became an open door for me to use my story and my voice to improve women's healthcare. What started from a book has become my life's mission."
Cancer diagnosis and surgery
From the summer of 1998, and continuing for the next two years, Fran began to have multiple physical problems. Over that period, she experienced painful abdominal cramping, bleeding in the middle of her menstrual cycle, bruising, serious acne on her face, wild mood swings and finally a chronic pain radiating down her leg. As she detailed in Cancer Schmancer, seven different doctors ordered various tests, but they each came back normal.
"I was too young, too thin, and was eating too much spinach! None of my doctors seemed particularly worried about my symptoms, so I tried to be light about the whole matter. Work continued to be such a huge distraction I didn't have much time to dwell on my fears anyway. I kept pursuing more doctors because I wanted something that could be fixed."
As her symptoms persisted, Fran made an appointment in 2000 with a third gynecologist who came highly recommended by a friend. She wrote at the time, "I just wanted to feel good again. I wanted to have sex without cramps… I had to get rid of my leg pain… The longer I went without a diagnosis, the worse I felt and the more I feared that when they figured out what it was, it wouldn't be caught in time."
The gynecologist ordered a D&C (dilation and curettage, where the cervix is dilated and the uterine walls are scraped for cells, which are then sent for microscopic examination) as a "precautionary measure." This brief test finally provided Fran with a diagnosis. Because of her experience, Fran puts great value on making this test available to women who are suffering as she did.
Fran was fortunate that her uterine cancer was caught early, was slow growing and noninvasive. She made an appointment to have her surgery just a few days later, and her surgeon performed a radical hysterectomy to remove her uterus and ovaries.
When the cancer was removed, no evidence of metastasis was discovered. Her malignancy was classified as stage I uterine cancer (contained within the uterus) composed primarily of grade II cells. Postoperative treatment was not required, with the exception of follow-up exams every three months for two years, and then every six months for the next three years.
Ten years later, Fran remains cancer free. She sees her oncologist once a year and has a Pap test, a trans-vaginal ultrasound, as well as a mammogram and a bone scan annually. Fran said she lives preventatively and listens to her inner compass to help her make decisions. "I go to the acupuncturist when I feel like I need it. I drink a LOT of water, exercise often and make sure to get enough sleep. I only eat food if I can pronounce all the ingredients and I never 'schmear' products on myself unless they're all natural."
Cancer survivor activist and advocate
As Fran recovered from her surgery, and subsequently wrote Cancer Schmancer, she could have hardly envisioned where being a cancer survivor would eventually take her. Fran likes to say, "I got famous, then I got cancer, and now I live to talk about it." After the success of her book and its accompanying book tour, Fran realized that this was only the beginning of what she hoped to accomplish in "shifting the nation's priority from searching for a cancer cure towards prevention and early detection of cancer."
In 2006, she dedicated her time and influence to the passage of the 2007 legislation, Johanna's Law: the Gynecologic Cancer Education and Awareness Act. The act, which was named for Johanna Silver Gordon, who lost her life to ovarian cancer, was created to better educate women and health professionals on the early signs of gynecologic cancer. Senator Orrin Hatch publicly commended Fran for her dedicated efforts toward the enactment of the bill.
Fran explained that she became involved in the process because her oncologist was the president of the Society of Gynecologic Oncologists at the time and told her about the bill. "When I went in for one of my exams, I told her she couldn't go to Capitol Hill without me because I knew my celebrity and story could open doors and be a megaphone for Johanna's Law. Knowledge is power, and women need education and the proper tools to navigate through the medical system."
Later that year, on June 21, 2007 — the seventh anniversary of her surgery — Fran launched her Cancer Schmancer Movement. Its mission is to ensure that all women with cancer are diagnosed stage I, when it is most curable. "I started Cancer Schmancer and received the support of men and women across the U.S. who are 'foot soldiers' for ensuring early detection of women's cancers. Women are the caretakers in almost every home, both in our nation and abroad, and at all costs, we must do what we can to keep women alive and well."
Fran continues to work diligently with her organization and in particular to help transform women from patients to informed medical consumers. She encourages women to be attentive to their bodies and seek help if they need it. She also remains staunch in her commitment towards a greater focus on the early detection of cancer.
"Many researchers and billions of dollars have been dedicated to finding a cure for cancer, and bless them, I hope they find it," Fran said. "But right now, we can take another route. With so many screening tools available, many cancers can be diagnosed earlier than they often are, which can lead to better patient outcomes and greater survival rates."
In 2008, Fran was named as a U.S. Public Diplomacy Envoy for Women's Heath Issues. She traveled to Kosovo, Hungary and Poland in that position to support diplomatic efforts with international health organizations and women's groups to discuss women's health issues and cancer awareness and detection.
"I am thrilled and honored to be a U.S. Public Diplomacy Envoy for Women's Health Issues," she said. "Through this title, I am able to bring a greater vision to women's health not only in America, but globally. I always say, rich or poor, poor health is the great equalizer, and my trips abroad have proven that true."
Fran said her focus on advocacy has provided a high level of personal satisfaction. "Success with my advocacy pursuits gives me a sense of purpose and helps me to make sense of senselessness. Beating cancer has also given me a new life and I feel a deeper compassion for others' pain. I have the ability to help save lives by sharing my experiences with women."
She offered this encouragement to other survivors, "Strength comes from within, but often in times of pain, the strength is sparked by the life and love that surrounds you. You will have your high and your low days, but all in all, remember you are in charge. Be confident, be educated and discuss your options with the doctor. Don't underestimate the power of recovery — you just have to be patient, diligent and empowered. And don't forget to LIVE LIFE!"
You can join Cancer Schmancer's free newsletter at www.CancerSchmancer.org.