Download Your Complete Guide Today!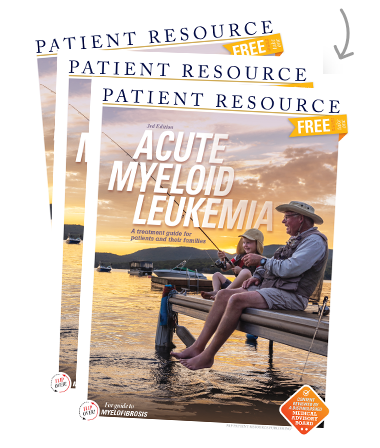 DOWNLOAD NOW
Acute Myeloid Leukemia
Clinical Trials
Being involved in your own care includes understanding all of the treatment options available to you, including clinical trials. These medical research studies are conducted to evaluate whether a new treatment, such as a drug or vaccine, drug combination, surgical procedure, type of radiation therapy or a combination of therapies, is more effective or better in some way than the current standard-of-care available.
Depending on your diagnosis and other factors, the therapy used in a clinical trial may be suitable as a first-line treatment (before any other treatment is given) or at another time during care.
If you are interested in exploring a clinical trial, let your medical team know. While they look for one that may fit into your treatment plan, you can search, too.
Start one of these two ways:
1. Request assistance by phone. This is a convenient option for people who are not tech-savvy, do not have access to the tools necessary to search online or simply prefer to talk to a person.
2. Search online. Some clinical trial search websites are customized to a certain cancer type; others are much broader. Generally, these sites are hosted by the government, the National Cancer Institute, cancer advocacy groups, pharmaceutical companies and industry trade organizations, academic medical centers and major hospitals. No single list contains every open clinical trial, and new trials are continually being added, so check back often. You can start your search with the Clinical Trial Resources listed at the bottom of this page.
It is possible that hundreds of clinical trials may appear to apply to your diagnosis. Looking at them thoroughly is time-consuming, so consider asking friends and family members to help.
Getting Started
Whether you are on the phone or online, your search will likely begin with several questions to help steer you to clinical trials that may best meet your needs, such as the cancer type, your age, your location and the distance you are willing to travel. Traveling is not always necessary, and virtual visits may be available for certain portions of the trial. Clinical trials happen in many places, from big cities to small towns. Some may even be accessible through your doctor's office.
STEP 1:
Get prepared
Have your exact diagnosis, pathology report and details of your previous cancer treatments on hand to help determine whether you meet the basic eligibility criteria. Every participant in a specific trial must meet the same eligibility criteria. That typically includes cancer type, subtype, stage, biomarker status and treatment history. Your age, gender and other health conditions may also be factors. For example, if a trial requires that you have already had a specific treatment and you have not, you will not be eligible.
STEP 2:
Fill in your information
This customizes your search.
Your Diagnosis: Enter "AML." To further customize your search, enter applicable criteria such as age and previous treatments on the Results screen.
Desired Location: If you prefer a clinical trial close to home, enter your home address. Enter additional locations if you are willing and able to travel for treatment.
Other Terms: You can refine your search even more by adding a particular treatment type or genetic mutation. You can also add a National Clinical Trial identifier, which is a unique eight-digit code preceded by "NCT" that is assigned to each trial.
STEP 3:
Read your search results
A list of clinical trials that match your search terms will populate and generally includes the following.
Recruitment Status: This indicates whether the trial is actively seeking patients, not yet recruiting or otherwise inactive. The status will change, so check for updates.
Summary of Study: This details the purpose of the clinical trial and the treatment being studied. This section is usually written for health care providers, so ask your doctor about anything you do not understand.
Eligibility Criteria: This outlines the criteria you must meet to be eligible for the trial, such as the stage of disease, sites of metastasis, overall health requirements and previous treatments.
Contacts and Locations: Contact information for the clinical trial investigators, staff or sponsors who may be able to provide more details about the study is provided.
Sponsor: This is the entity responsible for the clinical trial.
STEP 4:
Learn more
Once you find a potential trial, talk with your doctor. Keep in mind that some may be closed, and you may not qualify for every trial that interests you.
Clinical Trial Resources