Bladder Cancer Survivor
When given the opportunity, be helpful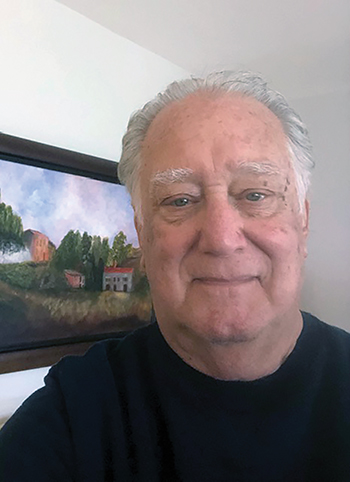 Angelo Vaccaro is dedicated to helping others. When he was diagnosed at 73 with Stage III bladder cancer and Stage I prostate cancer, he was already volunteering for the American Cancer Society. Today, Angelo is cancer-free, and he shares everything he's learned about his cancer experience with others as a peer navigator at Friend for Life Cancer Support Network.
Helping and educating others is part of my life's work. Following a career in special education, I began volunteering for the American Cancer Society's Road To Recovery program, which provides transportation for cancer patients to get to their treatments free of charge.
I had no symptoms until one day on vacation there was bright red blood in my urine. I made an appointment with my urologist and drove home. At the appointment, as I lay on the table looking at the covered instrument the doctor was going to use, I became very nervous. Then I thought of my youngest grandson who had been born with bladder issues. I knew he had been through this procedure many times. If he could do it, I could, too.
Ten seconds into the procedure, the doctor stood up and said, "You have cancer." Further testing revealed the cancer was aggressive with multiple tumors embedded in the bladder wall, making it a Stage III diagnosis. My first question was, "How fast can you deal with this?"
Within a week, I had a procedure to scrape my bladder and do a chemo wash. Pathology results showed I also had early-stage prostate cancer. The pathologist told me it was unusual to find a cancer they weren't looking for. Drug therapy started soon after, followed by surgery to remove my bladder and prostate. An ileal conduit system including a stoma was put in place.
I could not have gone through treatment without my wife, my family and my phenomenal care team, including my oncologist, surgeon, nurses and the best ostomy nurse ever.
Even though I'd always been the one to give support, I found I needed it, too. During treatment, I found Reel Recovery, a cancer support group for men that included fly-fishing. I cannot express enough how helpful this support was. After my treatment and surgery, I looked for a support group focused on living successfully with an ostomy. I heard about Friend for Life Cancer Support Network while on a Road To Recovery assignment. I stopped by their office, interviewed and became a peer navigator. What a blessing it has been to talk with men and women locally and nationally about living with an ileal conduit.
I learned so many things along the way that I wished I had known from the beginning — practical things that come from experience. Sharing my knowledge with others as a peer navigator is rewarding, and sometimes I learn things I can pass on to other survivors that make their journeys easier.
Angelo's helpful insights
Listen to and follow the advice of the doctors and nurses.

Ask for the best ostomy nurse available. This is your teacher.

Wear your natural clothing when discussing stoma placement. If possible, the surgeon may be able to place the stoma off your belt line. My stoma was placed right at my belt line, which was challenging.

When ordering supplies, always use the order number, not just the description. Being specific helps reduce errors or late deliveries.

Ask for samples when ordering. Sometimes your deliveries may not arrive in time. Those samples can help you get through the gaps.

Recognize that your stoma is a direct opening to your body. Be careful, and keep the area clean.

Have a day bag or backpack in your vehicle with a change of appliance, additional supplies and extra clothing if a change is necessary. You never know if an accident will occur.  

Be mindful when sitting. You may place pressure on your appliance when using a seatbelt, sitting too close to the table and getting into a vehicle. Watch for pets that like to jump up on your lap, too. 

In the beginning, set your phone alarm for one hour to check your appliance until you become familiar with your routine. 

If you are on a long drive, plan to stop every hour or so. Some people have found an additional leg bag or a night container helpful. 

Put a plastic covering or mat on the bed for nighttime accidents. Keep extra bed sheets handy in case you have to change them in the middle of the night.

Keep the hair around the stoma clear. 

Make sure the area around the stoma is dry when you are putting on the appliance.

Be independent as soon as possible. A partner can be extremely helpful in the beginning. 

Speak up and ask questions! You are your primary advocate.

Reach out for support. Talking to others who have had cancer is immeasurably valuable.

Be kind and support others. We all need help.