Bladder Cancer Survivor
Star of theater, music & television reaches out to others facing bladder cancer: Stay on your feet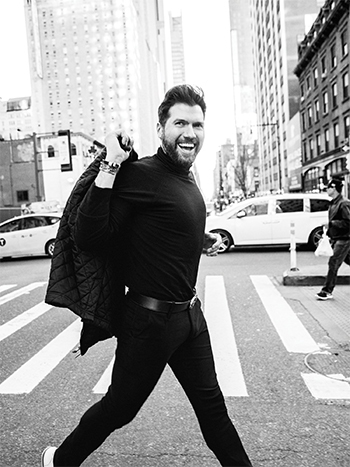 Diagnosed for the first time at 31, Mexican-born actor and singer Mauricio Martínez has battled bladder cancer four times. He is the first to admit how mentally and emotionally challenging a cancer diagnosis can be, especially when it returns. He is dedicated to raising awareness about bladder cancer and the subsequent need for mental health services. Today, he is cancer-free and performing again.
Facing cancer multiple times has given me a new perspective on life, and I am passionate about sharing what I've learned. The mental health aspect of a cancer diagnosis can be hard to handle — especially because having cancer can be isolating, but it is just as important to treat as your physical self during treatment.
Going through cancer and its recurrences put me on an emotional rollercoaster. I had days where I would curse and scream in my apartment. Sometimes, I cried all day. Then there were days I was happy and so grateful for my blessings. By openly and honestly sharing my experiences, I hope to encourage others to reach out for help when needed.
By the time I was 40, I'd had bladder cancer four times. The first time I knew something was wrong was when my urine suddenly looked like red wine. I was 31 and living in Mexico. Alarmed, I called the doctor but it was the middle of spring break and Holy Week, so I had to wait three long days before I could get in with a urologist. Results of an X-ray and ultrasound showed five tumors in my bladder.
According to my doctor, developing bladder cancer at my age was not typical. He said it's often referred to as "an old man's disease." He took immediate action. The next day, I had a transurethral bladder tumor resection (TURBT) to burn off the tumors, including a partial cystectomy and surgery to remove several lymph nodes in my chest and pelvis area. Because it was diagnosed as Stage II bladder cancer and considered aggressive, we also treated it with intravesical chemotherapy and BCG followed by 27 radiation therapy sessions. I felt very lucky I was able to keep part of my bladder, but I was concerned and nervous about whether it would interfere with my singing and acting career. Fortunately, after I rested for two months and religiously kept my check-up appointments, I was able to return to work.
Three years later during a regular follow-up visit, the doctor found a tiny tumor in my bladder. I knew we had to treat it, but it took an emotional toll. I was shooting a movie in Mexico, so my doctor said we could wait to start treatment until after I finished because it was Stage I and was non-aggressive. When I finished the movie, we started intravesical chemotherapy, which was successful.
The next recurrence was three years later when I was shooting a TV show. This time, I felt less alarmed and more prepared to treat it. I had intravesical chemotherapy, and again, it was successful.
The most recent recurrence happened on the national tour of On Your Feet. At intermission, I saw my urine was once again that red wine color. Doctors found four new tumors, and they were aggressive.
This was heartbreaking because just four months prior, my scans were clean. It hit me hard emotionally. I had been fighting bladder cancer for nine years, but I was determined to beat it again. I had three to four months of intravesical chemotherapy and have been cancer-free ever since. Today, I'm living my life and performing again!
I feel fortunate that I was able to manage the physical side effects of treatment pretty well. Although I had body aches, weird body temperature changes and the need to wear catheters more than 40 times during various treatments, they didn't interfere with me staying in shape and performing. I often went to the gym right after a treatment. And, I didn't lose my hair because my therapy was intravesical instead of systemic, meaning it never went through my entire bloodstream. I am grateful I kept my hair because it helped me feel more comfortable while I was performing.
Being surrounded by friends and family, including my acting family, and a mental health counselor who showed me I needed to express all the emotions that came up helped a great deal. I gave myself permission to feel everything, so that I could move through it. I also read Gilda Radner's book about her experience with cancer, and it inspired me to write about my feelings, my cancer and the need to pay attention to my mental health.
I may have to fight bladder cancer for the rest of my life, but I've come to terms with it because I've learned that I am resilient.
Mauricio 's Advice
1. Only you can decide the correct path for you.
2. Know that you're not alone.
3. Research and join groups online. Talk to other survivors, both people in your culture and others,
to broaden your view.
4. Ask for a second, third or fourth opinion. One doctor's approach may be completely different from another's. There are so many ways to fight cancer now.
5. Early detection is key.
6. Share your experience with others. Do not keep it to yourself.
7. Show cancer who's boss!