Download Your Complete Guide Today!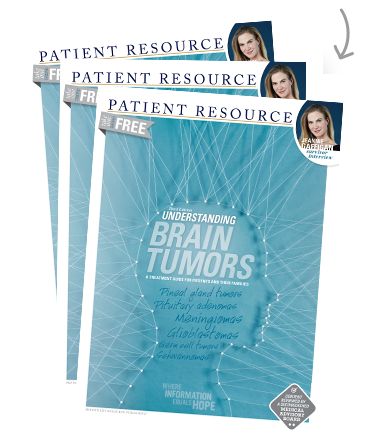 DOWNLOAD NOW
Brain Tumors
Caregiving
Few people with a loved one undergoing brain tumor treatment have the training or experience for the role of caregiver. You may find you need to assist your loved one as he or she experiences frequent mood swings, emotional outbursts, memory issues, communication difficulties and personality changes caused by the tumor and its treatment.
And all this happens while you're working through your own emotions and fears caused by this serious diagnosis. It's common to feel overwhelmed and unprepared, but keep in mind that you already possess skills for giving encouragement, offering comfort, providing companionship and so much more. You should also accept help from friends, family members and your community. Together, you can make a significant difference for your loved one.
To better understand what is expected of you, learn as much as you can about your loved one's diagnosis, including the specific type and grade of tumor as well as the various treatments planned.
Your duties may include the following, among many others.
Attend medical appointments. This is a crucial function, as your loved one may find it difficult to absorb and remember information.
Provide transportation. You can also work with a nurse navigator to find alternative transportation options.
Share medical updates. Use a group email or social media site to ensure friends and family receive the same information. This will relieve you from having to repeat updates multiple times.
Be alert to side effects. Learn which side effects to watch for, when they will likely occur and how to manage them (see Side Effects). Minimizing and managing them may improve your loved one's outcome and will improve his or her quality of life. Check with the doctor before using over-the-counter medications. Avoid remedies others suggest; rely on the doctor for advice on the right methods to use. Report side effects as soon as they occur. Your prompt attention could prevent a potentially life-threatening situation.
Buy groceries and cook. Consider any dietary needs and your loved one's preferences when preparing meals. Thoroughly wash all fruits and vegetables. Accept friends' offers to bring meals, and provide detailed information about any dietary restrictions. Meals that can be frozen to serve later are ideal. Meals built on healthy, nutritious foods will help promote healing during treatment.
Care for children. Help your loved one enjoy some downtime by taking the kids on an outing. Entertaining kids doesn't have to be costly — an afternoon at the park or in the library is fine. If your loved one prefers not to be left alone, plan an at-home activity, such as making posters or get well cards for the parent who is undergoing treatment.
Become a pet sitter. Take the dog for a walk or to the dog park. Pet treats and toys are always a nice surprise. Consider boarding pets if your loved one will be away from home for an extended time.
Don't forget to take care of yourself. Many caregivers experience physical and emotional fatigue or burnout from neglecting their own needs for good nutrition, adequate sleep, exercise and social interaction.