Download Your Complete Guide Today!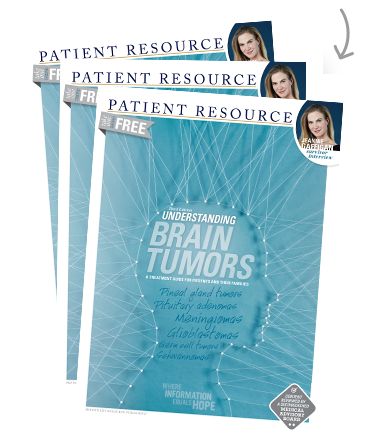 DOWNLOAD NOW
Brain Tumors
Clinical Trials
A surge in brain tumor research is yielding promise through medical studies called clinical trials. Now in development are targeted drugs that seek out gene mutations linked to tumor growth, vaccines that retrain the immune system to fight cancer, new and specific biomarkers, gene therapy, enhanced imaging tests, genetic research and more supportive care options to reduce symptoms.
Treatment-focused clinical studies test the safety and effectiveness of new or improved medical approaches, interventions and drugs. They may offer you access to leading-edge treatments not yet widely available. Standard therapies used today to treat brain and spinal cord tumors were once experimental treatments in these research studies.
During a clinical trial, the safety of all participants is top priority. The U.S. Food & Drug Administration (FDA), the Data and Safety Monitoring Board and Institutional Review Boards dictate strict safety measures to protect participants. Additionally, the Informed Consent document you'll receive before starting the trial will describe its safeguards. The form provides comprehensive information on the purpose of the study, your role, the treatment being investigated, benefits and risks, potential side effects and other details. Go over the form carefully and ask questions. Before you sign, contact your health insurance provider so you'll be aware of any out-of-pocket costs. Signing the form won't lock you into the study. You can choose to leave at any time, for any reason, and receive standard of care treatment.
Talk with your doctor to see if a clinical trial is a treatment option for you.
Search online for clinical trials
Your oncologist may recommend specific clinical trials as potential treatment options, but you can also research online on your own. However, using search tools to navigate research studies that apply to you among more than 120 types of brain tumors can be overwhelming. These screenshots of a mock search site for clinical trials and step-by-step instructions will help guide you through the process. 
Start by having your exact diagnosis, pathology report and details of previous treatments handy. If you don't find a good fit during your initial search, continue to check because new clinical trials are posted all the time. You may also keep searching while you move ahead with your current treatment plan
[STEP 1] FILL IN YOUR INFORMATION
Your Diagnosis
For example, enter "brain tumor." To create more options, you can also search for "glioma" or "oligodendroglioma" and compare results.
Desired Location
If you prefer a clinical trial close to home, enter your address. Enter additional locations if you're willing and able to travel for treatment.
Other Terms
You can refine your search by adding a treatment type such as targeted therapy, a specific drug or National Clinical Trial (CT) identifier. Identifiers begin with the letters "NCT" followed by eight numbers.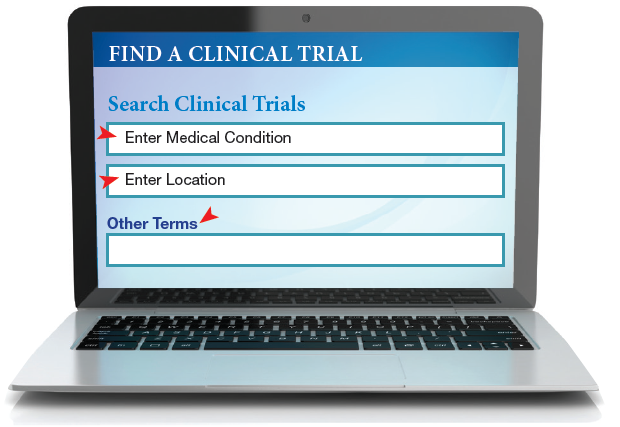 ---
[STEP 2] READ YOUR SEARCH RESULTS

Recruitment Status
This indicates whether the trial is actively seeking patients, not yet recruiting or otherwise inactive. The status will change, so check for updates.
Summary of Study
Here you'll find details about the purpose of the clinical trial and the treatment being studied. This section is usually written for health care providers, so it may be difficult to understand. If so, print out the information to discuss with your doctor.
Eligibility Criteria
This outlines the criteria you must meet to be eligible for the trial, such as type and grade of brain tumor, previous treatments, age and overall health requirements. 
Contacts and Locations
This may contain contact information for the clinical trial investigators, staff and sponsors, as they may be able to provide more details about the study. Trial locations may also be listed.
Sponsor

The organization responsible for the clinical trial is listed here. It may be a pharmaceutical  or biotechnology company, a university of the National Cancer Institute.