Download Your Complete Guide Today!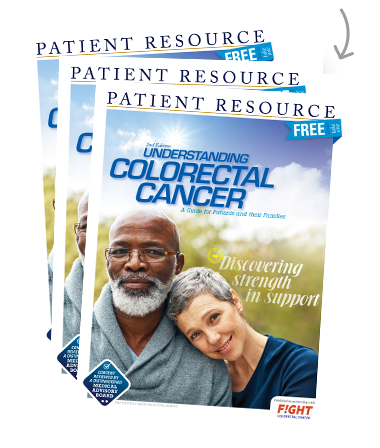 DOWNLOAD NOW
Colorectal Cancer
Financial Consideration
When you find out you have cancer, you first need to spend your energy on learning about your disease and making a treatment plan. However, you may also find yourself quickly worrying about costs. The financial aspect of cancer can have a huge impact on your overall health, happiness and well-being, and feeling confident about your finances can help you tackle your treatment wholeheartedly.
The cancer-related expenses you incur will be unique to you, dependent on your diagnosis, your recommended treatment plan, your follow-up care and your level of insurance coverage. Understanding your insurance, planning a budget and seeking financial assistance may help you take control of your financial situation right from the start.
Types of Cancer-Related Costs
Cancer-related costs can be grouped into two types of expenses: medical and lifestyle. The medical expenses, including medical office visits, tests, treatments,
drugs and caregiving, are the most obvious additions to your spending.
Less obvious are the increases in your routine living expenses because of new, cancer-related costs. After a cancer diagnosis, you may spend more money on transportation and travel, legal help and financial services. You may also need to hire help for child or elder care, meal preparation or housecleaning. These additional expenses are a heavy burden on their own but are even more substantial when combined with the possibility that your income may be reduced if you and/ or your significant other are unable to work the same number of hours during your treatment.
Unfortunately, your cancer-related costs won't end when treatment does. One study found that male survivors spend $4,000 more and female survivors spend $3,000 more than their cancer-free peers every year. You will need to budget for follow-up care, frequent screenings and checkups. You might have to adjust to a permanently reduced income if you aren't able to return to your regular work hours.
Talk to Your Health Care Team
The costs can add up quickly, so it's vital to talk to the members of your health care team about the cost of your cancer care. They understand that treatment can be expensive and may create financial hardship, so don't be embarrassed to bring it up. One study found that while more than half of the patient participants wanted to talk to their doctors about costs, only 19 percent actually did — and it paid off. Fifty-seven percent of the patients who had conversations with their doctors about their financial concerns felt that it helped significantly decrease their costs, and even more felt it decreased their anxiety during the course of their treatment.
Many people are hesitant to ask about cutting costs because they fear their treatment will suffer. However, depending on your specific insurance coverage, your doctor may be able to prescribe alternative treatment options that are better covered by your insurance but just as effective.
Seek Financial Assistance
Before you become totally overwhelmed, know that there are hundreds of resources that provide financial assistance in a variety of categories, including child care, personal items (wigs, ostomy supplies, etc.), counseling services, legal help, wish fulfillment and transportation.
Social workers, advocates, financial counselors and patient navigators at your medical facility can refer you to local organizations that can help, and many advocacy groups and other nonprofit organizations will also point you toward sources of financial assistance. Federal laws offer benefits, protect you from the loss of health insurance and guard against discrimination on the basis of your health. And don't forget your family and friends. They can help you search for financial assistance and offer advice about what is most helpful for you.
10 Helpful Steps
Review your income and expenses. Gather your current bills and check stubs to gain a better understanding of how much money you currently have coming in and going out. Next, review your health insurance policy to determine your deductibles, co-payments and covered services, and then use that information to help estimate your out-of-pocket medical expenses. Finally, list any savings or other assets (life insurance plan, property, investments) that you can use to get cash if you need to, and talk to your family about ways you can all cut back on expenses.
Complete a budget worksheet. List your income and expenses (some of which will be estimates) on a budget worksheet. Complete a new worksheet each month to track your finances and become better prepared for your expenses.
Talk to your health care team. Most medical facilities have social workers, financial counselors and patient navigators who can help you with financial issues. Special payment arrangements are usually possible.
Get the most out of your insurance. File claims for reimbursement immediately and question any denials. Always review your policy, ask for help from your doctor's office and file an appeal.
Find ways to reduce the cost of drugs. Look for a pharmacy in your area that offers low prices on generic drugs. Your anti-cancer drugs may not be included in low-cost lists, but other drugs, such as those prescribed to help you manage side effects, are frequently available in a generic form. Also, check to see if the manufacturer of your anti-cancer drug has a financial assistance program. If you have Medicare coverage with a Part D prescription drug plan, see if another Part D plan covers more of your cancer-related drugs. Finally, find out if your insurance offers a mail-order prescription program, as the cost is usually lower than getting drugs from a local pharmacy.
Search for financial assistance. Many national and local advocacy groups and other nonprofit organizations can help provide financial assistance. See pages 16-17 for a list of resources you can start with.
Learn about possible benefits and protections. Review federal laws, including COBRA, FMLA and HIPAA, to see if you are eligible for any benefits and/or protections related to your health care and employment. A social worker can assist, and several organizations can help you determine whether these laws apply to you.
Tell creditors about your situation. If your budget shows that your expenses exceed your income, get in front of the problem by talking to your creditors. It may be possible to negotiate payments. A nonprofit credit counseling service may also be able to help you work with your creditors. Communicate as needed.
Take care of estate planning. Give yourself peace of mind and a sense of security by preparing and documenting a plan of how to divide your property before and after death.
Keep your paperwork organized. Being organized is integral to handling financial matters. Set up a system early, and stay organized so you never have to scramble for a document.