Gynecologic Cancer
Tips to Help You Look and Feel Your Best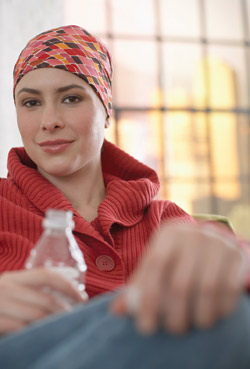 Cancer is often a visible disease that affects you from the inside out. The treatments used to rid your body of disease may affect your looks and self-esteem. It's hard not to feel defined by this disease when it's on display for all to see—including yourself.
Now is the perfect time to pamper yourself: a guilt-free priority that boosts your mood, improves your attitude and helps you put your best face forward while fighting cancer.
Hair care
Hair loss (alopecia) can be one of the most difficult side effects of cancer treatment for women. While it doesn't affect everyone, you have options if you do experience hair thinning or loss:
Avoid shampoos and conditioners that are medicated or drying, and stay away from irritating ingredients (salicylic acid, camphor, menthol, eucalyptus and henna).
Do not have your hair colored, permed or straightened until several months after your treatment stops. Avoid using blow-dryers, curling irons, flat irons, rollers, hair clips and elastic bands. Also, always use a soft-bristle brush.
Sleep on a satin pillowcase to reduce friction on your hair.
If you know you're going to lose your hair, consider shaving your head to avoid having your hair fall out in clumps. If you have long hair, consider cutting it and donating it to an organization that can make it into a wig for a child experiencing hair loss.
 Many options are available, including wigs, turbans, scarves and hats. If you choose to wear a wig, consider a visit to a wig specialist before losing your hair so that your hair color, texture and style can more easily be matched. You can also choose to leave your head uncovered (just be sure to protect your scalp from the sun).
When your hair eventually grows back, the texture might be different. Talk to your stylist for tips about how to deal with your new hair.
Talk to other patients about what worked for them. Some advise against shaving your head because it feels too "prickly" and makes sleeping uncomfortable.
Makeup tips
Hair loss can also impact your eyebrows and eyelashes, and your complexion can undergo some serious changes as well. Follow these tips to help you look a little more like your old self:
A mild, tinted face moisturizer with SPF can easily even out your complexion while providing necessary moisture and protecting your skin from the sun's harmful rays.
Use a brightening concealer under your eyes to brighten up this often dark, shadowy area.
Your face will likely lack color, but instead of caking on a powdered blush, opt for a liquid-based cheek stain or illuminator.
Find a heavy-duty lip moisturizer that also contains a bit of color.
Use an eyeshadow that is a shade or two lighter than your natural brow color. Stay within the natural line of your brows and lightly smudge the powder.
If you lose your eyelashes, try using a fine eyeliner brush and a dark gel liner to coat the inner rim of your upper lash line. If you have a special event, consider applying false eyelashes. Just be careful with the glue so you don't pull out any remaining eyelashes.
Use a creamy, pearlescent eyeshadow in a shade that's close to your skin tone to combat any darkening and/or visible veins in your eyelids.
While you should stay out of the sun, you don't need to resign yourself to pallor. To give yourself a healthy glow, try using a mild self-tanner on your entire body and face.
Nail maintenance
Certain chemotherapy drugs may cause your nails and nail beds to change color or become grooved, sensitive, brittle or lifted. The good news is that these changes are only temporary and easy to combat:
Always keep your nails trimmed short and filed smooth during treatment. However, you should not file streaks, stains or brown spots.
Cover your hands when working with them (gardening, cleaning) and during any prolonged exposure to water (washing dishes) to protect them and to prevent fungal infections.
These could lead to infection. Also avoid silicone fillers for nails.
This will help hide any discoloration. Just don't change polish very often because nail polish removers are harsh, and be sure to begin with a clear coat so the darker color doesn't absorb into the nail bed. Also avoid acrylics and nail gels, which carry a higher risk of fungal infection during chemotherapy.
Tell your doctor if you notice dark or lifted nail beds, as those may be signs of infection.
Spring for the spa
Regular manicures and pedicures are a sweet treat for your hands and feet. Not only is proper nail care important for the cancer patient, it also helps women feel pretty and polished.
Massages and facials can be a welcome escape from your illness and stress in general. Get your doctor's advice prior to booking any appointments, and inform your therapist/aesthetician of your situation before your session begins so they can be sure to use gentle products and work around any sensitive areas to ensure maximum relief and an enjoyable spa experience. (Be sure to ask your insurance company if they'll cover any of the cost).
Overall self-image
Caring for your overall appearance can help improve your self-image while you're undergoing treatment, which can actually help you feel better. As much as possible, maintain your regular grooming habits. Try to exercise each day, and alter your clothes as necessary if you gain or lose weight. Get plenty of rest, and remind yourself every day that you are beautiful just as you are.
Take a Break From Treatment
While everything from fishing, yoga and spa retreats can help you heal your mind body and soul, the price of these getaways can deter many from participating. Fortunately, there are organizations nationwide that offer free or discounted rates to cancer patients and their families. Search for opportunities in your area; here are a few examples:
Hair Care and Head Coverings
Hair loss does not affect every person treated for cancer, but it is a possibility with certain treatments. If you lose your hair, a head covering can help protect your scalp against sunlight and the cold. Several fashionable options are available, and the best head-covering choice is the one that makes you feel most comfortable.
What are my head-covering options?
Many options are available, including hats, wigs, turbans and scarves.
Hats:
Countless options are available, including fedoras, knit hats, baseball caps and more.
Try on several different styles, and if possible, buy a variety for different days and occasions.
Some hats even come with sewn-in bangs or hairpieces.
Wigs:

You can better match your natural hair color and texture if you buy a wig before you start treatment. However, choosing a wig that's a few shades lighter may help mask treatment-related changes in your complexion.
Both synthetic and human-hair wigs are available.

Synthetic wigs often cost less than human-hair wigs, and they keep their style after washing. Synthetic wigs range from mass-produced, machine-made wigs to high-quality, handmade wigs to high-end, custom-made wigs.
Human-hair wigs feel more natural to some women, but they are expensive and require a lot of care.

Try on several different wigs to find one you really like, and shop with a friend or family member so you can get a second opinion before purchasing.
Your wig size can shrink as you lose hair, so ask if the wig can be adjusted.
If you can't afford a custom wig, buy a standard, less expensive wig and have it professionally styled, or contact your local branch of the American Cancer Society to learn about free wigs that have been donated by former patients. You can also ask your doctor for a wig prescription because your health insurance may cover it. (The prescription must state "skull (or cranial) prosthesis for hair loss caused by cancer treatment.")
For variety, purchase a couple of wigs in different hairstyles if you can afford it. (Keep in mind that shorter styles are easier to manage.) The extra wig will also be helpful when you're washing the other.
The following accessories may come in handy: a wig cap (cotton and nylon are good choices), a wig stand, a wire wig brush, shampoo, conditioner, light wig spray or low-alcohol hairspray, a hair net, hair pins and hair rollers.
Ask the stylist at the wig shop to teach you how to put on your wig and to trim any excess hair to create the most flattering style for your face. Also, always remember to keep your ears on the outside of the wig.
Turbans:

Turbans are quick, inexpensive and easy to style.
You can buy them ready-made or create them out of scarves and bandanas. Some of the ready-made options come with sewn-in bangs or hairpieces.
Turbans come in endless colors and patterns, and you can further customize them with pins, barrettes and other accessories.
For a little extra height, consider pinning an unused shoulder pad inside the turban at the crown of your head.
Scarves:

Scarves are typically 32-to-36-inch squares that come in a multitude of colors, patterns and fabrics: Cotton is cool and casual; wool can be itchy but styles well; and silk is fancy but slippery.
To wear the scarf:

Begin by folding the scarf diagonally into a triangle and placing the center of the folded edge across your forehead (just above your eyes).
You can then choose to tie the loose ends in a bow in the back or on the side; knot the ends in the back and fold the point up and around them; or braid or coil the ends and wrap them around your head (like a headband) or around each other (like a rosette).
Visit http://lookgoodfeelbetter.org/beauty-guide/new-hair-looks for detailed instructions and diagrams on how to tie scarves in various ways. There you will also find step-by-step instructions on how to create a head wrap out of a T-shirt.
Of course, leaving your head uncovered is a valid choice as well. However, if you decide against a head covering, be sure to use sunscreen on your scalp when you're outside. When your hair begins to return, it may be very curly and possibly a different color than it was before. While it's tempting to color it as soon as it starts to grow, delay until it's at least 3 to 4 inches in length. Ask your stylist for tips about how to care for your new hair.