Download Your Complete Guide Today!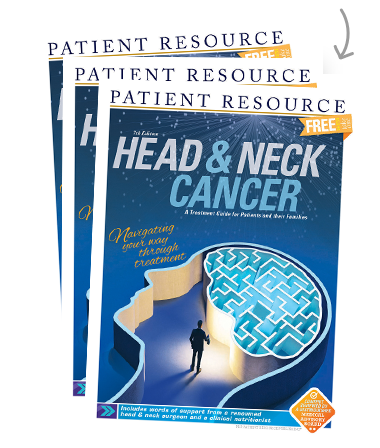 DOWNLOAD NOW
ORDER FREE COPIES
Head & Neck Cancer
From the Expert by Terry T. Tsue MD, FACS
 Dr. Tsue is on the Patient Resource Medical Advisory Board; Professor Emeritus, Department of Otolaryngology-Head & Neck Surgery, University of Kansas School of Medicine and Former Vice President & Physician-in-Chief, The University of Kansas Cancer Center
You've just heard someone tell you that you have cancer. Your care team is diligently working to get accurate data, put it together into a meaningful medical diagnosis, and develop a personalized plan of care, meant just for you. Behind the scenes, some of these same team members are working on new ways to help you and the "next" you. New innovations being developed through clinical trials include precise radiation therapies, cancer vaccines, empowerment of your own immune system to kill cancer and surveillance through saliva and blood samples. It is important to take a breath and read through this information as you are able. It is an honor for us to be able to share some wisdom and "hold your hand" with words during your upcoming journey.
Just as your team is working hard for you, you have a role to play in your health. This starts with doing exactly what you've done in the past with any new challenge: LEARN. Learning comes in many forms, ranging from studying materials to asking questions of experts. Your medical care team can help with what is good information and what is not. The best information comes from those who deal with cancer daily and is consistent across many different sources, while bad information can do a lot of harm. Just as it's important for your care team to ask questions, your team can learn a lot about you and what is going on through the questions you ask, so ask them. Knowledge will be one of your biggest assets as you make decisions.
 Next, fighting cancer is a TEAM SPORT. Having both family and friends on your team is a winning combination. There's a lot happening, simply too much for just one person. Having help preparing for a medical appointment, taking notes during the visit, prompting you with reminders about questions and just having a warm hand or a strong arm to hold makes all the difference. Also, communication and feedback are key to having a successful team. Both you, and the "next" you, benefit when your team hears constructive feedback.
Finally, TAKE CARE OF YOURSELF. You need to be at your best so the treatment can work at its best. Continue with all of your standard primary care maintenance exams and tests to ensure the rest of your body stays strong now and in the future. Healthy habits like eating nutritiously, keeping the blood flowing by being active, sleeping well, reducing as much stress as possible, and stopping smoking, vaping and drinking alcohol all help make you stronger for the journey ahead. They also form habits that will pay you and your close ones forward for the rest of your life.
You got this!