Acute Myeloid Leukemia Survivor
It's okay to have a down day, just don't unpack and stay there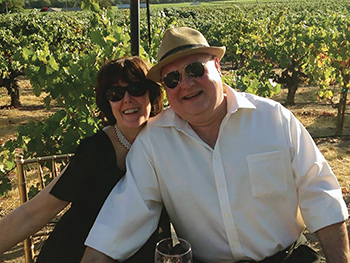 Kathleen Packard, 58, resolved to be in control of her acute myeloid leukemia (AML) journey. Surrounded by an incredible support system and a trusted medical team, she reached remission and is living a healthy, joyful life. She hopes the lessons she learned will help other people facing AML.
Acute myeloid leukemia (AML) is terrifying because it comes on so quickly. I went to the emergency room with what I thought was indigestion, and I left with a very serious blood cancer diagnosis.
The "acute" in AML is what makes it so hard to absorb. I had to make treatment decisions so quickly. Fortunately, I had a trusted cancer center in my backyard. Though I felt it was the right place for me, my niece who is a nurse practitioner had my blood test results sent to another hospital to confirm the diagnosis and recommended treatment.
After the second opinion confirmed the diagnosis and treatment plan, I began chemotherapy. I felt fine the first week. On the 8th day, the chemotherapy kicked in like a thunderbolt. I developed nearly every side effect possible, including painful sores in my mouth and on my esophagus. I lost every bit of my hair. I also lost a lot of weight and then gained back even more. I discovered adding cranberry juice to water took away the metallic taste and made it bearable to drink the water I needed.
Fortunately, I went into remission after chemotherapy. How-ever, additional treatment would be required to keep the AML from coming back. A stem cell transplant provided the best chance at curing my leukemia. We found a perfect match in a wonderful young man from Germany and began to prepare for it.
My husband Mark found a new apartment that became my home for a year. We'd lived in our home for 27 years and raised our three children there, but it was big and old and a fresh, clean environment was preferable for the transplant.
The transplant itself was easy. But, pre-transplant blood work showed I had a genetic mutation known as FLT3. My doctor explained that it was the reason my AML was so aggressive. She was involved in a clinical trial that was testing a tyrosine kinase inhibitor designed to inhibit the mutated cells from growing, and I decided to join after finishing the transplant.
I wasn't scared to try the trial because I knew scientists had spent a great deal of time cultivating the drug. I trusted my doctor and was confident she wouldn't offer me an option that wasn't worth considering. And, my grandkids were my inspiration. I had waited a long time for grandkids, and I'd made up my mind that we were going to have Sunday dinners. I would fight to be around for those.
I was on the trial for a year, and it was successful. My last bone marrow biopsy showed no signs of the FLT3 mutation.
Getting into the right mindset set the pace for how things went for me. I had ups and downs, but I learned not to look too far ahead and just take one day at a time. I told myself that the calmer I stayed, the better it would go, and it was true.
Like my anniversary, the date I was diagnosed is something I'll never forget. But it's like giving birth. I don't remember the pain. Instead, I remember the kindness of others. I remember that Mark, our family and five of my dearest friends gave up so much of their lives to help me survive. I think about how their lives intertwined because of me, and how they gave me the courage to know that even though it was a very tough battle, it was one I could win. And I did.
Lessons from Kathleen
Lesson #1: It's okay to have a down day, just don't unpack and stay there. Keep a journal, and write down one good thing that happens each day. When you need it, look back and see what made that day better.
Lesson #2: How you react to certain challenges makes a huge difference. Getting involved in finding solutions keeps your mind occupied.
Lesson #3: You can have your test results sent to another provider at a specialized cancer center for a second opinion. Your current doctor should be more than happy to comply with your request.
Lesson #4: Surround yourself with support. Mark and I have been together since we were 17 and married for more than four decades. We genuinely love and care about each other. When we found out I had AML, he sat down on the floor and cried at the thought of losing his best friend. He's been by my side through it all, from not caring about how different I look because of treatment to being trained to give me pre-transplant chemotherapy at home.
Lesson #5: Consider a clinical trial for yourself and for future generations. Search your soul and find something that you love more than yourself. Something you want to live for. You might do it for that grandbaby you will have one day.