Acute Myeloid Leukemia Survivor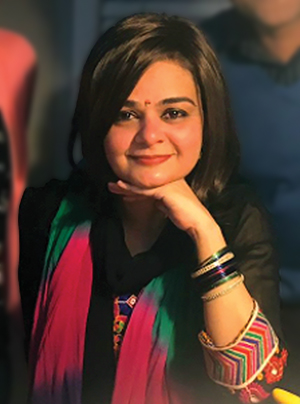 I'm a fighter. That's my nature, and
it is how I approached this diagnosis.
Draw on the fight within yourself as you face cancer
An acute myeloid leukemia diagnosis at 40 stunned Shruti Kohli, but it didn't knock her off course. She drew on her inner strength and the support of her community to weather her cancer saga. Today, she is healthy, happy and thankful for everyone and everything that contributed to her recovery.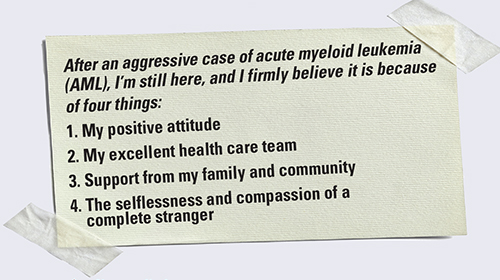 I was a little tired, but my husband Sumit and I both work full time and have two daughters, so some fatigue isn't unusual. Bloodwork at my annual physical, however, was so out of whack that my doctor wondered if the machine in the lab made an error. It hadn't. She suspected a blood disorder and ordered a bone marrow biopsy.
Waiting for the results was difficult. Sumit is more emotional, and I am more pragmatic. He lost his mother when he was 13, and our girls were 8 and 13, so he was quite unnerved. He immediately began researching what it could be while I focused on work. It was a distraction. I knew that if something was indeed wrong, I had excellent medical facilities nearby and we would work it out.
By the time I learned I had acute myeloid leukemia (AML), 50 percent of my bone marrow was destroyed. I was given a prognosis of two months.
The news, of course, was shocking; however, I firmly believe how I handled it set me on course to succeed. As an engineer, I approached the diagnosis much like I would a project at work. I couldn't change the fact I had AML, and I didn't waste time wondering why I had it. I needed a plan of action.
I told Sumit that we must be a positive, united front for the girls. We had to stay strong.
I informed the management and HR teams at my company. Their support was outstanding. They helped me understand my HR be-nefits and told me not to worry, just go get better.
Friends who work in hematology recommended a well-known local cancer center with a top-notch hematology team. The cancer center required another bone marrow biopsy to confirm the diagnosis. Once that happened, I was admitted. That's when I began to feel as if I was on a rollercoaster.
From the second week in December through the end of January, I was on heavy chemotherapy 24/7. It was over the holidays, and my family happened to be visiting from India. I was thankful for the visitors and family support. I wasn't able to see our youngest daughter though. She was too young to visit, and the risk of infection was just too high. That was emotionally draining. I cried sometimes when I was by myself, but the next day I was back on track keeping everyone straight to get to the common goal, which was to get me out of there.
It was important to me that the girls were taken care of emotionally and academically. Our oldest daughter is a competitive math student, and she qualified for Nationals in Boston while I was in the hospital. I told my husband not to worry about me because I was in a great place with great doctors and to take her to Nationals. When they returned, she told me she'd won it for me.
Even with the chemotherapy, the cancer kept returning. I needed a bone marrow transplant. I continued on the chemotherapy while the hospital put forth great efforts in looking for a donor. They found a 26-year-old woman in another state who was a 100 percent match. She agreed to donate her bone marrow through surgery, which is a bigger deal than donating through blood. I had the transplant over the summer, and I went from having B+ blood to her type — now I'm A+.
I had some effects from the transplant that were concerning – Graft-versus-Host Disease, reduced lung capacity and weight loss – but I overcame them.
Eventually, I went back to work remotely and slowly transitioned to working on site. Today, I feel great emotionally and physically. I'm off all medications and stick to my follow-up schedule.
Though my life is back to normal, my priorities changed. I look at life through a totally different lens now. Family and work used to share my focus equally. If the girls needed something while I was working, I'd ask them to wait. I don't do that anymore. Even when I'm busy, I stop and say, "Show me what you have." Family is my priority, and I try to cherish the things I used to overlook.
I will be forever grateful to my donor and to all the amazing people who donate. I was lucky enough to meet mine, and she has become family. It took such courage to do what she did, and she is a role model to our daughters. Our oldest is nearly 18 now, and one of the first things she wants to do after her birthday is sign up to be a bone marrow donor.