Hodgkin Lymphoma Lymphoma Survivor
Family, Faith & Fans Fuel Major League Recovery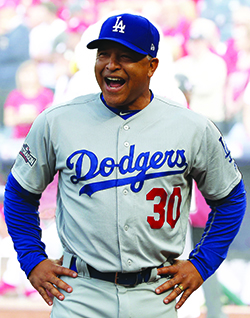 A year after Dave Roberts retired from playing professional baseball, he was at a crossroads. Should he pursue a television career as a commentator or take a position that could eventually lead to being a major league manager? A good friend's advice led him back to the field. That decision eventually earned him the coveted role of manager of the Los Angeles Dodgers, and more importantly, because of mandatory physicals, it quite possibly saved his life.
About a week before leaving for spring training with the San Diego Padres, I noticed a small lump on the lower part of my neck near my collarbone. I didn't think much about it, assuming I might have strained a muscle or slept wrong. Everyone involved with spring training gets physicals when we arrive, so when I had mine, I told the doctors about the lump. We decided to keep an eye on it. In just two weeks, it grew, so they flew me to San Diego for a PET scan and biopsy. I was diagnosed with Stage II Hodgkin lymphoma.
My wife was with me when I got the news, and we shed a few tears. We've always prided ourselves on being honest with our kids, so we told them about it and let them know what we expected to happen with treatment. At the time, our son was 9 and our daughter was 5. She was a little young to really understand, but overall, they both handled it really well. By us telling them like we did, I think they felt included and empowered.
My doctor wanted me to begin treatment right away. I didn't pursue a second opinion. My test results were pretty clear, and I felt completely comfortable with my doctor. He explained everything so well to my wife, kids and me. He was amazing.
I started a commonly used chemotherapy regimen that was a combination of four drugs. I took it every other week for four months. I lost my hair, but it grew back — just a little thinner than it was before. One week I'd feel terrible, and the next week would be good. A form of therapy for me was continuing to work with the Padres. I found solace when I was scouting minor league players, talking to the teams, just being out there.
After I finished chemotherapy, I sought another opinion about what to do next. A friend, who is also a cancer survivor, referred me to a different specialist. He recommended radiation therapy to take care of any cancer that might be left over after chemotherapy, and he introduced me to a radiation oncologist who would oversee that part of my treatment.
I had radiation therapy five days a week for a month on my head and neck area. I had a few side effects. It affected my vocal cords a bit, and I have a cough now that happens at night. I don't know if that is related to the radiation, but I didn't have it before. The radiation also damaged some of the glands on the side of my face that was being treated. The glands aren't as big as they once were, making the skin around them sag a little. That makes my face a little less symmetrical now. No one else sees it; I think I'm the only one who notices.
I'm in remission and follow up annually. Even though I feel great, I still hold my breath a little when it's time to go for scans.
Going through treatment was tough. Although I've always been a positive person, this really tested me. I relied on my family, my faith and my outlook on life to help me attack the cancer in the best possible way. My dad, who recently passed away suddenly, and my brother-in-law showed their support by shaving their heads when I lost my hair.
I appreciated the support from fans, too. When you sign up to be a professional athlete, you give up a lot of your privacy, which can be hard. In my case, going through this publicly was beneficial. The outpouring of prayers and thoughts was powerful. I still get emails and texts from people who are just checking up on me.
I encourage people who are diagnosed with Hodgkin lymphoma to come at it from a positive place and know you'll beat it. The medications available today are great, but your attitude and the attitudes of the people who surround you are so important.
I am grateful for how things worked out. Had I not made the career choice I did, I probably wouldn't have had a physical, and the cancer might have been diagnosed at a much later stage. And if I had to do this all over again, I would because my parents and father-in-law saw how my wife, kids and I leaned on our faith, and it helped them embrace their faith. I consider that a win.