Download Your Complete Guide Today!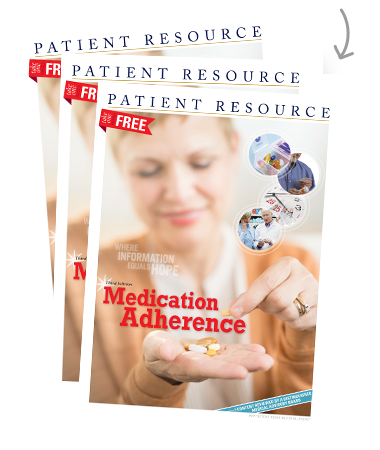 DOWNLOAD NOW
Medication Adherence
Brand name vs generic
Thanks to the continued development of new cancer-killing drugs, patients have more options than ever as they work with their doctors to choose a treatment regimen. The majority of these prescription medications come in both brand-name and generic form, but what are the differences between the two types?
Many patients are scared that generic drugs aren't as effective as brand-name medications because generics cost significantly less. What they may not realize is that the two are essentially the same. All medications – generic and brand-name – must undergo extensive testing by the U.S. Food and Drug Administration (FDA) to ensure they're both effective and safe before they're approved for patients. Generic drugs may be an effective option for you to ensure you're getting the treatment you need at a much lower price.
Process for drug development
Once a new anti-cancer medication has been developed and approved by the FDA, the manufacturer is given a patent. This legal exclusivity typically protects the drug from being copied for up to 20 years. When the patent expires, other pharmaceutical companies are allowed to copy the drug's formula and produce a generic version. This version must also be approved by the FDA.
The entire process of pioneering and developing a drug can take years and cost a considerable amount of money. Because generic drugs aren't being produced from scratch, the development is streamlined and the formula is ultimately cheaper to make. In addition, generic manufacturers usually do not pay for advertising and other promotions. Multiple companies may make generic versions, and competition usually drives prices down.
Generic drugs are the bioequivalent of their brand-name counterparts, meaning they are identical in dose, strength, quality, performance and the way they're administered. Chemically designed to be just as effective as the original medication for a fraction of the cost, generic drugs save Americans billions of dollars per year on lifesaving treatments.
However, not all drugs currently have a generic equivalent, so talk to your doctor about your options.
Looks can be deceiving
While two drugs may contain basically the same ingredients, generic drugs are required by law to look different than the brand-name versions. As new generic versions are being produced by different companies, the way your medication looks can change over time. The shape may change, for example, or the pill may be a different color. However, just because they look different doesn't mean they are different. The drug's appearance depends on the manufacturer, and certain pharmacies only carry specific brands. As you refill a prescription, be aware of this potential change, and be sure to ask your pharmacist if you're unsure about your new prescription. He or she can explain any changes and confirm that you have the right medication.
Your pharmacist and doctor can also explain the technical details of your medication and explain why the original version of a drug might be the only option for your treatment. Some doctors might not know a generic version exists, but if cost is an issue, ask about all available brands and compare them when choosing your treatment plan.
FDA regulations for generic drug manufacturers
The generic drug must:
Use the same active ingredient as the brand-name drug
Use the same strength/dose
Be administered the same way (pill, capsule, liquid, etc.)
Deliver the same amount of the drug into the bloodstream
Look different than the original (size, shape or color)
Have different markings and a different name
Safety first
All of these powerful prescription pills come with safety instructions that you must pay attention to and understand in order for them to be more helpful than harmful. Keep track of your medication adherence so that you can help your doctor more accurately evaluate the effectiveness of your treatment plan and decide whether to change the dose or drug if necessary. Here are some common instructions that may accompany many medications prescribed to cancer patients:
Swallow whole; do not open the capsules or break/chew/crush the pills.
Must be taken with food or with a full glass of water.
Must be taken on an empty stomach.
Drug can interact with other drugs, supplements or foods.
Grapefruit and Seville oranges are known to influence the amount of medication absorbed into a patient's system and therefore should be avoided with certain drugs.
Ask your doctor or pharmacist about any specific instructions that come with your medications to ensure you're taking them safely.