Download Your Complete Guide Today!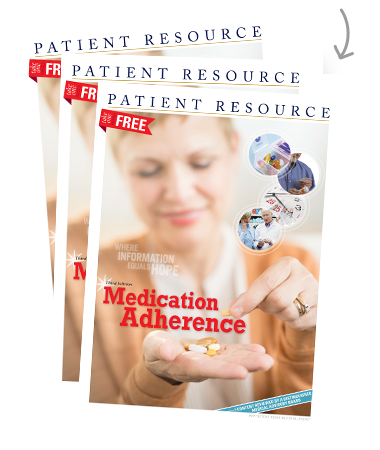 DOWNLOAD NOW
Medication Adherence
Find support
Don't let the price of medications add to your stress or influence your treatment decisions. Regardless of your financial situation or your health insurance plan, cost shouldn't rank higher than effectiveness when it comes to choosing a treatment.
It's no secret that the cost of fighting cancer can be overwhelming. Fortunately, multiple foundations and organizations have been created to help patients manage the financial and emotional aspects of this disease.
No one should be confused or feel alone while going through treatment. Explore resources online or look for cancer-specific organizations and advocacy groups in your area. (See here for a full list of advocacy and financial resources.)
The cost of convenience
Although oral anti-cancer medications are usually more convenient and effective – and may come with fewer side effects – than their intravenous counterparts, they also may be more expensive. Oral medications are usually covered as prescription drugs rather than as medical expenses by your insurance, which is why they generally require a higher copay or deductible.
If the cost of treatment becomes a financial burden, don't skip or cut back on your prescriptions to save money. Reach out for help so you can fight this disease as efficiently and effectively as possible. Other cancer patients, survivors and caregivers often have excellent advice about how to manage the costs.
Patient assistance programs (PAPs) – These programs provide free or low-cost medications to those who are unable to pay themselves. Ask them for guidance on copays, deductibles, reimbursement and insurance premiums. While some programs are intended for uninsured or underinsured patients, insured patients who still need help paying for their medications are also welcome to apply. An estimated 9.5 million Americans have already received free or lower-cost prescriptions through Partnership for Prescription Assistance (PAP).
Discount coupons, vouchers and drug cards – These valuable tools are available to those who qualify. Keep in mind that not all discount cards are free; some have an annual fee while others charge shipping and handling fees. Some insurance companies reduce the cost of medications if you get them through the mail or order in bulk.
Generic drugs – Generics are typically less expensive than the brand-name versions, even though both contain the same active ingredients. (See here for more information.)
Patient Advocate Foundation (PAF) – This organization helps patients deal with financial difficulties and maintain employment during treatment. Copay relief programs help qualified and insured patients pay for prescriptions and/or treatments, and locate other sources to cover additional medical costs. Learn more by calling 866-512-3861 or visiting www.copays.org and www.patientadvocate.org.
Pharmaceutical companies – The drug makers themselves can often assist with the reimbursement process for their prescriptions, but coverage will vary by insurance carrier and individual. It's important to fill out all of the reimbursement request forms carefully, and include all required information for them to be effective. Some companies also offer online support with financial assistance, side effect management and nutritional advice.
Knowledgeable guidance
Hospitals and clinics that treat people with cancer know there's a growing need for staff members who are specially trained to help patients adhere to their drug regimens. Oncology nurses, doctors, patient care advocates and social workers should be able to provide support and guide you to helpful resources. Some health care facilities may even designate a nurse or patient navigator to regularly check on patients, talk about side effects and help monitor adherence. In addition, contact your oncology nurse navigator or oncology social worker for assistance in learning what prescriptions may be available through a drug assistance program offered by some pharmaceutical companies. See here here for a list of reimbursement assistance programs.
Talk to your doctor or a member of your health care team if you have any questions; communicating your needs is an important part of your treatment and is essential to your cancer care. Listen to the advice you get from other cancer patients who've already conquered this challenge themselves. From how they managed side effects to how they made treatment decisions, cancer survivors are often happy to help and can provide you with priceless information about their medications.