Pancreatic Cancer Survivor
Survivor Beats Prognosis Through Clinical Trial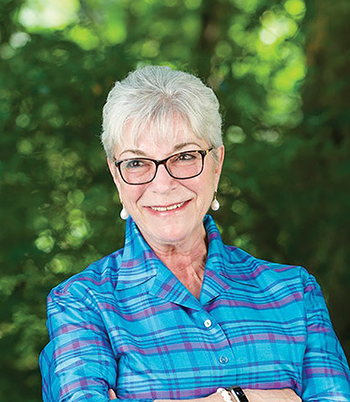 After being completely surprised by a Stage IV pancreatic cancer diagnosis, Davi D'Agostino found a specialist with expertise in aggressively treating this challenging cancer. With the help of her doctor and the Pancreatic Cancer Action Network (PANCAN), she found a clinical trial to join. She's been in the trial ever since and feels like she doesn't even have cancer. She's enjoying life with friends, painting and spending time in her vacation home in France.
It was a total fluke that I was diagnosed with pancreatic cancer. In the fall of 2017, I grew concerned about a gynecological issue, so I found a well-known oncological surgeon. During our first meeting, he quoted survival statistics for ovarian cancer and recommended removing both ovaries even before performing an exam or tests. I argued to keep the unaffected ovary and he agreed to just remove one.
For some unknown reason, the surgeon included a CA 19-9 blood test with my pre-op tests, which is a biomarker for pancreatic cancer. So when I received the lab results in January 2018, I was alarmed that my score was 948, far above the normal range of 0 to 35. I called the doctor's office, and when the doctor called a week later, he recommended a total hysterectomy. Frustrated, I refused and went back to my primary care doctor who immediately sent me for a CT, which revealed a growth on my pancreas, not my ovary.
I'm grateful the doctor ordered the CA 19-9 blood test. Without it, I would have never known. Pancreatic cancer often doesn't have symptoms, and I didn't have any.
Determined to find a pancreatic cancer specialist, I tapped into my 30 years of research experience as an auditor to drill down to the best treatment centers. I found one with experience diagnosing 800 cases per year. A wonderful nurse navigator arranged for me to come by train for a scan and biopsy. She made it incredibly easy. The scans showed (with more than 90 percent confidence) that I had adenocarcinoma of the pancreas that had spread to my liver.
Two days later, a liver biopsy confirmed Stage IV pancreatic cancer. The center also performed molecular profiling on my biopsied tissue and germline testing of my blood. Results revealed no germ-line (inherited) characteristics for pancreatic cancer. But months later, I received a report saying my tumor had, among others, a BRCA2 mutation. The doctor explained mine was a "somatic," or acquired, mutation rather than genetically inherited, which was unusual. Most people with BRCA mutations inherit them.
The doctor said I was not a candidate for Whipple surgery. He recommended chemotherapy with the possibility of a clinical trial. He also suggested seeing a local oncologist. I did, and within five minutes the doctor was already talking about clinical trials. He acknowledged this was a very challenging and smart cancer, and he wanted me to beat it. He recommended a couple of different trials to consider after completing chemotherapy. I was open to the idea but was only prepared to think about starting chemotherapy at the time.
The chemotherapy was particularly nasty. I struggled with a lot of diarrhea, nonstop nausea, vomiting, constant fatigue and weight loss, even though my appetite was good. I made it through nine rounds, and the side effects gradually tapered off.
Although my doctor gave me information about a couple of trials, being the independent-minded person I am, I wanted to research clinical trials on my own. There were hundreds. I contacted the Pancreatic Cancer Action Network (PANCAN) for help, and they were wonderful. PANCAN personnel analyzed all of the trials I was eligible for and provided me with brief summaries for 22 trials, which was tremendously helpful. My doctor helped me narrow the choices to two that were perfect for me. Fortunately, having a BRCA2 mutation helped me qualify for a trial testing a targeted therapy, specifically a PARP inhibitor. I joined it and was the only one with a somatic BRCA2 mutation.
Although the trial is now closed, I remain in it with good results. In the meantime, I get a CT every other month. Although my doctor is concerned the treatment will stop working, I am wide open to considering another trial in the future.
Today I feel like I don't even have cancer. I'm thrilled to continue doing what I love to do. I have a lot of living left to do, including spending time in France. I didn't want to have any regrets, so I bought a home there and will visit several times a year.
Fill up all the time in between treatments with things you love to do. Plan things to look forward to. Focus on living. It'll help your attitude and health.
Find the best expertise you can near you. Be willing to travel for excellent care. Don't settle for less, especially if you have pancreatic cancer. Keep getting second opinions and even third opinions. If you have pancreatic cancer, clinical trials may be the only hope you have. Being in a clinical trial also helps other patients, so everyone benefits.