Pancreatic Cancer Survivor
Take Each Day as it Comes
By Rick Lenert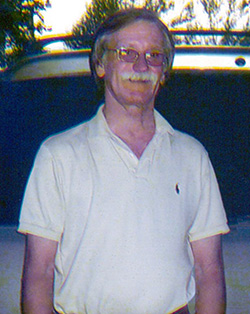 Several years ago in February, I was experiencing abdominal pain so severe I decided to take myself to the emergency room. The doctor there ordered a CT scan, which revealed a tumor in my pancreas. From that point on, everything began happening very quickly.
I was immediately admitted to the hospital and had a biopsy soon after. The pathology report confirmed I had Stage I pancreatic cancer. My health care team assured me that a Whipple procedure – a common surgery to remove a pancreatic tumor – was my best option, so I was scheduled to have one just two days later.
The night before surgery, I got cold feet. I'd been told about all of the risks that come with surgery, and I didn't want to be in the hospital. So I put on my clothes and tried to walk home. About an hour later, I changed my mind and readmitted myself. If I hadn't done that, I likely wouldn't be here today.
I had the Whipple procedure, during which my tumor was successfully removed. However, the surgery also resulted in a few complications, so I had to have two more surgeries, each one week apart. I stayed in the ICU for six weeks while I recovered, and while I was there, I was on a morphine drip and a total parenteral nutrition IV.
After I was discharged from the ICU, I spent six weeks in the oncology ward and another four weeks in a rehabilitation hospital. During those four months, I was unable to eat or drink anything—even ice chips were prohibited. That was because the surgeries had resulted in some leaks throughout my digestive tract that hadn't yet closed.
As my body recovered, I had difficulty figuring out what I could and couldn't eat; in fact, I still have times when I'll eat something and it doesn't agree with me. But perhaps the most difficult aspect of my recovery was learning how to manage the ostomy bag that was attached during one of the surgeries. Fortunately, this was only a temporary issue. About a year and a half after my initial surgeries, I had another surgery to close up my last leak and remove the ostomy bag.
Prior to my diagnosis, I had worked as a general supervisor and engineer for a manufacturing company, but I was physically unable to return to work after my treatments. There are still days I wish I could go back, but I'm thankful I'm still here.
Through everything, my friends were my main support, and my family was wonderful, too. I also attended a support group toward the beginning of my battle, which I found to be very helpful as well.
Now that my cancer is behind me, I do my best to help others who are going through a similar experience. I'm a volunteer with the R.A. Bloch Cancer Foundation, the Pancreatic Cancer Action Network and the University of California, Irvine. I find it therapeutic to help others who are about to experience something similar to what I went through. If I can offer just a small amount of hope, I've done my job.
My best advice to you is to take each day as it comes, stay positive and keep fighting.