Download Your Complete Guide Today!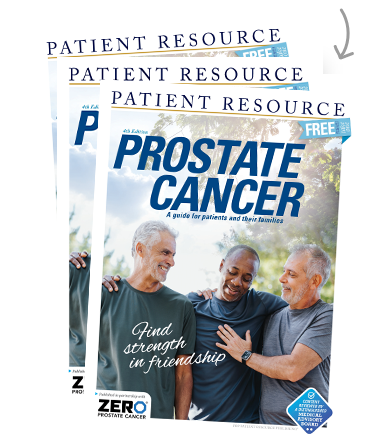 DOWNLOAD NOW
ORDER FREE COPIES
Prostate Cancer
Caregiver Perspectives
From those who know...
Learning how other caregivers approached their journeys may be both comforting and helpful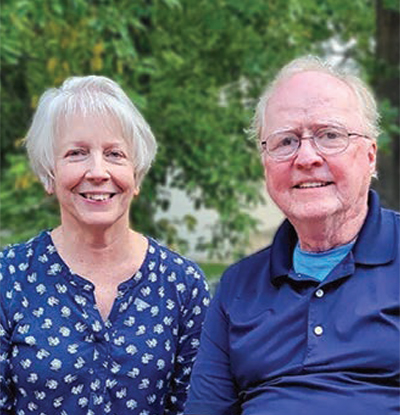 If you're helping a husband with prostate cancer, realize that you can talk to him about his cancer over dinner, during a drive to the mall, while you're folding laundry — really any time. Life goes on, and the needs of daily life are still there. But you should also understand that this is an extra-ordinary time in your lives. Listen carefully to your husband, and graciously accept the help and comfort that others offer to you."
"The first step was to follow Mike's lead as he began researching prostate cancer to choose a method of treatment. Mike's tenacity in gathering information really amazed me. He talked to other men who had faced the same diagnosis, comparing notes on both treatment options and ways to cope. One conversation would lead to another as strangers became supporters, providing both information and encouragement. I was learning along the way, too, but Mike really worked hard to educate himself.
~ Carol, wife of and caregiver for Mike (read Carol's story here)
---
"Doug and I attend an extremely helpful local support group twice a month. I checked them out and told Doug to come with me when he was ready. They have a meeting that focuses on educating survivors and their family members or caregivers. Another puts prostate cancer survivors and caregivers, which mostly means wives, in separate rooms. We listen to doctors and speakers and then talk about everything — new medicines, tests and ways to manage side effects, exercises, diet and more. We're always sharing and learning from each other."
~ Roxana, wife of and caregiver for Doug, prostate cancer survivor (read Roxana's story here)
---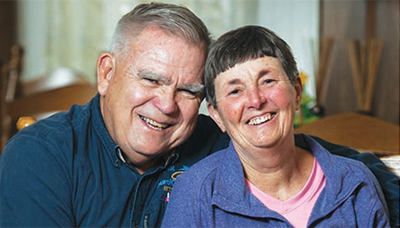 "As a caregiver, I learned that I had to try and take care of myself, too. You can't do it 24/7 or you won't be a good caregiver. I knew I just needed to have a positive attitude and to have patience, patience, patience. When you're as close as we are, you realize that you may have been taking things for granted. When cancer hits you, it makes you think a little more and you both toughen up and get through it. The challenge has made us even closer, and I think that as you go through something like this together with each other and your family, it can really make your marriage even stronger."
~ Leila, wife of and caregiver for Jim, prostate cancer survivor (read Leila's story here)
---
"Prostate cancer is not just a man's disease; it's a couple's disease, and we had too many questions and not enough answers after Ray's diagnosis. I knew immediately I was going to need to get support if I was going to be of any help to him. We looked for co-ed support groups but didn't have much luck until we finally found a group that welcomed us both and sympathized with what Ray and I were going through.
As a caregiver, I had to keep reminding myself that this was his cancer and all I could do was just be there for him, not tell him what to do. So, I went with him to his appointments and organized all of his medical paperwork in a notebook that we took with us to his appointments. I basically just did whatever I could to make life easier on Ray."
~ Linda, wife of and caregiver for Ray, prostate cancer survivor (read Linda's story here)