Cervical Cancer Survivor
Actress Found Strength and Perspective After Cancer Diagnosis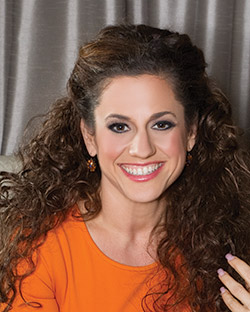 New York native Marissa Jaret Winokur is best known for her Tony Award-winning portrayal of Tracy Turnblad in the Broadway musical adaptation of "Hairspray." Just before landing that part, however, Marissa was given a role for which she didn't audition: cervical cancer patient. Rather than letting the disease bring her down, Marissa used the diagnosis as motivation to perfect her craft and reposition her loved ones as the most important aspect of her life.
Like a lot of little girls, Marissa grew up with dreams of seeing her name in Broadway's bright lights. After studying musical theater at the American Musical and Dramatic Academy in New York, she landed a role as Pink Lady Jan in "Grease." She had indeed made it to Broadway but was still hungry for more.
Soon, Marissa had the leading role of Tracy Turnblad in the Broadway musical adaptation of "Hairspray" within her reach. But during the early developmental stages of the musical, the unthinkable happened: The 27-year-old budding actress was diagnosed with Stage II cervical cancer in August 2000.
"I remember sitting by myself in my one-bedroom apartment, trying to take notes about what the doctor was saying," she said.
With no family history of cancer, this type of disease had been far from Marissa's mind. Now that it was in front of her, she knew she had to deal with it—and deal with it quickly. She refused to let cancer rob her of her Broadway dreams.
"I visualized myself doing the show every day," she said. "I concentrated more on life than on death, and I knew that I had to stay strong to stay mentally in the game. I believe 'Hairspray' saved my life; it gave me something to fight for and look forward to."
Marissa's treatment began with a cone biopsy, but because the cancer had spread to her uterus, she and her treatment team opted for a radical hysterectomy – including the removal of lymph nodes below her ovaries – in December.
"My surgery went great," she said. "The doctors were able to remove all of the cancer, and I was very lucky that I didn't have to have radiation or chemotherapy. I was also very lucky that the cancer had not spread to my ovaries."
Physically, Marissa recovered quickly, and her star indeed shined brightly on Broadway. Emotionally, however, she had a more difficult time. "I actually did not cope at all at 27, " she said. "I closed my eyes and pretended that it never happened."
It wasn't until after Marissa married her husband, Judah, and the two began talking about children that she was really forced to confront the toll that cancer had taken on her body. "I went to therapy and had to deal with the fact I would never carry my own baby, she said. "It was very hard until my son, Zev, was born. I had a wonderful surrogate and the pregnancy went perfectly! Zev is a miracle; I love him so much and believe it was all meant to be."
While Marissa appreciated all of the support and advice she received, she most appreciated it when it was "real."
"I had a dear family friend who had breast cancer, and she was very helpful. She knew how I was feeling and was clear to tell me that it 'sucked' and 'wasn't fair.' People try to candy-coat things, but cancer does suck and it's not fair! It was the scariest time in my life, and my friends and family really got me through it."
After doctors declared her a survivor, Marissa vowed to improve her health. "I changed my eating habits, and I was very healthy for a year or so," she said. "But old habits snuck back in, and for 10 years, I was not thoughtful of my body when it came to eating and working out. I was reminded with a bad cholesterol blood test how precious life is, and that scared me straight. I've been working out and eating right ever since."
Marissa has also made it her mission to encourage education.
"I think knowledge is power," she said. "If you learn the facts and read the information, you can make an educated decision about what is best for you. As a cancer survivor, I hope my story touches people and inspires them. But most importantly, I hope it reminds people to go get a Pap smear and an HPV test. Knowing the information about your body is the only way to stay healthy!"
In the beginning, it looked like cancer might derail Marissa's acting career. However, her health scare actually changed her perspective on acting – and life in general – for the better.
"Before cancer, I wanted to be a star," she said. "That was my personal and professional ambition, and it was all I cared about. After I got healthy, I didn't care so much about the fame and cared more about the experience and my love for theater, family and friends. Before cancer, I don't believe I would've been as cool with my success as I was after cancer. I'm so grateful for every job, every day, and for my son and my husband. I make time for family and friends, and when I die, I want my son to say, 'She was a great mom,' rather than a 'great actress.'"