Tongue Cancer Survivor
Firefighter battles toughest challenge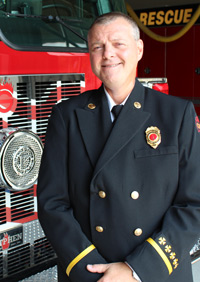 Gene Ledgerwood was diagnosed with Stage IV tongue cancer but keeps his struggles in perspective by focusing on the positive.
As a firefighter, I've been in some hot situations, but none compared to my battle with Stage IV tongue cancer. Burns from a house fire could never compare to those I suffered on my neck and jaw from radiation treatments. It sure beats the alternative, however, and I'm lucky. Doctors were only 50 percent sure I'd survive, and even after beating those odds, there was a 50/50 chance of the cancer returning within five years!
But I wasn't about to take this lying down. I was a 44-year-old husband and father of two young sons. I was determined to live, which meant six weeks of chemo and radiation and a PEG tube down my throat for four months so I could eat.
I had daily radiation treatments for the first 18 days of treatment, and twice a day during my last 12 days of treatment. I was also receiving 3.5 hours of chemotherapy every Monday, so when my radiation went to twice a day, I finished my first radiation treatment in the morning and then would go upstairs for chemo. I'd return home for an hour or two and then go back to the hospital for round two of radiation.
I received my cancer diagnosis and treatment in 2005, and am officially cancer-free, although I have numerous side effects. My neck is hard as a rock, I get tongue cramps, and I lost a lot of muscle tissue. Also, I don't have salivary glands, which means I have to always drink something so I can swallow. The guys at the fire station like to give me a hard time about it, but that just means life is back to normal. It feels good to laugh.
And whenever I start to feel sorry for myself, I go back and pull my medical records and actually read about how serious my case was. It makes me realize how lucky I am and puts things in perspective. When you think about it that way, are you really going to get so worried the next time someone cuts you off in traffic or the cook messes up your lunch order?
I feel really blessed to still be happily married. Cancer not only takes a toll on the patient but also on the entire family—especially the caregiver. I am thankful to still have fun with my two sons, to see them mature into wonderful men. Everyday's a good day for me; just knowing where I could be, I don't sweat the small stuff.