Oral Cancer
Seize the Opportunity to Love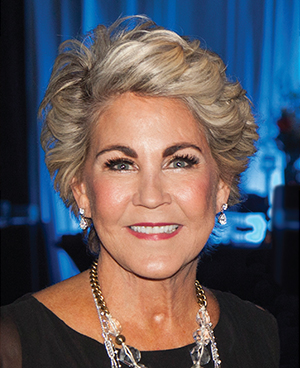 It all started with a sore tooth. Several appointments and more than nine months later, Teresa Walsh learned the cause of her pain. She had Stage IV squamous cell carcinoma of the jaw. She credits her miraculous recovery to world-class medical care and an undeniably strong will. Because she knows firsthand the struggles that accompany this rare and aggressive disease, Teresa and her husband created HNC Living Foundation, an organization that is helping head and neck cancer patients live life fully, during and after treatment, through financial aid.
In May 2013, I visited my dentist because of a sore tooth. Nine months and many unproductive referrals later, the sore tooth became a sore in my mouth. I was referred to yet another periodontist who took one look in my mouth and recognized the sore as cancer. I immediately sought a second opinion at a local cancer facility. A visual exam and the results of a biopsy confirmed the diagnosis. I had Stage IV squamous cell carcinoma of the jaw.
I was devastated. The cancer was in my jawbone, so surgery to remove part of my jaw followed by radiation was really my only treatment option. Still, my doctor asked for my input on the approach, which I appreciated. He estimated I'd spend the next two years as a patient, which I found hard to believe, but he was on target.
I am a person of great faith, and I had complete confidence in my medical team, so I knew I had to get my head into the game right away. In the three weeks between my diagnosis and my surgery, I became an active part of my own care. I wanted to visualize what I was in store for and how I would fight, so I started acupuncture, yoga breathing and meditation. I wasn't looking for a cure with these alternative methods. Rather, I wanted to align my mind, body and soul. I knew it would take an enormous amount of strength for quite a while, so I wanted to prepare.
The surgery lasted 12 hours. The surgeon removed most of my jaw on the right side of my mouth along with many of the lymph nodes surrounding it. He then used bone from my left leg and a metal rod to reconstruct the area where he had removed the jawbone. I also had a tracheotomy. I had a fairly quick recovery and was only in the hospital for about 12 days.
During my hospital stay, I worked hard on my recovery. Once the trach in my neck was removed, my speech therapist taught me exercises to strengthen my voice, and I was an overachiever. If I was supposed to do 10 a day, I did 40. Also, I was determined not to leave the hospital with a feeding tube, so my occupational therapist taught me to "force swallow," which was how I learned to swallow again.
My resolve to recover was strong, but the support of my husband, Tom, and our three grown children helped tremendously. The kids all lived close by, so there was never a time when I was alone in my hospital room. We kept a journal in the room for anyone to write thoughts, record emotions or even draw pictures. To keep all of our friends and business associates informed about my progress, Tom updated my CaringBridge page frequently for more than a year. The support and prayers we received were therapeutic for our whole family.
After about a month, I started radiation therapy. Getting fitted for the radiation mask and then wearing the mask during the treatment was an experience. It is a good thing I am not claustrophobic.
The treatment waiting room made a lasting impression on me. Some people came in with friends and others came alone. Some wore pajama pants and others wore regular clothes. I made a decision to wake up every day, dress in nice clothes and apply red lipstick before every treatment. My radiation mask is even stained red on the inside from my lipstick.
I had side effects from the radiation, such as weakness, burns, mouth sores and lymphedema. I will probably have lymphedema forever. Radiation is the gift that keeps on giving—but it certainly wasn't a gift I wanted! I see a pain specialist to help with the tightness in my neck.
The dental side effects are the most traumatic. Although I had excellent dental health before my diagnosis, it took a lot of dental work to fill the hole that was left after surgery. I've had several sets of partial dentures because as my mouth heals, it changes. When it doesn't fit right, it is difficult to speak, and it causes sores. That is unsettling because sores are easy to mistake for cancer. I see my dentist every four months to stay on top of any issues.
Your attitude will set the tone for your treatment and recovery. First, you need to understand what is happening to you and accept what you must do to save your life. Then, listen to your body and be patient. It may take time, but I'm convinced it will lead you down the right path for your recovery.