Oral Cancer Survivor
Learning from others will ease your journey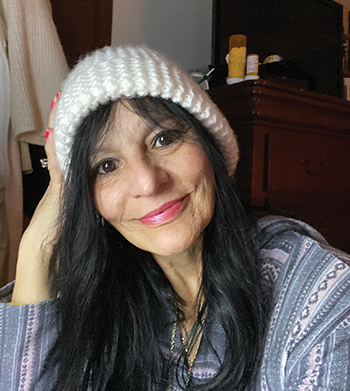 At HNC Living Foundation, oral cancer survivor Melinda Kurtright helps people who have head and neck cancer find the financial resources they need to live through and beyond their diagnosis. It's a journey she is very familiar with, and she is dedicated to making that path easier for others.
Most everything I'd read about oral cancer wasn't what I actually experienced. Doctors can tell us about the procedures but not exactly what will happen. Everyone's experience is different, so I understand that they don't want to generalize or scare us. That is why stories like this and cancer support groups are so important. Other survivors will tell you their truth.
After living for a year with a tiny sore on my tongue that looked like the tip of a blister, I showed my doctor. I see her quarterly for a back issue, so we began to keep an eye on it. Two and half years after first noticing it, it began to grow and hurt. My doctor sent me to an ENT. As soon as he looked at it, his expression changed.
The official diagnosis was squamous cell carcinoma of the tongue. I had just turned 48. Had I gone to the ENT sooner, my treatment likely would have been surgery only. But, my journey was much different and included a lot of follow-up care.
Treatment began with major surgery from my ear to my throat. The surgeon removed the sore, all the lymph nodes in my neck and 1/8 of my tongue. Radiation therapy followed. I had 45 of the highest doses of radiation offered. It was so much that I'm never allowed to have radiation therapy on my head again.
As I recovered, I had swallow therapy and speech therapy for about a month. It worked — I can speak really well. And unless you examine my tongue, you probably wouldn't notice I'd had such extensive surgery. Just don't ask me to touch my nose with my tongue. I can't do that anymore!
While I recuperated, I lost around 100 pounds. I couldn't get anything down. Fortified drinks were too thick, milkshakes were too cold. My doctor recommended a feeding tube, but I resisted. It really frightened me. In hindsight, it would have made things easier, but at the time I felt like it allowed me to have some control over my body. I finally found something I could get down — room temperature milk from a local dairy. That's what sustained me.
When I first tackled solid food, I had a peanut butter and jelly sandwich, thinking it would be super soft and easy. While I was eating it, my two front bottom teeth snapped off. I had been told that the radiation could cause tooth breakage, but I opted not to have them removed before treatment because even though my teeth weren't beautiful, they were strong and healthy.
I didn't have dental insurance, so I had my dental care at a local university's dental school where they offered it for a low cost. The dental school connected me with a dentist who worked solely with cancer patients. He said my teeth would continue to break off, and he recommended taking them out.
I was 49. There was no way I was ready to lose all my teeth.
It may sound trivial because I know I should have been thankful I was still alive. I was, and still am. But let's face it. I'm human, and I'm a woman. Our physical appearance is tied to our identity. When you have surgery on your mouth, you can't hide it with clothes.
Dentures were very expensive. My wonderful family did what they could to help. My two grown children set up a GoFundMe account. My younger son made chocolate-dipped pretzels and took them to school to sell. Then something happened that changed my life.
My dentist told me about HNC Living, an organization dedicated to helping head and neck cancer patients with the financial burdens of recovery. The dental office applied on my behalf and, through a grant, HNC Living paid for my dentures. I almost jumped up and hugged the dental team when they told me. To call HNC Living angels doesn't even do them justice. They gave me back something I didn't know I was missing — my dignity. When they invited me to work with them soon after, I jumped on it. I wanted to help others the way they helped me.
Even though the cancer may be gone and I feel good physically, it stays on my mind because I found out it runs in my family. My grandfather, who is gone now, had tongue cancer. And a year after my diagnosis, my mom was diagnosed with squamous cell carcinoma of the esophagus. After she had genetic testing, I did, too. She chose to forgo treatment, and she passed away.
Now that we know my kids are at risk, they see the dentist every three months. I follow up with my dentist every six months, and I see my oncologist annually.
I'm afraid cancer of the tongue is not as rare as I want it to be. If something doesn't feel right, advocate for yourself. Doctors are human, too. If they don't see what you're describing, get a second opinion. It could save your life.
Trust in yourself, and trust in God. When you get scared, reach out for help and look for the light at the end of the tunnel.