Download Your Complete Guide Today!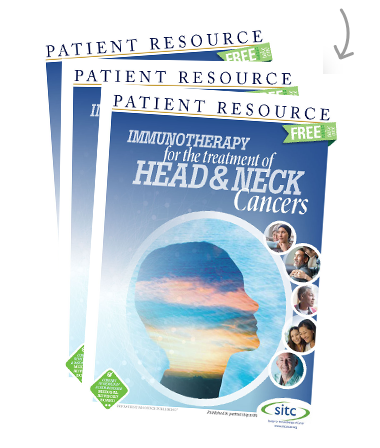 DOWNLOAD NOW
Cancer Immunotherapy
Head and Neck Cancer
Immunotherapy is less invasive than some surgeries, bringing new hope to people diagnosed with head and neck cancers (see Anatomy of the Head and Neck).
The type of immunotherapy that is FDA-approved for head and neck cancer is immune checkpoint inhibitors. They are approved for recurrent or metastatic head and neck squamous cell carcinoma that progressed during or after chemotherapy that contained a platinum drug.
To receive this form of immunotherapy, you may be required to meet certain criteria. One requirement may be biomarker testing because some types of immunotherapy are approved to treat cancer that expresses a protein called PD-L1. If there is a large amount of this protein in or on your tumor, immunotherapy alone may be used. If not, immunotherapy may be combined with chemotherapy.