Chronic Lymphocytic Leukemia Survivor
Keeping the Glass half-full
Positive attitude leads CLL survivor down the path to remission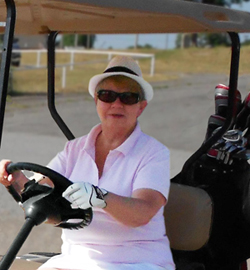 A mother and grandmother from Grove, Okla., Sandy Tollison was 59 years old when she was diagnosed with CLL. The former administrative assistant was busy with family activities, fishing, camping, golf and making jewelry when leukemia forced her to face her illness head on—and she didn't waste any time beating it.
It was the Friday before the Memorial Day weekend, and I woke up with a large swelling under my left armpit. I decided I better see the doctor and was scheduled for a CT scan the following Tuesday. I didn't really think they'd find anything—probably just another "cover your ass" test. But to my surprise, they asked me to come back the next day for a PET scan – some problem with my lymph nodes – and then they referred me to an oncologist.
I was stunned. I couldn't think. After all, I hadn't had any symptoms before I noticed the swelling. I remember grabbing my purse and getting up from my desk, walking a few steps, and then sitting back down. This happened several times. I spent the next few days in a fog.
After the PET scan results came back, a biopsy confirmed the diagnosis: chronic lymphocytic leukemia. I just could not get my brain around it. I spent a few days feeling sorry for myself, but then I just decided that I'd deal with it and not let it control my life. But I was still very scared.
The CLL was diagnosed at Stage III, and I found that it helped me to be very open about my illness with my friends and family. At work, however, I really only needed to tell my boss, a couple of friends and the Human Resources Department. From there, the word spread quickly.
I chose not to join a support group because I thought, for me, it would just make me dwell on the disease. Instead, my large circle of friends and family served as my support. I have two children and my husband has two, and we have a total of 10 grandchildren between us. Their love and encouragement were simply wonderful during this whole ordeal.
I wanted to move quickly with treatment, so I started chemotherapy toward the end of July. I went through four rounds of chemo, and for the most part, I did okay with the therapy, but I did have to battle extreme fatigue and thinning hair. But those side effects were worth it in the end because I'm proud to say that I've now been in complete remission for the past six years.
Throughout my life, I've always tried to keep an optimistic outlook on life as well as a lot of faith. This cancer journey helped teach me the power of that positive thinking as well as the strength that can be obtained from prayer and family and friends. In the past, I've had trouble asking others for help, but I've learned that I cannot do everything alone and it's sometimes necessary to rely on others.
I now volunteer when I can to help others going through this journey. I remember how I felt when I was diagnosed and how overwhelming it can be, so I try to emphasize that a good support system and positive attitude truly do work wonders. Never give up hope.