Chronic Lymphocytic Leukemia Survivor
Survivor Sees a Brand New World on the Horizon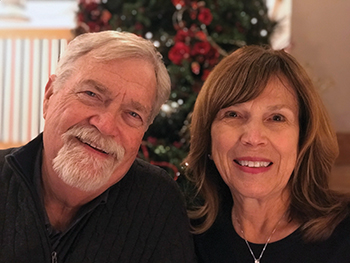 Terry Evans' story is one of patience, education and inspiration. In the roughly two decades since he received a chronic lymphocytic leukemia (CLL) diagnosis, he has managed the disease by learning as much as he can about it and, in turn, sharing his knowledge and experiences to help others.
The best piece of advice I can offer to someone who is newly diagnosed with chronic lymphocytic leukemia (CLL) is to add a CLL specialist to your medical team immediately. Oncologists who don't focus on CLL may see only one or two new cases a year, while specialists devote a better part of their practice to it, learning the nuances of this niche cancer to give you the best care.
Like many people with CLL, my diagnosis came as a result of something else. My primary care physician was concerned about a slowly rising white blood cell count and sent me to a hematologist. The hematologist wasn't alarmed at first, but two weeks later, he admitted he'd been "a little mistaken." I had CLL.
I heard "slow growing" and "good cancer" and "incurable" while trying to process the news. My head was swimming. Would I be around to see our four children get married? To meet my grandchildren? I asked what we should do. "Nothing," he said, "but come back every six months." As hard as that was to believe, it's what I did — watch and wait for the next seven years.
I did a fairly good job of forgetting I had CLL between checkups. My wife, Donna, who is a nurse, stressed that we should see a CLL specialist. Not taking her advice was probably one of the biggest mistakes I've made. After having rising white blood cell counts, night sweats, fatigue and weight loss, my doctor began treatment with a monoclonal antibody. Chemotherapy would follow.
Everyone responds differently to CLL treatments. It's not a one-size-fits-all cancer, which is why a specialist is key. My hemoglobin fell to 7 or 8 (15 is normal), and I was extremely fatigued. After a transfusion, I was able to start chemotherapy. However, I needed transfusions every four to five days. In her research, my wife discovered a complication called autoimmune hemolytic anemia (AIHA), a red blood cell and autoimmune condition where your body attacks your own red blood cells.
We knew we had to get to a CLL specialist, and my wife got me in with one 80 miles away. He immediately hospitalized me to control the AIHA.
Once the AIHA was under control, my new doctor was ready to treat the CLL with a monoclonal antibody and high-dose steroids. That gave me 18 months of remission, then 12 more when I repeated the treatment.
I realized I didn't know enough about CLL. Online information was confusing and often wrong. Finding a support group about eight miles from my house was a changing point. After attending the group for several years, I was honored to lead it.
After relapsing again, I began my first clinical trial. It combined a monoclonal antibody and chemotherapy with the trial drug, a BCL-2 inhibitor. I responded very well but developed high liver enzymes that forced me to stop the trial. Still, it gave me 18 months of remission.
My next clinical trial was randomized, with one group testing a new BTK inhibitor and the other using a monoclonal antibody. I was not in the group who received the new drug but still had a good response for six months.
I needed another treatment, and I was running out of options. The BTK inhibitor group of the trial was really successful, but the people in my group weren't allowed to "cross over" to get that drug. That's when the medical and patient communities rallied to change the rules of the trial, but it wasn't an easy feat. I was set to begin a different trial when the call came in that the crossover was approved.
I had a good response for 57 months. Then, after almost five years, I was relapsing, and genetic test results showed I had developed a mutation that made me eligible for my third clinical trial. I stayed on the BTK inhibitor I'd been taking, adding a BCL-2 inhibitor to kick start it. Within a month, my levels were at their lowest in eight years. After 11 months, test results showed I was MRD Undetected (Minimal Residual Disease Undetected). They could not find any CLL. I'm still on the trial, and if these good results continue, it may be possible that I'll be drug-free for the first time in a very long time.
I share my experiences with other survivors in hopes it makes their journeys easier. Surrounding myself with support helped me through. My medical team and my wife saved my life, making it possible to enjoy our 10 grandchildren.
A cancer diagnosis is never easy, but the landscape is improving for people with CLL. There are more pills instead of infusion centers; more drugs with less resistance over time; and combination therapies that use chemotherapy only in special circumstances. Don't overreact, but don't underreact. Find an expert. If one isn't nearby, consult with one over the phone. Join a support group. Consider clinical trials. It's a brand new world, and it's important to be optimistic.