Chronic Lymphocytic Leukemia Survivor
Research and trust help this survivor move forward confidently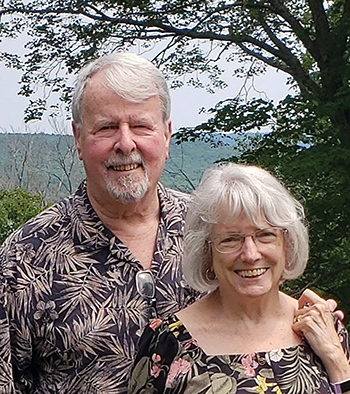 Sharon didn't let a diagnosis of chronic lymphocytic leukemia/small lymphocytic lymphoma (CLL/SLL) at 72 slow her down. Taking a practical approach, with the combined support of her husband Rob and a trusted oncologist, helps her enjoy an active, happy life. Since beginning treatment in 2021, she has traveled from her home in the Midwest to Colorado, Texas, California and Paris, France. She hopes her experiences will offer insight and encouragement to other people facing CLL.
Night sweats, disrupted sleep, general fatigue and a lump on my neck were the symptoms. I also felt a little down. I wasn't sure whether to blame it on COVID-19, just getting older or something else, so I saw my doctor. Blood work showed my white blood cell count was way out of range. He suspected I had a form of leukemia. He asked a pathologist to run a flow cytometry test to confirm it. The diagnosis was chronic lymphocytic leukemia/small lymphocytic lymphoma (CLL/SLL).
My doctor made an oncology referral, but I chose to see the oncologist who treated my breast cancer six years before. I was comfortable with him and trusted him. He suggested we "wait and see" for a bit. I talked with a friend at church who had CLL and saw the same oncologist. She had been "waiting and seeing" for a couple of years. For me, that approach lasted just a couple of months. I began to have more lumps, a CT scan showed that my spleen was enlarged, and my blood work indicated it was time to treat.
My oncologist recommended a type of oral medication. In his opinion, it would result in the best outcome. And, it wouldn't make me lose my hair, which made me happy. Being able to take pills instead of having to get infusions was wonderful. I am grateful that medical science came up with this option.
Had I not been comfortable with his treatment plan or if it wasn't effective, I would have sought a second opinion. Fortunately, my numbers starting dropping like a rock right away. The night sweats subsided, I'm no longer fatigued and I sleep much better now. I bruise easily, and I have occasional bone pain in my limbs but it's not extreme. At first, I followed up with blood work monthly, and now I go every couple of months. In that first year, I was also sent for three CT scans. Now, I let my body tell me how it's doing, and my oncologist pays attention to the numbers.
Rob and I are very self-sufficient. We try not to worry about things we can't control. We both worked in the medical field. I ran a medical office, and he was in pharmaceuticals. I think having background knowledge of how things work in that world and a familiarity with the language helped us better understand the diagnosis and treatment process.
I don't really talk too much with friends about having CLL. I looked into support groups on Facebook, but my family is really my support system. We have two children and five grandchildren who we try to see regularly, and Rob helps me however he can. He is always reassuring and works on being sensitive to how I'm feeling. He avoids adding extra responsibilities to my plate. I love it when Rob cooks! We have always been supportive of each other's health issues and work well as a team.
It helps to lead a healthy lifestyle when you have CLL. We try to eat a fairly healthy diet. We don't eat as many desserts as we used to, but I enjoy fruits and vegetables.
I exercise in different ways depending on the season. I walk regularly until it gets too hot outside. I take a chair exercise class at church, and sometimes I swim.
To help lower my risk of infection, Rob runs more errands than I do. I wear a mask when I go out. I also received infusions of monoclonal antibodies to help boost my immunity and prevent me from getting COVID-19. I have felt really good since getting them, even well enough to take vacations.
I'd always wanted to see Paris, so Rob and I went with four other friends. We cruised up the Seine, toured many interesting sites along the Seine, visited the beaches at Normandy and enjoyed excellent food. It was probably my favorite vacation.
Advice from Sharon and Rob
• Don't panic. Instead, educate yourself by talking to your doctor and researching reputable websites. Knowing what to expect always helps.
• Find a good doctor you trust. Ask questions. Your comfort level is important.
• CLL can take many forms and lead you down many roads. Though it seems strange, "wait and see" might be the right treatment for you until it's not. Trust your doctor, and go with it.
• Talking to others who have CLL can help ease your anxiety.
• Stay as positive as you can. It is easy to go into a deep depression when you hear you have cancer.
It is devastating, I know, but excessive worry will affect your health and make things worse.
• Try to de-stress. Meditate, take a walk in nature or find strength in your faith. Do whatever you can to calm yourself.
• Know that there are advances in medical science all the time.