Download Your Complete Guide Today!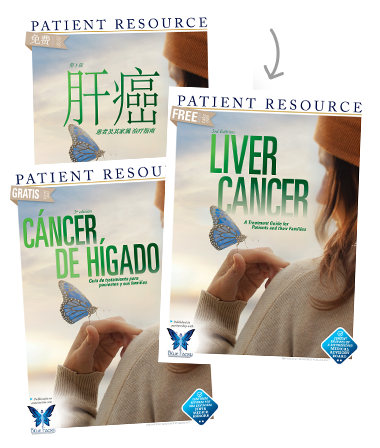 Liver Cancer
The Story behind the Blue Faery
When 15-year-old Adrienne was diagnosed with Stage IV liver cancer, her sister and parent Andrea Wilson Woods was devastated. She had raised Adrienne from the time she was eight. As her legal guardian, Andrea had to make major decisions about Adrienne's treatment plan. Unfortunately, Andrea had no one to guide her. Together, they did the best they could on a journey that lasted 147 days, and the experience changed the course of Andrea's life.
"Any type of cancer diagnosis is shocking, but being unfamiliar with liver cancer made it more challenging," Andrea said. "At the time, information about liver cancer wasn't easy to find, even among medical professionals. I quickly learned how complex liver cancer is."
Andrea grappled with how her teenage sister – a young Caucasian female who had never been outside the U.S. – had a disease that typically affected non-North American men over the age of 50. Andrea was forced to make treatment decisions she felt unprepared to make.

"I trusted my gut, and I fought fiercely for the best care available. Watching Adrienne face her illness was heartbreaking, yet she handled it better than any adult would have. Her courage, dignity, grace and humor inspire me every day. We made some fantastic memories. She met her favorite musician, Dave Navarro of Jane's Addiction, twice!"
In the short time between Adrienne's diagnosis and passing, Andrea learned a great deal about how to be an advocate for someone with cancer.
"I wanted to share what I'd learned with others because I didn't want anyone else going through what we did. And though it was never my childhood dream to one day start a nonprofit organization, Blue Faery was born."
The mission of Blue Faery: The Adrienne Wilson Liver Cancer Association is to prevent, treat and cure primary liver cancer, specifically hepatocellular carcinoma (HCC), through research, education and advocacy. Every year on Adrienne's birthday, the organization gives out its Blue Faery Award for Excellence in Liver Cancer Research, which recognizes innovative, HCC-specific, cutting-edge research.
For patients and caregivers, Blue Faery has free educational materials in multiple languages, a private online HIPAA-compliant community, a peer-to-peer support program and even opportunities for patients to receive free precision cancer analysis reports. Earlier this year, Blue Faery conducted its first public awareness campaign to spread awareness and increase the prevention of liver cancer and disease.
People often ask Andrea about the origin of the charity's name.
"Adrienne always loved faeries, and her favorite color was blue. She dyed her hair bright blue before starting high school. Later, she purchased a pair of blue butterfly wings that she wore on her back on special occasions. When she started chemotherapy and lost her hair, she asked for a bright blue bobbed wig so she could maintain her look. She was our original Blue Faery."
On rough days, Andrea takes comfort in knowing that she gave Adrienne a good death. She feels Adrienne's spirit is always with her.
"When we started Blue Faery, our goal was to put ourselves out of business. We want to get to the point where our services are no longer needed because liver cancer no longer exists. My greatest desire is to see a cure for primary liver cancer in my lifetime."

(Left to right): Summer 1995; August 2001 Make-A-Wish event; August 2001 PAWS program