Download Your Complete Guide Today!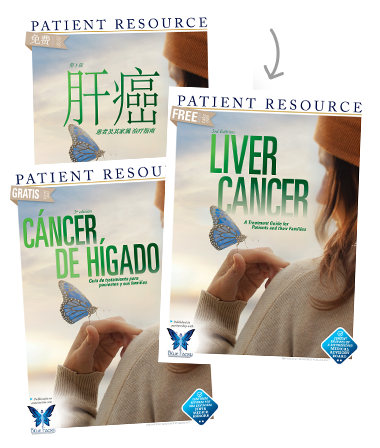 Liver Cancer
Multidisciplinary team
These specialists may be involved in your care.
Gastroenterologists have special training in diagnosing and treating disorders of the digestive system.
Hepatobiliary surgeons specialize in surgical procedures for the liver, bile ducts, gallbladder and pancreas.
Hepatologists (subspecialty of gastroenterology) diagnose, treat and manage diseases of the liver.
Interventional radiologists use imaging such as X-rays, CTs and MRIs to navigate small instruments, such as catheters and needles, through blood vessels and organs to treat a variety of diseases.
Liver transplant surgeons have special training in transplantation surgery.
Medical oncologists treat cancer with drug therapy and other medications.
Nutritionists/dietitians help meet nutritional challenges that arise during and after treatment.
Oncology pharmacists have special training in how to design, deliver, monitor and change drug therapy for cancer patients.
Palliative care specialists work to provide physical and emotional relief from cancer symptoms and treatment-related side effects.
Pathologists interpret the biopsy of the cells, tissues and organs removed.
Patient navigators/nurse navigators serve as guides through diagnosis, treatment and follow-up, helping identify and resolve barriers to treatment.
Pharmacists prepare and dispense prescription drugs and are a resource for side effects and drug interactions.
Radiation oncologists treat cancer using radiation therapy.
Radiologists study X-ray tests and other forms of body imaging to diagnose cancer and assess its response to treatment.
Rehabilitation specialists, including physical and occupational therapists, help improve physical strength and activities of daily living.
Surgical oncologists have special training in diagnosing and treating cancer patients that includes performing hepatobiliary operations.