Download Your Complete Guide Today!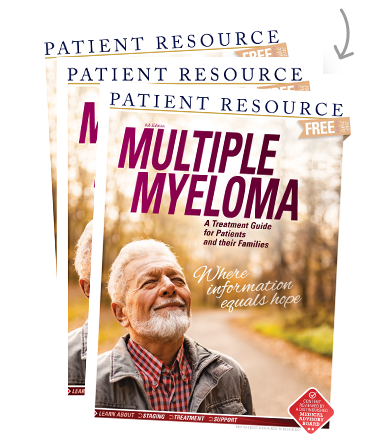 DOWNLOAD NOW
ORDER FREE COPIES
Multiple Myeloma
For The Caregiver
As a caregiver for someone with multiple myeloma, you will have many important roles, from attending medical appointments and communicating with your loved one's health care team to cooking, shopping and providing emotional support. In addition, your loved one's needs will likely change depending on the course of the disease and the treatments given. Your flexibility and willingness to adapt will be key.

Stay alert. You will likely spend more time than anyone with your loved one, which means you may notice changes more easily than a doctor or nurse. Before treatment begins, find out which symptoms and side effects require a call to the doctor or emergency medical attention.

Educate yourself. Using reputable resources such as this guide and those recommended by the health care team, learn about your loved one's multiple myeloma diagnosis. The more you know, the better prepared you will be to help meet your loved one's needs.

Continue to learn. Inform yourself about the various treatments in your loved one's treatment plan, such as drug therapies, stem cell transplants and CAR T-cell therapy. Treatments are often used in combination, and they may change based on effectiveness and disease progression. Each has different potential side effects, making it important to know what to expect and when a serious side effect requires immediate medical attention.

Track side effects. It helps to know when side effects occur, how long they last and if anything makes them better. Share this information with your loved one's health care team at a regularly scheduled appointment or sooner if your loved one is not getting the necessary relief.

Manage medications and appointments. Cancer medications are most effective when taken exactly as prescribed. Help your loved one stay on schedule with medications taken at home and those given at medical appointments. Use a calendar, pill box or reminder tool. Ensure your loved one attends all appointments for treatments and follow ups.

Be a good listener. Living with a chronic blood cancer can be overwhelming. Simply listening when your loved one needs to talk is more helpful than you may realize. It often helps for people to talk with others who have a similar diagnosis. Consider suggesting a multiple myeloma support group as a way to help your loved one manage their feelings.

Encourage a healthy lifestyle. This applies to both of you. Follow a nutritious diet, exercise, limit risk of infection and get enough sleep. Ask your loved one's health care team for suggestions.