Download Your Complete Guide Today!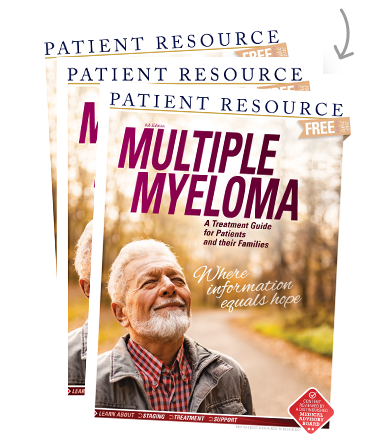 DOWNLOAD NOW
ORDER FREE COPIES
Multiple Myeloma
Telehealth
Sometimes referred to as virtual appointments, telehealth visits enable you to meet with your medical team using technology such as computers, cameras, video conferencing and the internet. These visits are a complement to in-person visits. They don't replace seeing your doctor but offer the opportunity to communicate and receive care when it is not medically necessary to be seen in person.
Telehealth visits may be permitted by your doctor depending on your current condition, especially if you are in remission, are taking oral-based therapies or are receiving maintenance therapy.
Following are some of the benefits of making a virtual appointment:
Reduces travel if you live far from the medical office.
Eliminates the need to find transportation or child care.
Reduces potential exposure to infections in clinics and hospitals.
Enables you to stay home if you feel unwell or find it physically challenging to go to the appointment.
Offers an easy way to report symptoms or complications between follow-up visits.
Allows caregivers to attend and ask questions. 
Makes it easier to obtain a second opinion, especially if the specialist is located far away.
Make the most of your appointment by doing the following:
Make a list of the subjects you want to discuss.
Review your medications to know which ones need refills.
Complete any lab work ahead of time so the results are available to discuss.

Take your blood pressure and temperature if you are able.

Plan to be in a room without distractions, such as a barking dog, television, etc. 

Have a pen and paper to take notes, and ensure you have a surface to write on.

Invite a caregiver or loved one to participate by asking questions, taking notes and just listening.
Be aware that you will be billed for a telehealth visit just as if you were seeing the doctor in person. Many private health insurance plans, Medicare and Medicaid pay for some telehealth services, but you should check with your provider before making an appointment so you know what is covered and what you will be expected to pay out of pocket.
If telehealth is something you would like to try but are unsure of how to use the technology, let your medical team know. They can offer instructions to help you get the best care available.