Multiple Myeloma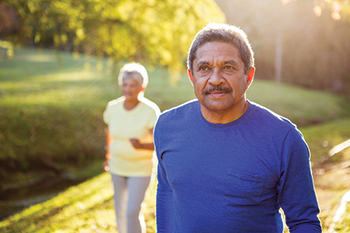 Living with a Chronic Condition
Managing a chronic disease like multiple myeloma requires routine monitoring. Whether or not you are still
receiving treatment, you will be checked at regularly scheduled follow-up appointments to monitor for a possible recurrence or other health care issues. These appointments are important because finding any disease recurrence early is key to successful intervention.
During these visits, you will have exams and lab tests to gauge the multiple myeloma's response to treatment and to determine whether disease has recurred. These checkups include a review of your medical history as well as a physical exam. They may also include imaging procedures, such as X-rays and positron emission tomography/computed tomography (PET/CT) scans, blood and urine tests and bone marrow biopsy.
These tests are important because when your treatment is no longer working or is not as effective as it once was, your doctor may try another therapy. Along with running tests, your doctor will ask questions about any ongoing physical symptoms you may have, especially those related to recurrence and continued side effects of treatment.
Maximizing Follow-Up Care
You and your oncologist or your primary care physician should work together to create a personalized follow-up care plan. Before deciding which doctor to see for this care, consider the type and stage of your cancer, potential side and late effects you may be facing, your health insurance and your comfort level.
Your follow-up plan may include:
An appointment schedule for ongoing monitoring. These appointments may include medical history, a physical exam, imaging procedures (such as X-rays and PET/CT scans), urine tests, blood work and other lab tests. 

Instructions for maintenance medications or therapies, including type, dosage, frequency and duration.

Referral(s) for cancer rehabilitation, such as physical or occupational therapy, career counseling, pain management, nutritional planning and/or emotional counseling.

Information about your risk of a recurrence, a second cancer, long-term treatment-related side effects and late effects, which are side effects that develop weeks, months or years after treatment ends.

Recommended screening guidelines for other types of cancer.
You will also be monitored for treatment-related side effects. These follow-up visits are a good time to talk with your health care team about any changes or problems you notice and any questions or concerns you have. However, if you notice new symptoms or side effects in between follow-up appointments, be sure to contact your doctor.
Specific information to discuss at a follow-up visit includes the following:
New or ongoing physical symptoms that are not adequately relieved, including deep fatigue or insomnia; mobility issues; signs of infection; tingling or numbness; fluid buildup; or changes in appetite, sense of taste, vision or hearing
Cognitive (thinking-related) symptoms, such as difficulties with memory, concentration, processing information, word-finding or completing tasks
Emotional issues, such as depression, anxiety, fear, anger, grief, hopelessness, emotional numbness, feeling overwhelmed or other concerns
Visits to the emergency room, urgent care or other doctors, even if not cancer-related
Making Healthy Life Choices
Having a well-balanced lifestyle may help you tolerate treatment better, lower the risk of a recurrence or the risk of other chronic diseases, and help protect against secondary cancers. Following are suggestions for smart ways to approach key elements of your everyday life.
Get regular exercise. Even walking 10 minutes a day can provide benefits. Physical activity helps to manage fatigue and may also reduce pain from peripheral neuropathy.

Follow a nutritious, heart-healthy diet that includes a variety of fruits and vegetables, lean meat, low-fat dairy products and foods with plenty of fiber. Total parenteral nutrition (TPN), a type of intravenous feeding, may be necessary to help prevent malnutrition for stem cell transplant patients who have acute Graft-versus-Host Disease.

Watch your weight. It may be difficult to maintain your appetite, which may lead to weight loss. 

Stay hydrated. In general, drinking 8 to 10 glasses of fluid a day is recommended. Dehydration can worsen some side effect symptoms. 
Getting a handle on testing anxiety
Having follow-up exams and laboratory testing may bring up feelings of anxiety, sometimes referred to as scanxiety. The feeling is understandable because the results will indicate whether your treatment is working the way it is intended. You may begin to feel anxious as the appointment nears and stay that way until you get your results. That is a lot of stress to put on your mind and body. Find ways to manage the stress:
Set expectations with your doctor or nurse about when and how you will receive the results so you are not left waiting and wondering.

Recognize and accept that it is normal to feel this way. Consider discussing your fears with your friends, a support group or a therapist.

Keep your mind occupied with things you enjoy, such as reading, playing games or gardening. Staying busy gives you less time to worry.

Try to calm your nerves with meditation or deep breathing.