Download Your Complete Guide Today!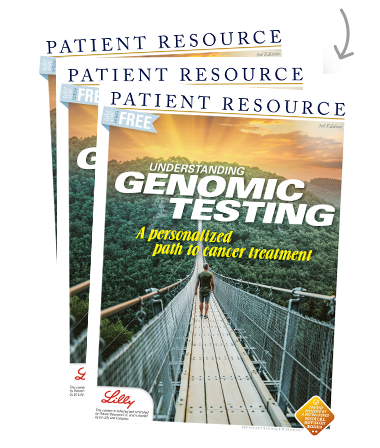 DOWNLOAD NOW
ORDER FREE COPIES
Understanding the Genomics and Genetics of Cancer
Clinical Trials
Research studies known as clinical trials identify new and better ways to treat cancer and its symptoms and side effects. They have traditionally tested medical approaches and researched new drugs, drug combinations, medical procedures or devices. In the past few years, to support the emphasis on patient-centered cancer care, significantly more clinical trials have focused on biomarkers, giving some patients the opportunity to access the latest developments in targeted treatments.
These types of clinical trials are designed to help researchers learn more about the way biomarkers influence how cancer begins, grows and reacts to treatment. As a result, more prevention, diagnosis and treatment options are becoming available for people with cancer.
For some people, the results of biomarker testing may indicate they are eligible for a treatment used in a clinical trial that is based on the biomarkers in their cancer instead of where in the body the cancer began. These are called "basket trials." Other people may be eligible for "umbrella trials," which test how well new drugs or other substances work in people who have the same type of cancer but different mutations or biomarkers.
Talk with your doctor before treatment begins, if possible, about whether you should consider a clinical trial. There is evidence that patients who are able to participate in clinical trials as part of their treatment may do better and live longer.
Searching for a Clinical Trial
You can be proactive and help your medical team look for clinical trials. Not only will you become more informed about available research studies, you may find the next step in your treatment plan.
To get started:
Step 1: Have available your exact diagnosis, biomarker test results, pathology report and details of previous treatments (if applicable). These will help you narrow the list of trials that may be a good fit for you.
Step 2: Decide whether to search online or by phone. Some clinical trial search websites are customized to a certain cancer type; others are much broader. No single list contains every open clinical trial, and new trials are continually being added, so check back often. See Assistance, page 17, for websites and telephone numbers.
Step 3: Depending on your diagnosis, there could be many trials to explore. That can be time-consuming. Consider asking friends and family members to help.
Step 4: As you search, keep in mind that every trial has eligibility criteria, such as cancer type, subtype, stage, biomarker status and treatment history, to ensure the data gathered during the trial are valid. You may not qualify for every trial that appeals to you. Some may be closed, or you may not meet the eligibility criteria. Under certain extreme conditions, you and your doctor may apply to the U.S. Food and Drug Administration (FDA) to join a clinical trial that is closed or otherwise inaccessible. This is known as Expanded Access, also called Compassionate Use.
Step 5: Once you find a trial that you think may be a good addition to your treatment plan, discuss it with your doctor or contact the clinical trial investigators, staff or sponsors listed. They are experts who may be able to provide more details and answer questions about the study.
Step 6: If it is determined that you meet the criteria to join the trial, you will be given the Informed Consent document. This contains detailed information, including the goal of the study, the required schedule, associated costs and more. Review this document closely with your loved ones, and ask the clinical trial team any questions. Once you sign the form, you will become part of the trial.
Multiple reasons to get a second opinion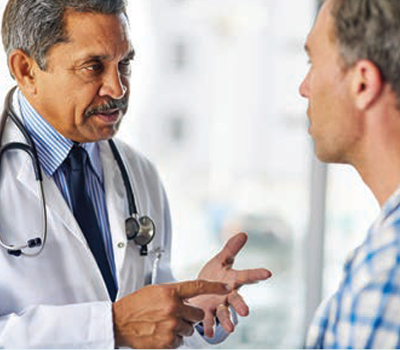 When it comes to cancer, information is power. The more you know, the better prepared you will be to make the important decisions ahead. One way to do that is to seek a second opinion from another doctor (often a specialist in your type of cancer) who reviews your medical records and gives an opinion about your health problem and how it should be treated. You can get a second opinion either before or after diagnosis, and even after you begin treatment.
Realistically, you may feel overwhelmed and wonder whether getting a second opinion is even worth it. It most definitely is. Here are several reasons why:
To verify the pathology report and diagnosis. This is especially important if there was any difficulty or controversy in interpreting the findings, and if the cancer has metastasized (spread).

To confirm the treatment plan or learn about alternatives, including clinical trials that the first doctor may not be aware of. 

You may live in a small town or rural area where there may not be many oncology specialists. Because the goal is for you to get the best care possible, your doctor should be pleased to help you locate a specialist. Second opinions allow you to benefit from the collective wisdom of experts.

You may need highly specialized or complicated care. If so, reach out to a larger medical center or comprehensive cancer center with expertise in treating your type of cancer. 

It offers the opportunity to decide whether a different doctor, health care team or treatment center is a better fit for you.