Download Your Complete Guide Today!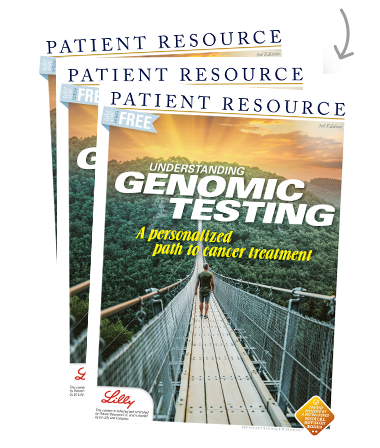 DOWNLOAD NOW
ORDER FREE COPIES
Understanding the Genomics and Genetics of Cancer
Meet Your Team Members
Highly skilled health care professionals will examine, treat, educate, guide and comfort you. Your team may include the following:
Case managers and social workers act on your behalf by collaborating with health care professionals and non-medical personnel to help you overcome various barriers to care.

Financial counselors address cancer-related financial concerns, such as insurance coverage and out-of-pocket expenses.

Genetic counselors explain what your test results may mean to you or your family.

Medical oncologists treat cancer patients using drug therapies and manage your course of treatment.

Molecular pathologists, also called genomic pathologists, study tissue and blood samples on a molecular level to provide information about your diagnosis, treatment and prognosis.

Nurse navigators collaborate with your health care team from diagnosis through survivorship and will know you the best.

Oncology nurses may be registered nurses, clinical nurse specialists, advanced practice nurses, radiation therapists, chemotherapy nurses, oncology social workers, case managers, educators or consultants.

Pathologists identify diseases by studying cells and tissues under a microscope.

Pharmacists prepare and dispense prescriptions, ensure medicines and doses are correct, and prevent harmful drug interactions.

Radiation oncologists use radiation therapy to treat and reduce the symptoms of cancer.

Radiologists create and interpret pictures of areas inside the body that are made with X-rays, sound waves or other types of energy.

Rehabilitation specialists include physical, occupational and speech therapists.

Surgical oncologists use surgery to remove tumors or repair a part of the body affected by cancer.